Things to do in St Simons Island with Kids
St Simons Island is a beach town, one of the Golden Isles, located on the Atlantic Coast of Georgia just north of Florida. Not only does the island have spectacular beaches, but also a deep history, authentic southern food and lots of things for a family to do. This southern beach town is sure to charm the entire family. Though you may be going for relaxation in the sun there are lots of fun things to do for a family. We hope that this will help you narrow down your choices of St Simons family activities to be sure to do while visiting this charming southern beach town.
Our Top 5 St Simons Family Activities
1. Play & Relax at the Beach & Pool
We stayed at the St Simons Beach Club located about a mile from town right on East Beach with a beautiful pool. Both the pool and the beach were footsteps from the condo. It took us a couple of days for the kids to want to leave the beach and pool to explore other areas of the Golden Isles. They loved just running in the waves, hunting for seashells, building in the sand and splashing in the pools or hot tubs. I really enjoyed my morning beach runs and sunset seashell hunts. St Simons Island is an excellent place to just relax. By far, relaxing was our favorite of all the wonderful things to do.
Make sure to also visit the beach in the evening. Take a walk. The sunsets are spectacular. It is also a good time to see the Sand Pipers. And, if you go out after dark maybe, just maybe, you will be lucky enough to spot a ghost crab. We were!

2. Visit the St Simons Island Pier
The quaint downtown area and pier of St Simons really has something for everyone. From delicious seafood restaurants, parks, a pier for fishing or sunset viewing, a historical lighthouse, park, miniature golf course and water park, you could spend hours there. Our first day on the island we made our way to the pier where our preschooler was captivated by the people fishing. The kid who never sits still stood as still as a statue for several minutes watching a fisherman carefully reel in a baby stingray on the rocks where he could proceed to release it back into the ocean. After dinner, we often made a regular stop at one of the parks and strolled down the pier.

3. Climb the St Simons Island Lighthouse
As we began to bike back to the condo after a morning hunting island spirits, the kids requested that we stop and visit the St Simons lighthouse. We watched a short film on the history of the lighthouse and then excitedly climbed the steps up to the top of the lighthouse to take in an amazing view of the island. A brief visit to the museum in the keepers house on the way out was fun. The second level is set up with the Victorian furniture illustrating how the keeper and his family lived. Well worth the visit — be sure to include the lighthouse on your list of  St Simons must-do activities!

4. Explore St Simons Island on Bike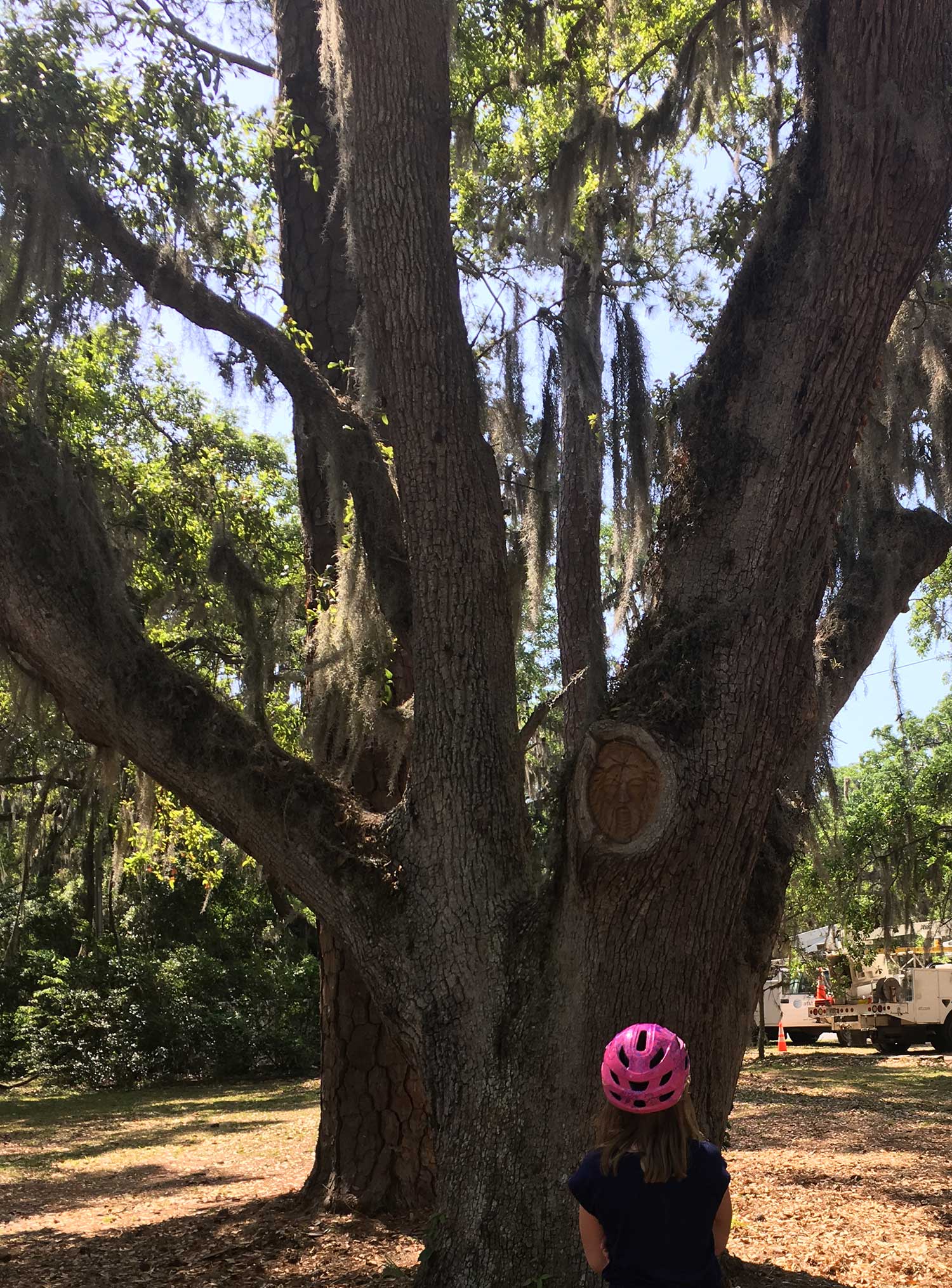 We took tandem bikes out exploring a couple of times. While there are limited bike paths, the slow pace of the island is conducive to bike riding. Our first outing was for an ice cream treat down the road. Then the following day we spent the morning searching for the island tree spirits.
We took along a picnic lunch and stopped at Mallory Park for lunch. The kids were so excited to unexpectedly discover the three-story slides at Mallory Park. Also, keep your eye out for hand painted rocks hidden around the island! We were lucky enough to find one by one of the island tree spirits.

5. Visit Jekyll Island
Jekyll Island is about a half hour drive from St Simons. We had been told to explore the island via bike. But we went on a morning when we were all tired and got a late start so decided to explore via car and it was perfect. We started at the Georgia Sea Turtle Center. It is a fairly small attraction and we didn't get to see as many turtles as we were expecting but we learned a lot about the challenges facing sea turtles and brought home a few souvenirs including a book that we have read every night since.
We proceeded next to Driftwood Beach. It was fun to take a walk there on a very different beach. It was very serene. And, you could see the St Simons Island lighthouse across the water. We then drove through the historic district. The kids wouldn't have made it through a tour but we would have loved to have seen the old mansions up close. The Victorian Jekyll Island Resort looked like a really fun place to have experienced the island up close. Next time!
Other Things to Do In St Simons Island
Neptune Park is a fun water park that the entire family is sure to enjoy. It typically opens Memorial Day weekend, so you will want to make sure it is open.
You are on the ocean so should certainly make the most of it. Take a boat tour aboard the Lady Jane, or go kayaking!
Play golf! There's no shortage of gold courses. Make a tee time at Sea Island, the Plantation Course, Seaside One, the King & Prince Golf Club, Sea Palms or the Islands Club. There's also Frederica Gold Club. But it is private, so you'll have to find a connection to get on there.
You will find no shortage of fun things to do in this beach town, which is one of the best east coast beaches according to our friends at More than Main Street.
What Else to Know About St Simons Island
What is there to do in St Simons when it rains?
Probably the very best thing to do in St Simons on a rainy day is to visit the lighthouse. But there's also trolly tours, Fort Frederica National Monument, a movie theater and shopping. Artists may want to make pottery or paint at the Tinted Tide or Get Your Muse On! Or, hop on over to Jekyll Island to visit the Sea Turtle Center or Mosaic Museum. Make your own St Simons Island Rocks! We hunted for rocks while we were there. But if it is raining, why not make your own rocks to hide?
What is the weather in St Simons?
We LOVE St Simons. But is is hot and humid in the summer. We like to visit in April or May just before things really heat up. Rain is more likely in August and September.
How to get to St Simons?
St Simons Island is near two large airports: Jacksonville, Florida and Savannah, Georgia. It is a fairly easy drive from either airport. Though we prefer Jacksonville as Southwest flies there. There is also a small airport even closer in Brunswick.
What to do on St Simons Island From Others
In the research phase of planning our St Simons family vacation we found several articles that helped us plan activities. While we didn't do all of these St Simons family activities, they might be things that your family would find fun to do. That is a part of the beauty of a vacation to St Simons Island. Choose the activities that most appeal to your family!
This article was by far the most comprehensive article I've read yet on activities, restaurants and places to stay on St Simons Island. The author has clearly spent a lot of time there and knows her way around St Simons. I don't know that I am convinced that we want to play Foot Golf, but it was fun to learn of a new unique regional sport. And, she certainly convinced me of a couple of restaurants that we must now try. She had more good feedback on and reinforcement of the St Simons Island family activities that we should do. Our whole family likes to bike and it just seems like the perfect way to explore the island whether picnicking, searching for tree spirits or visiting the lighthouse or Neptune Park.
This one is from the Golden Isles Visitors Center, so not truly a blogger. But I found the information on the different beaches and parks very helpful. I was also excited to again read about the tree spirits. This was really something memorable for the kiddos.
This article by 365 Atlanta Family was where I first heard of the tree spirits. The tip of going to Driftwood Beach at low tide is a good one. I don't know that I would have considered timing. I also think it would be fun for the kids to see dolphins. We'll have to look a little closer at Cap Fendig Dolphin tour. The article has some great info on parks and spots to stop for an ice cream treat.
Your recommendations for kids activities in St. Simons Island
Have you taken a St Simons Island family vacation? Of course, I knew that of all the fun things to do on St Simons Island, the one I was most looking forward to was sinking my toes into the sandy beach and watching the kids build sand castles while listening to the sounds of the waves crash onto the beach. But there is so much more to do in St Simons than I had expected. What are your favorite activities on St Simons Island with kids?
Other East Coast Beach Destinations
Are you not yet convinced that St Simons Island is the beach destination for you? Be sure to check out the 15 best East Coast beaches from our friends over at The Open Suitcase.
This article is an update of a post originally published in April 2017.
Top 5 St Simons Family Activities