Last week I had the pleasure of chaperoning a class of fourth graders on a tour of Leadville, Colorado. I have driven through Leadville many, many times. It is a charming town with old colorful Victorian buildings with a rich history and spectacular views. This visit was an extra special treat as we had most of the day to tour the National Mining Hall of Fame and Museum, Matchless Mine and the Healy House. I knew that Leadville had a rich history but had no idea how interesting it really was.
National Mining Hall of Fame and Museum
Our first stop was the National Mining Hall of Fame and Museum which I had visited once before but they have changed out many of the exhibits and seemed to have so much more than I remembered. I really wish we'd had more time to take in the details of the dioramas and to make it up to the fourth floor terrace to take in the views from the highest point in Leadville. The model mine was really fun, the favorite of most of the kids. The glow-in-the-dark minerals were also a hit. The museum houses a fun collection of meteorites. We learned about how silver actually looks like lead, and much more.
Healy House Museum and Leadville, Colorado History
Next we visited the Healy House Museum and Dexter Cabin. It is such a charming house, garden and cabin. It was so fun to see how the upper class of Leadville lived in the late 1800s. Our tour guides dressed in clothes similar to that of the time period and kept us engaged and entertained. It was fun to see what people did in their leisure time (play music, cards, croquet, etc.) and how they even took baths (35 buckets of water pumped and heated individually).  It was a really fun and interesting glimpse into the lives and loves of wealthy Leadville residents and founders over 100 years ago. August R. Meyer, who built the now named Healy House for his bride, Emma, served on the committee to name Leadville. Interesting fact: While mining for gold, prospectors thought they discovered lead, but it was really silver. When silver became the backing for U.S. currency that discovery brought wealth and fortune to Leadville.
Leadville, Colorado History at Matchless Mine
The last part of our day in Leadville was my favorite. We went out to Matchless Mine, which didn't look like much from the outside. Located off a dirt road it would be easy to drive right past. Our tour guide, Brenda, was not only the most friendly woman, but her storytelling talents were the highlight of our day. She managed to keep a group of fourth graders hanging on her every word. Of course, her best stories were about Horace Tabor, how he made and lost his fortune (not mining as most people think, but as a merchant who would stake miners for a share of their claim) and his second wife Baby Doe who, after they went broke, ended up living in the small cabin on the mine  property for many years until her death.
The Matchless Mine property now houses a model of the mine that illustrates really well how the mines worked. The stories of the smoke monkeys, the children who worked in the mines and would place the dynamite in the holes, were almost unbelievable. Interestingly, Brenda herself worked in the mines in 1970. Ask her about that experience for some real-life stories.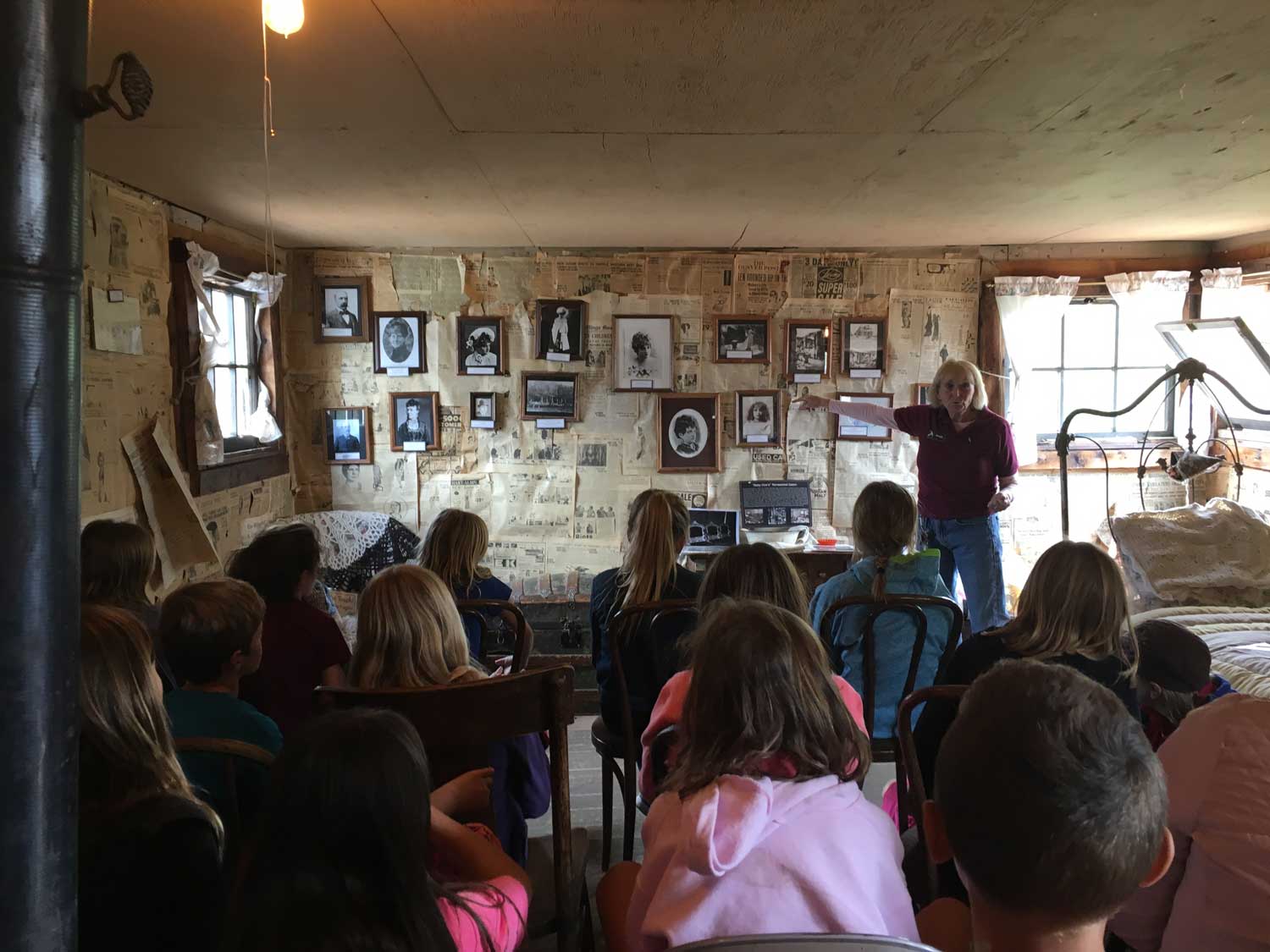 Leadville was almost the capital of Colorado. I can't imagine what that would have meant for Colorado. But the point is that there is a really rich history here that anyone can appreciate. Don't just drive through as I have done so many times. But stop and take time to hear from the fabulous storytellers who so obviously love sharing the stories of their town.
Save