I had the pleasure of chaperoning a class of fourth graders on a tour of Leadville, Colorado. While I have driven through Leadville many, many times this was the first time to really explore the city. It is a charming town with old colorful Victorian buildings with a rich history and spectacular views. This visit was an extra special treat as we had most of the day to tour the National Mining Hall of Fame and Museum, Matchless Mine and the Healy House. I knew that Leadville had a rich history but had no idea how interesting it really was. There are so many historic things to do in Leadville CO!
Historic Things to Do in Leadville CO
National Mining Hall of Fame and Museum
Our first stop was the National Mining Hall of Fame and Museum which I had visited once before but they have changed out many of the exhibits and seemed to have so much more than I remembered. I really wish we'd had more time to take in the details of the dioramas and to make it up to the fourth floor terrace to take in the views from the highest point in Leadville.
The model mine was really fun, the favorite of most of the kids. The glow-in-the-dark minerals were also a hit. The museum houses a fun collection of meteorites. We learned about how silver actually looks like lead, and much more.
Healy House Museum and Leadville, Colorado History
Next we visited the Healy House Museum and Dexter Cabin. It is such a charming house, garden and cabin. It was so fun to see how the upper class of Leadville lived in the late 1800s. Our tour guides dressed in clothes similar to that of the time period and kept us engaged and entertained. It was fun to see what people did in their leisure time (play music, cards, croquet, etc.) and how they even took baths (35 buckets of water pumped and heated individually).
It was a really fun and interesting glimpse into the lives and loves of wealthy Leadville residents and founders over 100 years ago. August R. Meyer, who built the now named Healy House for his bride, Emma, served on the committee to name Leadville. Interesting fact: While mining for gold, prospectors thought they discovered lead, but it was really silver. When silver became the backing for U.S. currency that discovery brought wealth and fortune to Leadville.
Leadville, Colorado History at Matchless Mine
The last part of our day in Leadville was my favorite. We went out to Matchless Mine, which didn't look like much from the outside. Located off a dirt road it would be easy to drive right past.
Our tour guide, Brenda, was not only the most friendly woman, but her storytelling talents were the highlight of our day. She managed to keep a group of fourth graders hanging on her every word. Of course, her best stories were about Horace Tabor, how he made and lost his fortune (not mining as most people think, but as a merchant who would stake miners for a share of their claim) and his second wife Baby Doe who, after they went broke, ended up living in the small cabin on the mine  property for many years until her death.
The Matchless Mine property now houses a model of the mine that illustrates really well how the mines worked. The stories of the smoke monkeys, the children who worked in the mines and would place the dynamite in the holes, were almost unbelievable. Interestingly, Brenda herself worked in the mines in 1970. Ask her about that experience for some real-life stories. Truly one of the more engaging things to do in Leadville CO.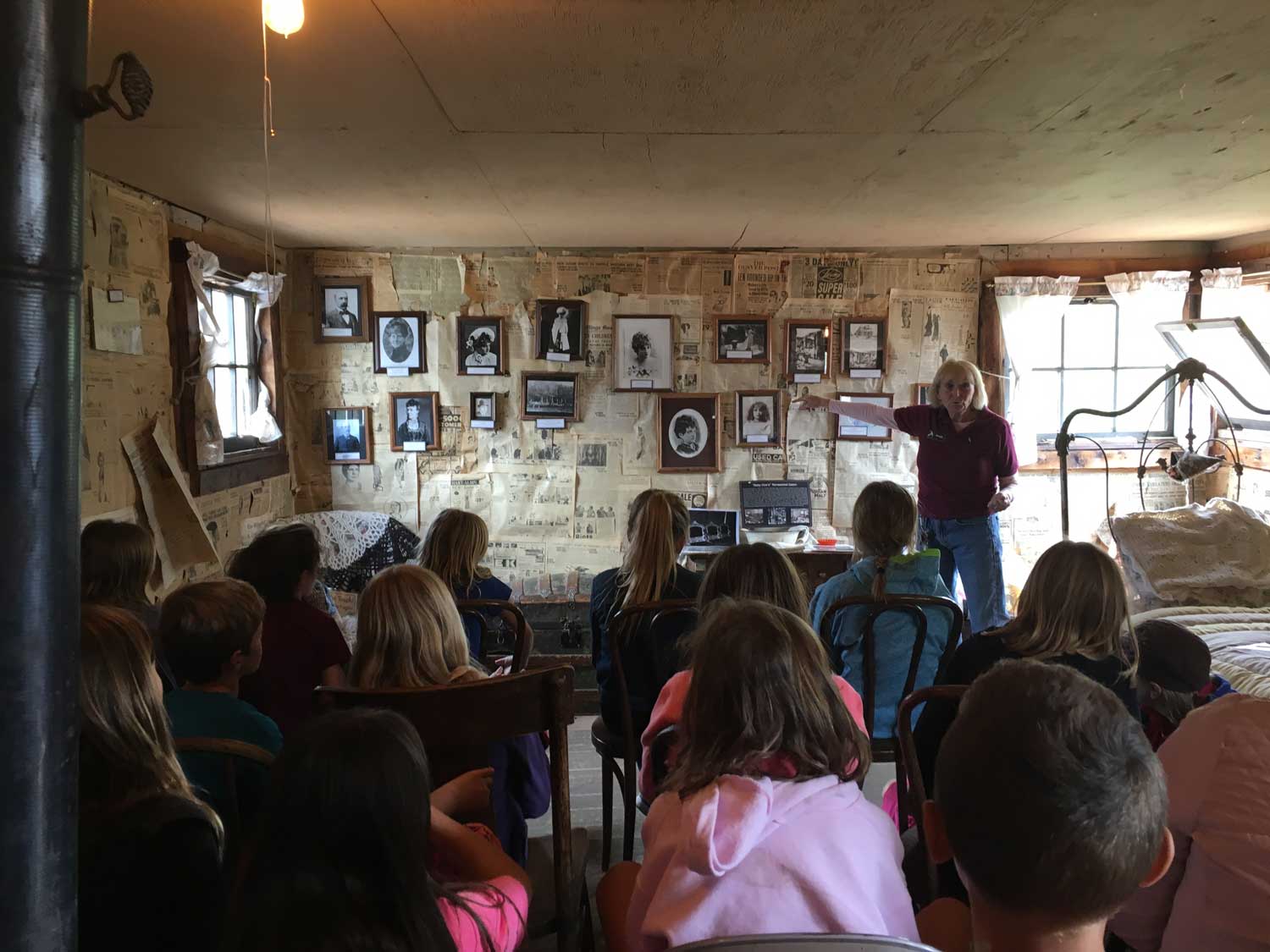 Visit Twin Lakes
The beautiful Twin Lakes was carved out by glaciers clear back during the last ice age. You'll find gorgeous mountain scenery reflecting off of the lakes, with an end result of a haven that's fit for both vacationers and nature-lovers alike. While visiting Twin Lakes, make sure you stop in at the Twin Lakes Ghost Town. It's a former mining village that's located in the center of town. Here you'll also want to hike, camp and boat.
History of Leadville Colorado
Leadville was almost the capital of Colorado. I can't imagine what that would have meant for Colorado. But the point is that there is a really rich history here that anyone can appreciate. Don't just drive through as I have done so many times. But stop and take time to hear from the fabulous storytellers who so obviously love sharing the stories of their town.
Why did Leadville decline?
Leadville was built by the mining boom. While miners flocked to Leadville in the hopes of discovering gold, silver is what was actually discovered. Fortunes were built upon the discovery of silver. Then when the silver market crashed in 1893 mines closed. Jobs disappeared and people left the area.
What is the elevation of Leadville Colorado?
Leadville isthe highest incorporated city in Colorado at 10,151 feet above sea level. Alma, Colorado is a bit higher at 10,355 feet above sea level. But it is a statutory town, not incorporated. The high location gives Leadville a cold and snowy climate.
Other Things to Do in Leadville CO
Leadville Upcoming Events
Leadville is a quirky town, home to a couple of very competitive events, as well as a unique event that combines skiing with horsemanship.
The Leadville Race Series began in 1983 as a 100-mile trek through rugged Rocky Mountain terrain. Every year endurance athletes from all over the world test themselves with the ultimate goal of "Racing Across the Sky" and earning the coveted silver and gold buckle.
The Leadville Trail 100 MTB is a one hundred mile bike race across the high-altitude, extreme terrain of the Colorado Rockies. Starting at 10,152 feet and climbing to 12,424 feet, riders are challenged to just finish the race.
One weekend every March Ski Joring comes to Leadville. A horse and rider race down snow-packed Harrison Avenue in Leadville's downtown, pulling a skier who's holding onto a rope. As the horse gallops, the skier flies over jumps and spears rings set up along certain parts of the course.
Skiing at Ski Cooper and Tennessee Pass
There's a great ski hill just down the road from Leadville. Ski Cooper is one of the more affordable places to learn to ski in Colorado. And, right next door is a great nordic track at Tennessee Pass Cookhouse. Snowshoe to dinner in a yurt, or just enjoy some snowshoeing through fluffy snow.
Other Colorado Mountain Towns
Leadville is one of many unique mountain towns that dot the Colorado Rockies. These towns all have their own personalities and are all worth a visit. You are sure to find one that makes you feel at home.
What are your favorite things to do in Leadville CO? Tell us in the comments below!
This post is an updated version of a post originally published in September 2017.
Save
A Day of Fun History in Leadville, Colorado