My first international flight was at age 5, when my father took a job in London. My parents left Oklahoma and headed across the ocean with a toddler and five-year-old in tow. I don't know if I was born with a love of travel. Or if these travel experiences developed that love. WHat I do know is that there are several benefits of travelling with kids, as trying as it can be.
It is always fun to see my own mother look back on these family travel experiences. As a parent myself, I aspire to expose my children to different cultures. And I try to teach them to push themselves. I always wonder where that line of pushing crosses over. I guess my mom did too.
This is an article contributed by the grand matriarch of our family, Lavelle Carlson, also known as Ma C to her five grandchildren. Ma C is a mom, grandmother, retired speech language pathologist, author and business woman. While I haven't convinced her to learn SEO yet, she can make her way around Photoshop, WordPress and animation programs that I hadn't even heard of. She may think that she pushed her children a bit too much on some family travels. But, all is well that turns out well.
Challenges and Benefits of Travelling with Kids
These days Ma C inspires her grandchildren by writing books for them. Your children or grandchildren may also enjoy these:




Worst Travelling Mom?
By Lavelle Carlson
Disclaimer: This blog is a satirical memory of a grandmother traveling with her children when they were young.
The Privilege of Travel = Challenging Travel Experiences
For ten years when my daughters were young our family had the great opportunity to live overseas. Expat life allows for extensive family travel. International travel can be sometimes a challenging experience for a mother who never previously traveled overseas. Our daughters were only 18 months and 5 ½ years old when we began our travels. There were several occurrences that (after the fact) made me re-think my position as "mother extraordinaire" as I thought I was.
Benefits of Travelling with Kids: Experiencing Local History & Culture
Our first assignment was in London for a year. Then we moved to Stavanger, Norway where we lived for nine years.
Of course, when abroad, learning local history and experiencing local culture should be a priority. Trips on the tube to central London became adventures to see the guards at the Tower of London or Buckingham Palace. And, of course there were always the musicals. Cats and Trains by Andrew Lloyd Weber are two stand out plays that we had the opportunity to experience.
I remember flying them from Norway back to London when the oldest must have been in the second or third grade. The musical we took them to was Annie. Of course, the girls were so young that I am not sure they remember it as much as I do.
Benefits of Travelling with Kids: Building Resilience
What I remember about getting them back and forth from house (or hotel) to the activities was the rush we were always in. My husband always felt like we needed to make the next train to our destination. Getting to the train to meet the next departure was not an easy matter with two young girls in tow. One daughter in a somewhat flimsy stroller, not the nice heavy ones of today. We would bounce down the stairs as we proceeded into the depths of the earth to get down to the rails.
My oldest seemed to suffer the most. It was always, "Hurry, hurry". I remember how she would stop in her tracks and whimper, "I can't, I can't". My response was always, "Yes, you can" as she whimpered and dragged herself forward. She suffered through several trips during this summer. I was always pushing her to go faster and further and to stay up with her parents.
Finally, the summer was over and she was back in school in Norway. After a few weeks of school my daughter's teacher pulled me over one day as I picked her up from school. She was very concerned about my daughter. She said, "You should take her to the doctor because she falls asleep at recess while leaning on a lamp post." So, I did take her to the doctor who said she was severely anemic. Well, that really laid the guilt on this pushy mom.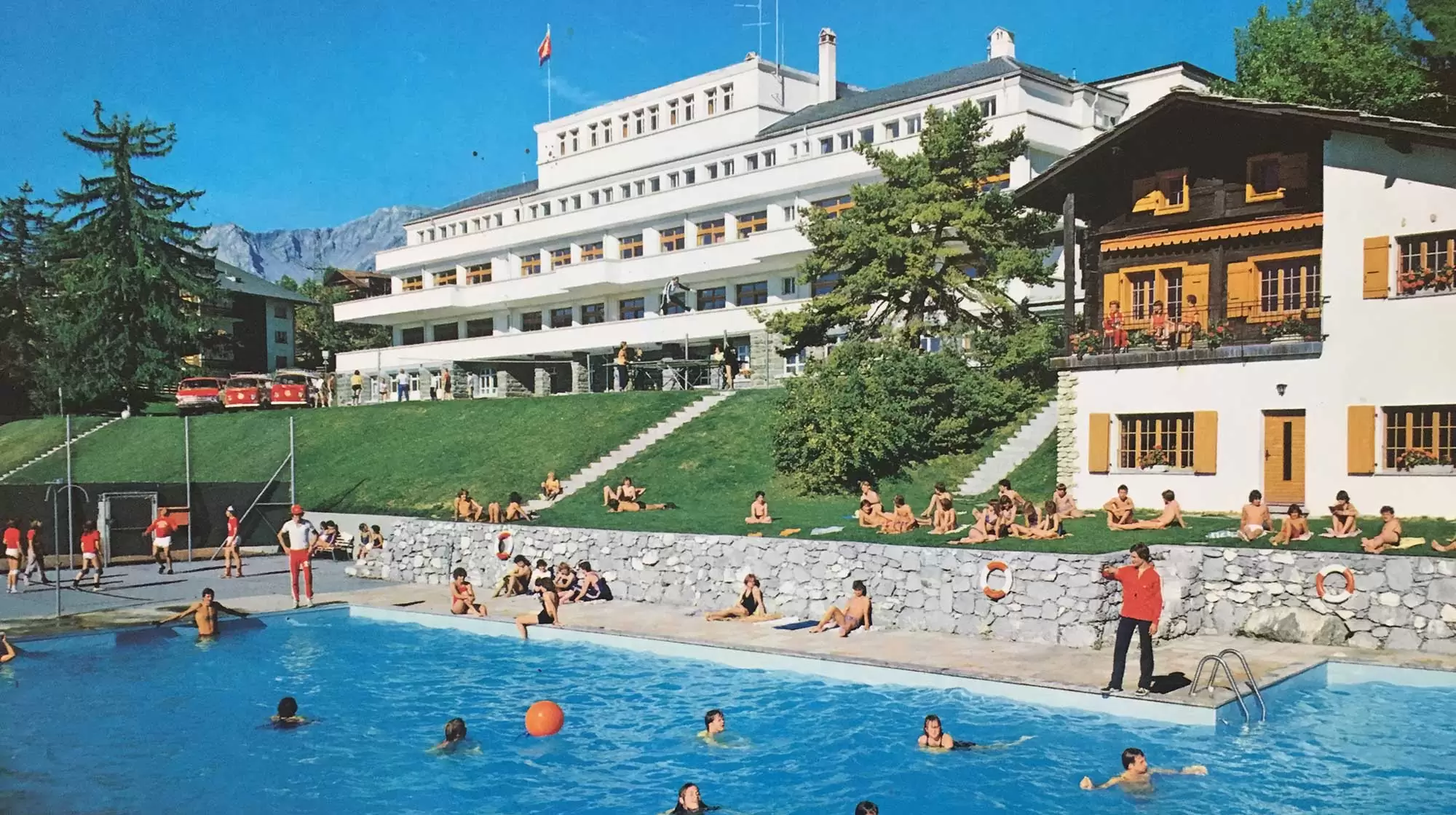 Sleep Away Summer Camps
Now, the oldest did not suffer from the "pushy" mom any more than the younger daughter. While the oldest daughter was willing and excited to go to summer camp in another country (Montana, Switzerland) with her friends and no mother, the younger daughter never wanted to go to camp. "Pushy" mom finally insisted when daughter was in the fourth grade and had not been away from home. We sent her to a gymnastics camp in St. Paul, Minnesota. I felt it would not be a problem as we were staying with my father-in-law that week in Minneapolis.
No Flying Internationally with a Sick Child
Daughter Number Two goes to camp. I received a couple of phone calls saying, "Mom, I am sick. My stomach hurts." I talked to the camp director who seemed to think she was okay. So, I left her at the camp. Friday came and we picked her up. That evening we were headed out to eat and I could see that she did look ill. I opted to stay at the house with her while the others went to a restaurant.
The next morning we got up, put our bags in the car to go to the airport. We boarded a plane for a stop in Chicago on the way to Stavanger. When we arrived in Chicago, Daughter Two began crying. The flight attendant was concerned and I was unable to comfort her. The pilot was summoned and asked if the flight was upsetting her. "No, she loves to fly."
He said we had to disembark and he called an ambulance. The ambulance took her to ER and they said she could not fly for two weeks. Father and Daughter One went back to Norway while I had the very boring job of staying in a hotel room (with little entertainment) for two weeks. On the bright side Daughter One did not have a serious and lasting medical issue. The doctor saw her again and cleared her for flying. Well, that really laid the guilt on this pushy mom again for this incident.
Mom Guilt Moment: Experiencing Wildlife
Another guilt moment in my life was, again, disregarding Daughter Two's cries. Sunday afternoons the family went to the local kiosk in downtown Stavanger. Dad bought his paper and the girls bought candy. As we were walking around the park while the girls were eating their ice cream I heard Daughter Two screaming. I looked behind me and a goose was chasing her. I said, "It's okay. The goose will not hurt you." As I continued to walk, she really screamed. What I then saw was the goose fiercely biting her. We chased it off and when I looked at her back. Who would have thought that the goose would be able to suck the blood to the surface of the skin like it did! Okay, this was another guilt trip for pushy mom.
I am sure there were other incidents, as I always wanted my daughters to "buckle up" and go hard, fast and furious. Luckily, there were no incidents in which they suffered serious emotional or physical damage. At times I did protect them overly. I would not leave them with people or in situations in which I felt uncomfortable with the people.
The best ending to this little story is that my two daughters have now given me five grandchildren. Hopefully, I will not push them as I pushed their mothers. That is now my daughters' job. My job is to now spend time writing books for them as a way to make up for being "pushy" with their moms.
Epilogue to Worst Travelling Mom
Daughter Number Two runs this blog and gets final editorial say so. She renamed this article from "Worst Travelling Mom?" to "Challenges and Benefits of Travelling with Kids." She believes that travel and experiencing different cultures gave her empathy and the ability to see the world from other's perspectives. This blog was actually founded to give her children the experience of travelling to learn. She believes that travelling with kids helps them build resilience, empathy and confidence. And, makes them better world citizens. To read more about this visit our About Us page.
A Mom's Perspective: Challenges and Benefits of Travelling with Kids