Sledding in Colorado is one of our family's favorite winter activities. Unless you visit a paid tubing hill, the only cost to sled is that to procure a sled. From there you can have a day full of family fun, fresh air and maybe even wear the kids out along the way.
Don't get me wrong. We love to ski. We've witnessed our children learning so many life lessons from skiing. But, skiing is expensive. Sledding is one fun free winter activity that is often overlooked. Sleds are inexpensive and readily available and local Walmarts, Targets and even grocery stores like CityMarket.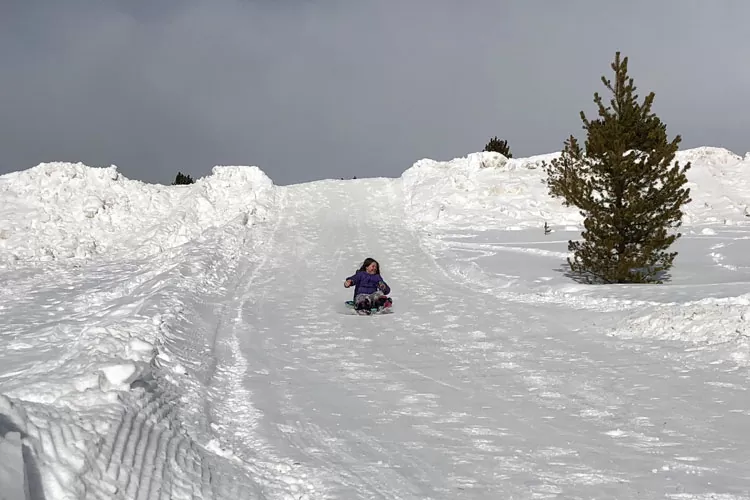 The Breckenridge, Keystone & Frisco areas in Summit County offer a few sledding hills that are sure to satisfy kids of all ages. Grab your sled or tube, pull on the snow clothes and get ready for a sledding adrenaline rush either for a hour or a whole day! And, it is all free.
Best Breckenridge Sledding Hill
Local moms agree that Carter Hill in Breckenridge is the best sledding hill in Summit County. The park is located on the south end of High Street, four blocks east of Main Street. This Breckenridge sledding hill is wide, has the perfect amount of steepness and plenty of space at the bottom to come to a stop. The public restrooms and picnic tables are an added bonus. Warm up with a warm cup of hot cocoa that you bring along in a thermos at the end. The views from Carter Hill are pretty spectacular too.
New Breckenridge Sledding Hill for 2020
Exciting news for 2020! Breckenridge is building a new sledding hill near the airport. It is located at the free parking lot on Airport Road, along the Breckenridge Free Ride bus loop. We will have to wait until winter to tell you more about it. But it is certain to be an excellent option.
Other Summit County Sledding Hills

The sledding hill off of Highway 6 on the way to Keystone, at the end of the lake before Summerwood is great for older teens.
The sledding hill by the Frisco adventure park is another sledding hill greay for teens or more adventurous kiddos. It's pretty steep.
For smaller kiddos check out Rainbow Park in Silverthorne. It is a smaller, more mellow sledding hill.
Across the street from the tubing hill in Frisco is a great little sledding hill and then you can head inside the Frisco Adventure Park Day lodge to warm up (they even have hot chocolate) and use the bathrooms.
There's also another nice sledding hill at the end of 3rd and Pitkin in Frisco.
Sledding Hills

a Short Drive from Breckenridge
Leadville is the one area where you are most likely to find plenty of snow for sledding. The Leadville sledding hills that we are familiar with are actually groomed. We've enjoy sledding off the parking lot at Tennessee Pass Cookhouse (at Ski Cooper). There you can warm up afterwards at the Cookhouse which has delicious paninis, cookies and hot cocoa for sale. There is a groomed hill by Colorado Mountain College in Leadville which is free unless you opt to rent a tube.
Best Tubing Hills in Summit County
Snow tubing is not a free winter activity like sledding, but it sure is fun. You don't have to do the work of walking up the hill. You just come in your snow clothes, are provided a tube and get a ride up the hill to whiz back down as many times as you can.
Most tubing hills do require reservations or a pre-paid ticket for a specific time slot. So, it does require planning versus the spontaneity of sledding. But it sure is fun!
Tubing at Copper Mountain
Our entire family ages five and up all had a blast tubing at Copper Mountain. Tubing is a very different experience from sledding. It is faster but contained to a lane. It is a lot less work and more time spend flying down the hill. You simply get a tube, let the magic carpet hoist you up the hill. Then zip down one of the five lanes. You can go as a single or in a square formation with four tubes held together by your hands holding the straps. The banked curves add an extra thrill.
Tubing at Keystone Resort
Keystone Resort also offers snow tubing both during the day or under the lights at night. The Keystone Resort multi-lane hill is complete with a convenient lift for more laps per hour. Riders can complete the experience with a hot cocoa at the top of the mountain after tubing fun.
Frisco Adventure Park Tubing
The Frisco Adventure Park sits on the Frisco Peninsula on Dillon Reservoir with beautiful water and mountain views in every direction. 1,200-foot tubing lanes have a lift for ease getting up the hill, and with well-lit runs, you can tube into the night.
Other Sledding Hills
Just over Vail pass from Summit County you'll find a whole slew of additional sledding hills. The Vail area also offers lots of fun sledding hills, and snow tubing too.
But if you are in the Breckenridge area, you should take some time to ice skate, and ride an alpine coaster too!
Sledding is our favorite because it is a winter activity that requires little planning. It often provides unexpected fun and laughter. But we'd certainly not pass on a fun tubing outing either. Do you prefer sledding or tubing? Tell us below in the comments!
Best Breckenridge Sledding Hills