As we discovered during a recent visit, there is so much for families to do in Colorado Springs. This makes it hard to think about leaving to explore day trips from Colorado Springs. But we are sure glad that we took time to venture out to some new places while we were there.
Royal Gorge Area
Just over an hour drive from Colorado Springs, Cañon City and the Royal Gorge area has lots to offer families. You may find it difficult to fit it all into one day. In our opinion, this is one of the best day trips from Colorado Springs.
Disclosure: We were hosted by Visit Colorado Springs and provided a lodging discount at Buffalo Lodge as well as attraction tickets to Royal Gorge Bridge and Royal Gorge Dinosaur Experience. As always our opinions are our own.
Royal Gorge Bridge & Park
This is probably the largest attraction in the area. It even seems to attract a large international demographic. This is not surprising given that it is home to the highest and most famous suspension bridge in America. Here you can take in Colorado's iconic natural beauty while standing 956 feet above the wild Arkansas River.
If you were to place Chrysler building beneath the Royal Gorge Bridge, the only part of the Chrysler building that would rise above the bridge is the antennae spire. The park offers gondola rides across the gorge, as well as rides on the Cloudscraper Zip Line 1,200 feet above the roaring Arkansas River for the more adventurous. Really feeling like an adrenaline rush? Then you might want to try out the Royal Rush Skycoaster. Sweep 50 mph through the Rocky Mountain air in a free fall. Also, new this summer is the opportunity to scale the gorge's walls with Via Ferrata.
There's a great park for the kids on the other side of the bridge and a TommyKnocker beer stand for the parents, or those just needing some liquid courage before swinging out over the gorge.
On leash dogs are welcome.
Insider Tip: Due to Covid there are social distancing protocols in place that make the line for the gondola very long. Either try to be the first into the park as soon as it opens, or skip the gondola on a busy day. Walking the bridge is the real experience.
Royal Gorge Dinosaur Experience
This museum houses science-focused interactive dinosaur displays, full-scale dinosaur fossil casts, hands-on exhibits with real dinosaur fossils. But perhaps more important to the older kiddos is the multi-story ropes course surrounded by lifelike, moving skinned animatronic dinosaur exhibits. There is something here for every age.
Insider Tip: Be sure to stop at the Whitewater Bar & Grill for lunch. This restaurant serves up good food for you (and your pup!). Plus they offer expansive outdoor seating, sand volleyball, axe throwing and a little park. So much more than just a restaurant!
Great Sand Dunes
The Great Sand Dunes National Park is about a two and a half hour drive from Colorado Springs. So, it might be worth staying the night. But is definitely worth seeing, as one of Colorado's four national parks. The tallest sand dunes in the United States are surrounded by the Sangre de Cristo mountain range. Here you can sand sled, hike the dunes and learn about the flora and fauna of the area at the visitor's center. On leash dogs are welcome.
If you have time be sure to stop at the Gator Farm. Rescued gators and other reptiles make this Tialpia farm their home. It is quite the experience.
There are also some great hot springs in the area, and a fun hike ending with a waterfall.
Great Wolf Lodge
This one is also located in Colorado Springs. But we've included it because it could certainly be a full day of water fun for the kids. This indoor waterpark offers multiple water slides, water tubing rides, a spray park, wave pool and much more. There's also an adventure park with mini golf, a ropes course, game room and bowling.
Staying at Great Wolf Lodge used to be the only way to access the water park. But now they have added the option to purchase day passes. However, for a family of four with day passes running $40-50 per person you may be better off staying at the park since entry is included in the price of lodging.
Garden of the Gods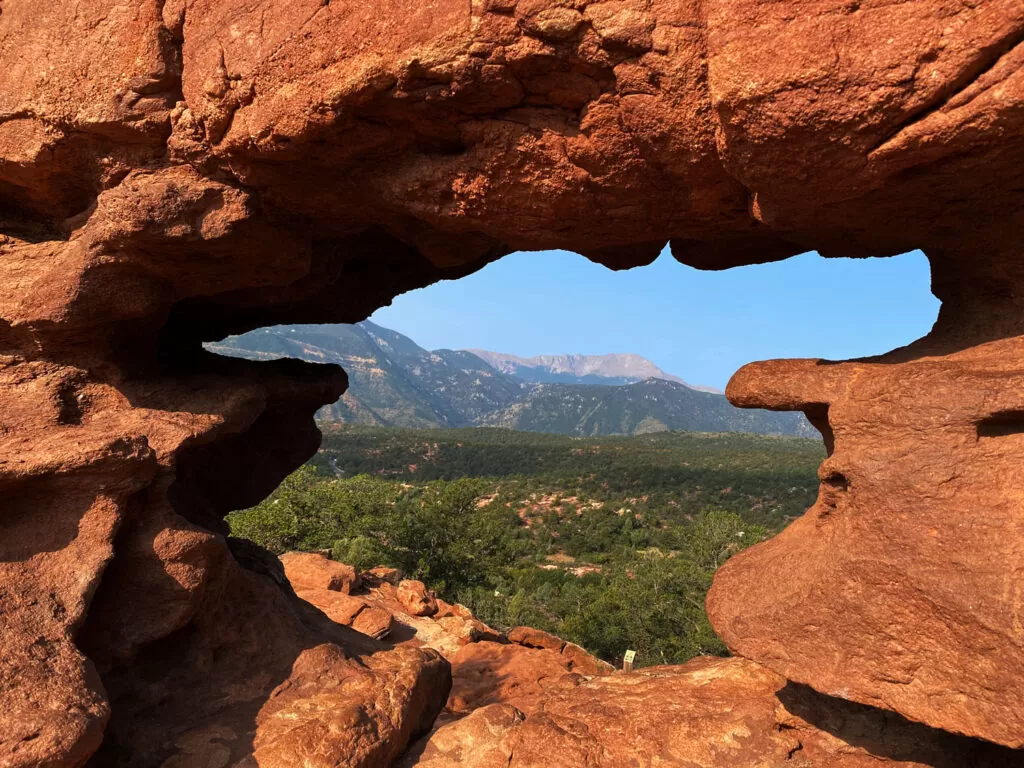 I don't know if you should really consider this a day trip destination as it is really in Colorado Springs. But you certainly could spend the day exploring these trails and taking in the rock formations and unique mountain landscape. On leash dogs are welcome.
Seven Falls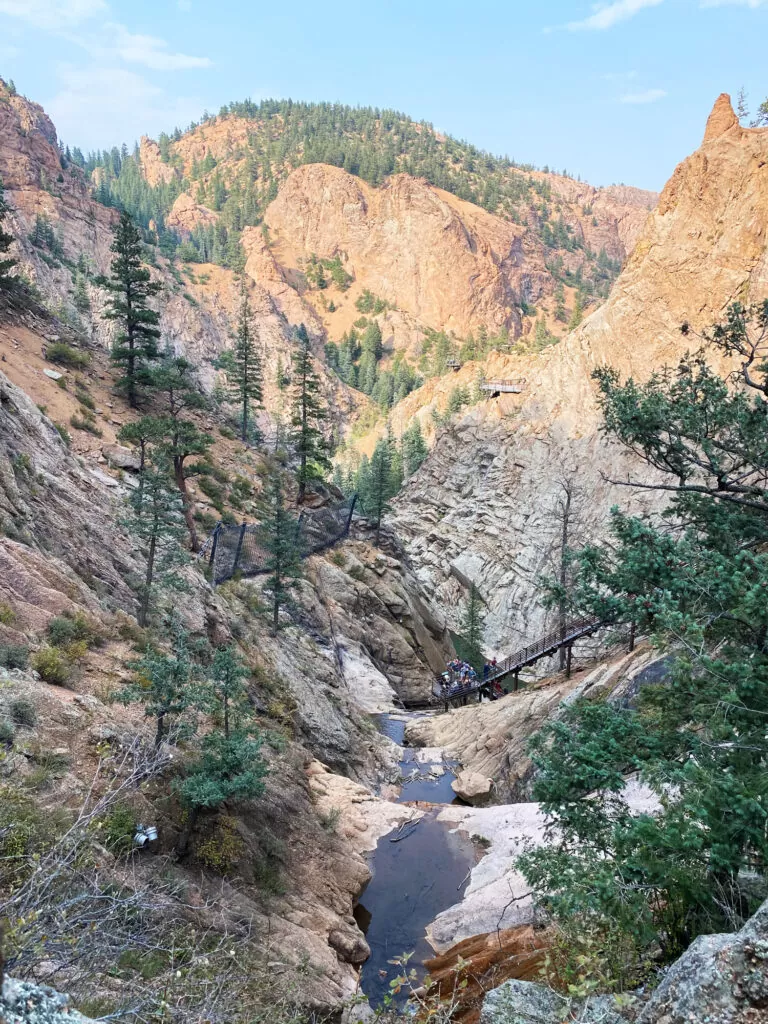 Owned and operated by the historic Broadmoor, Seven Falls is the only waterfall in Colorado to make National Geographic's list of international waterfalls. This unique series of waterfalls is situated in a 1,250-foot-wall box canyon.
There's a pretty walk in that is less than a mile to the falls. A tram is available for those who don't want to walk it. There are both stairs and an elevator to take you to a viewing platform for the best views of the falls. Or climb the 224 steps to the top of the falls where the Seven Falls hiking trails are located. There are a couple of beautiful hiking loops to choose from at the top of these stairs.
The restaurant was closed when we were there. But I have to think it is a beautiful place to dine with the falls light up at night.
Paint Mines Interpretive Park
About a half hour east of Colorado Springs, here the grassland and geological formations of hoodoos, colored clay and sandstone-capped spires mark this unique landscape. The fragile environment, as well as the geological and archaeological significance of the artifacts, rocks, animals and plants is protected in this park.
Rocky Mountain National Park
Colorado's most visited national park, Rocky Mountain National Park, is about two and a half hours from Colorado Springs. The Park's 415 square miles includes over 300 miles of hiking trails, lots of wildlife, wildflowers and plenty of outdoor adventures.
This is another destination that you may actually want to spend a night or two in a Colorado cabin to get away from it all and take advantage of all this special place has to offer.
Eldorado Canyon State Park
The Eldorado Canyon State Park is just under two hours drive from Colorado Springs. This state park is a favorite with rock climbers. There are more than 500 technical rock climbing routes. There's also hiking, biking, fishing and more.
Colorado Springs Hotels
If you are visiting Colorado Springs and day tripping from there, you'll want a family friendly home base. There are a few different options based on the activities you plan to do.
Buffalo Lodge Bicycle Resort
The Buffalo Lodge Bicycle Resort is a family-owned historic bicycle-themed motor lodge motel, providing a haven for relaxation and community. It is popular among cyclists but welcoming to all. This was the property we selected as our home base for our weekend in Colorado Springs. It has a location very convenient to outdoor adventure, and space to spread out at affordable prices.
The Buffalo Lodge offers a variety of lodging options. It is a hundred year old motel that has been revitalized by more recent owners. Friday afternoons there is music in the courtyard and it becomes a gathering place for locals. There are cottage options that include a kitchenette. Breakfast is included. And some of the lodging options are even dog friendly. Important requirement for us!
We loved how close the Buffalo Lodge is to Seven Falls, Garden of the Gods, Bear Creek Dog Park and Old Colorado City.
The Broadmoor
If Seven Falls is at the top of your activities list, The Broadmoor may be a good hotel for you. It is a historic luxury resort that happens to own Seven Falls, located just down the street from the Broadmoor. The Falls are just one of many amenities. It is certainly a place where you can kick back and let someone else take care of you (and your dog).
Garden of the Gods Resort
If Garden of the Gods tops your to-see list, you may want to stay at Garden of the Gods Resort. Perched above Garden of the Gods, this is a destination for relaxation, as well as health and wellness.
What are your favorite day trips from Colorado Springs? Did we miss any good ones? Tell us in the comments below!
Best Day Trips from Colorado Springs