Sledding is perhaps the most underrated Colorado winter sport. It is one of those activities that doesn't require much in the way of planning. Just be sure to have a sled handy. Vail may be known for skiing. But sledding is a favorite winter pastime for many local kids. Here's where the locals head out for an exhilarating day of Vail sledding fun!
Every neighborhood or golf course has a few sledding hills. The only cost is the acquisition of a speedy sled. You do need a little snow but there is typically lots of that during the winter in Vail.
It is the perfect impromptu winter sport. Pull on some warm clothes, grab a sled and head to the nearest sledding hill. Laughter and smiles are sure to ensue!
Sledding is a great way to spontaneously get the kids out of the house during a snowy Vail winter for some fresh air, wear them out running back up the hill, and just have FUN. Plus the only cost is that of buying a sled. I have seen a few sledding crashes so our kids do wore their ski helmets, at least on the bigger Vail sledding hills as youngsters.
Insider Tip: If you are visiting and staying at a Vail hotel, ask if they have any loaner sleds. Some, like the Antlers at Vail, has a stash to loan out to guests.
Favorite Vail Area Sledding Hills
You can find a decent sledding hill in every neighborhood. And, your favorites may depend on the ages of your children. But really all of the sledding hills work for any age. Kids can just start midway up the big hills if it is too much for them. Here are our favorite Vail sledding hills good for all ages.
EagleVail Putting Green
A short walk past the Eagle Vail putting green is a hill up to the clubhouse. It is a big hill but even at a young age our kids loved this hill. You just go up as far as you are comfortable whizzing back down. As a bonus, there is plenty of parking.
Singletree Sledding Hill
In Edwards this hill is located just up from the golf course and is the perfect slope with a nice flat area at the bottom. There's no parking lot but typically you can find parking on the side of the road.
West Park in EagleVail
Located at the west end of the neighborhood has a great hill with three lips. This might have made number one except parking is lacking. But the three lips offer a variety of sledding fun for different ages. They can take on one section or go all out all the way down.
East Haystacker Sledding Hill in Eagle
Being furthest west this is the one least likely to have good snow but when it does it is a blast. It is a nice sized hill with a long flat area at the bottom.
Insider Tip: While sledding is an awesome, inexpensive way to get out and enjoy the snow, snow tubing is a way to get the same rush with much less work. There are some fast and fun snow tubing hills located throughout Colorado.
Best Sledding Hills for Littles
When your kids are small, you might want to avoid the bigger hills just so that they (and you) don't get scared. Of course, you can always just start them lower on a big hill. But no need as there are plenty of golf courses with smaller hills perfect for the little ones.
In Avon there are hills in Nottingham Park over by Avon Elementary School. And, the opposite side of the park across the street from the Avon Rec Center also has some smaller slopes.
Ellefson Park in West Vail has several smaller hills perfect for little kids. In fact, people even leave sleds out here so there may be one available to borrow,
In Edwards the Sonnenalp Golf Course has several. A popular one is near the first green. Also there's a great slope by Edwards Elementary School off of Lake Creek Rd.
Preparing for Vail Sledding Fun
You don't need much to have fun on a sledding hill. Really just a sled. But preparations can make the fun last longer.
The most important items to bring are the sled (this one is one of our favorites), easy-to-apply sunscreen and warm mittens and a hat (or helmet for younger kids).
But for additional fun for all bring camping chairs, hot cocoa in a big Yeti to keep it hot, and it you are really ready for a party then bring along a SoloStove and wood for a campfire.
Sledding Hills by Location
Minturn Sledding Hill
Minturn CO has one of the better known sledding hills at Meadow Mountain. At one point someone ran a tubing hill there with a lift. But these days it is really just dangerous, unless you hike further up the mountain. Don't let that discourage you. Just plan on a bit of a trek if you want to find good sledding at Meadow Mountain.
Eagle Vail Sledding Hills
The golf course  on the east side of the neighborhood has a few good hills. The best one in that area comes down from the club house to the putting green. It is a big, steep hill but you can adjust your ride by deciding where on the hill you want to start  ride. There is ample parking when you enter from the putting green.
The west side of the neighborhood has by far the best and biggest sledding hill at the West Park. There are 3 lips to the hill so the smaller kids can take it easy and just get to the first lip while the bigger kids may want to zip all the way down. Side note: This is the park that turns in to a big slip and slide one day late summer.
Edwards Sledding Hills
There are some small hills just off the bike path behind Miller Ranch. These are perfect for preschoolers, though certainly anyone can enjoy them.
There are a couple of sledding hills in Singletree in Edwards. But the one that we have tried out is just past the Singletree Golf Club about a half mile up Singletree Road. There are two sides which makes it super fun. You can slide down the big hill and if you get enough speed get up the smaller hill a little ways. Or, the littler kids could just stick to the smaller side.
Cordillera Sledding Hills
In the winter the Cordillera Mountain Course Golf Shop, adjacent to the Timber Hearth restaurant, turns into the Cordillera Nordic Center. Right next door to the Nordic Center is a sledding hill for kids to tube, sled or toboggan their way down the hill. Be sure to stop in to Timber Hearth afterwards to warm up or have lunch or hot chocolate.
Eagle Sledding Hills
Our favorite Eagle Ranch hill is on E. Haystacker.  It is a good sized hill with a nice flat area at the bottom. Of course, the down valley sledding hills have a bit of a shorter season, but are just as much fun while they last.
There are also a couple of fantastic hills (even a double hill) at the park behind the Eagle Library. There's plenty of parking just a block over at Town Park and you could make a day of it hitting both the free skating rinks (while open as they are weather dependent) and the sledding hills all in on outing.
I hear there is a super big sledding hill up by the cemetery but we haven't explored that one yet.
Gypsum Sledding Hills
Probably the biggest sledding hill in the Eagle River Valley is behind Costco in Gypsum. It is a HUGE hill so come prepared for some speed. This one is best for older kids. Our daughter took a pretty good crash here one year. This sledding hill seems to go offline and then back online, and then offline again. Sadly, it is once again off limits for the winter of 2022-2023.
East Vail Sledding Hills
East Vail is another area likely to have more snow. Big Horn Park in East Vail has a couple of great hills for sledding. There's also a fun park here for the kids to plat at when they tire of the fast fun, if that is even possible.
Leadville Sledding Hills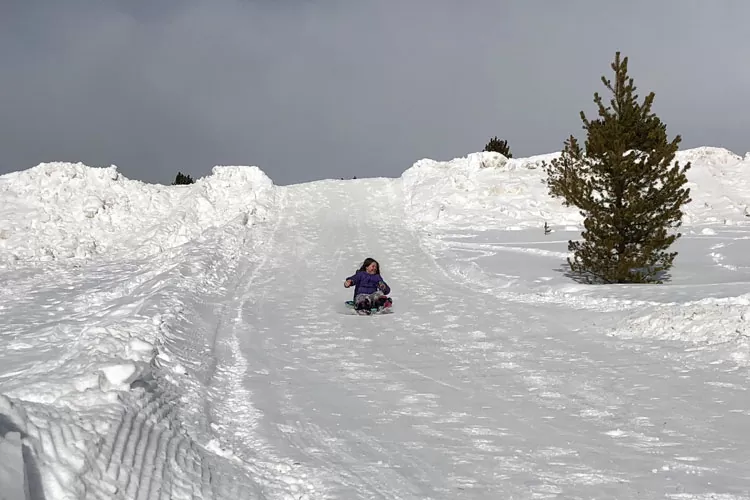 Leadville is the one area where you can probably count on snow regardless of whether it is a good snow year, or not. Also, the areas that we know about happen to be groomed.
There is a groomed hill by Colorado Mountain College in Leadville which is free unless you opt to rent a tube.
We've also enjoyed sledding off the parking lot at Tennessee Pass Cookhouse (at Ski Cooper). There you can warm up afterwards at the Cookhouse which has delicious panini sandwiches, cookies and hot cocoa for sale.
Beaver Creek Sledding Hills
We've haven't gone sledding in Beaver Creek ourselves. While we dub it the "place where locals learn to ski", there's not much there's that's free, including parking. So, unless you are staying in Beaver Creek it doesn't make much sense to head there as a sledding destination. With that said the Beaver Creek Golf course has lots of open slopes. I am sure you can find plenty of hills to sled down on the Beaver Creek Golf Course.
Vail Tubing
On a day when you have already exhausted your legs skiing on the hill, snowshoeing or some other winter adventure, sledding may just be too much. You can still find the fun of soaring down the hill, without the work of hiking up the hill. Treat yourself and head up to Adventure Ridge atop Vail Mountain. There you can purchase tickets for snow tubing and get a lift up the hill for some tubing fun!
Winter 2022-2023 Update: Sadly, Vail's Adventure Ridge is again not opening this winter. But if you are up for a drive, there are several other snow tubing areas within an hour or so drive.
Other Colorado Sledding Hills
Vail is home to many great sledding hills. But so are many of the other Colorado mountain towns.
Here are some great Breckenridge sledding hills, fun Aspen sledding hills  and heart pumping Durango sledding and tubing hills to check out too!
Sledding Preparation
Make a day of sledding. Dress warm. Wear snow pants, snow boots and lots of layers. Kids may end up shedding some of those layers as they warm up. But they will sure be glad to have them.
If you bring a younger child on a big hill, you may also want to have them wear a helmet. We've seen a few good crashes on the sledding hill.
Pack up a large thermos of hot cocoa, camping chairs, a cord of wood and a Solo Stove Bonfire. The Bonfire is a portable fire put that puts of a ton of heat with very little smoke. This is the perfect way to congregate at the base of your favorite sledding hill.
Looking for other things to do in Vail, Colorado?
Vail in Colorado: What to Do, Where to Stay and More!
Family-Friendly Vail Restaurants
Top 10 Activities to Do on Your Vail Family Vacation
Top 6 Toddler Friendly Activities in Vail
Planning Your Vail Family Vacation
How to Prevent Altitude Sickness on Ski Vacation
Vail Guide: Directory of Vail Restaurants, Activities, Summer Camps, Hotels & More
Which area Vail sledding hills did we miss in this list? Which are your favorites? Tell us in the comments below!
*This is an updated post, originally from February 2017.*
Best Vail Sledding Hills for All Ages