In June we made a return visit to Royal Gorge, also known as "Grand Canyon of the Arkansas." While there we heard a story about how a canyon and gorge are different. We were told that a gorge makes a "V"shape rather than cliffs that are straight up. But according to my follow up research, that isn't necessarily the case. Canyons tend to be bigger than most gorges. But they really are the same. The conversation piqued my curiosity about canyons in Colorado. I should not have been surprised to find out that I have visited many of these stunning canyons.
As far as natural formations go, it's easy to look up to see incredible structures formed by natural means. But sometimes the most beautiful formations are formed by downcutting, which is when a river cuts into the earth and carves out a valley or canyon using erosion. The United States hosts more than 25 canyons, some of which are small and others are well known around the world.
The third longest mountain range in the world is the Rocky Mountains, so it shouldn't be surprising that so many canyons run throughout the western United States. Considered one of the Mountain States, in Colorado, you'll find around 25% of the canyons in the USA are located here. Check out a few that offer scenic landscapes plus lots of activities to further enjoy the areas.
Royal Gorge
Created by the Arkansas River, Royal Gorge is one of the deepest and narrowest canyons in Colorado. At its deepest, Royal Gorge is 1,250 feet deep. Despite its depth, it is surprisingly narrow, being just 50 feet wide at the base and 300 feet wide at the top.
Located just outside of Canon City, a railroad track shares space with the Arkansas River in the gorge, too. From the 1890s until 1967, the route was used for transcontinental rail travel with passengers. The Royal Gorge Route Railroad still runs as a tourist option with open-air train carriages where visitors can enjoy the views from the bottom of the gorge.
Clocking in at nine miles long, this granite gorge offers not only incredible views but lots to do. The Royal Gorge Bridge and Park includes a zip line, a sky coaster, gondola rides, a guided climbing tour, and a play area for kids which includes a carousel. Royal Gorge also boasts the Royal Gorge Bridge, an incredible suspension bridge that was originally built within seven months. The bridge itself was completed in 1929, was designed to hold 2 million pounds, and was the world's highest suspension bridge for over 70 years, coming in at 1,200 feet high.
Carrizo Canyon
Located near Lamar, Colorado, very near the New Mexico boarder, Carrizo Canyon houses Carrizo Creek along with cottonwood and juniper trees. The best time to visit to see the wildlife is early in the morning or just before sunset.
While it may not be a large canyon, Carrizo Canyon is known for its wildlife, fishing, and especially bird watching. You can also see Native American petroglyphs on the walls of the canyon.
Pack a picnic lunch and enjoy the Carrizo Canyon Picnic Area. Then hike down into the canyon and observe wildlife such as turtles, channel catfish, and bullfrogs in the Carrizo Creek. A few species of lizards and bull snakes along the trail near the rock walls, and around 10 different species of birds.
Picture Canyon
A small canyon, it is perfect for a day of observing nature, seeing natural rock formations, having a picnic, and enjoying an easy hike. Found in the Comanche National Grassland, you'll also find rock art and carvings. These are evidence of the Plains Indians and their culture.
A few of the rock formations you can see include Crack Cave and Balanced Rock. You'll also find some rock shelters, which is more evidence of inhabitation.
Picture Canyon offers wonderful bird watching opportunities and you can also find evidence of early 20th century homesteads. Picnic tables offer moments to relax and the four mile loop hiking trail will give you ample time to explore.
Black Canyon of The Gunnison National Park
The National Park Service describes this canyon as "Deep, Steep, and Narrow." Black Canyon measures 2,722 feet at its deepest. While you can't actually hike into the canyon without a permit (it's a designated Wilderness area), there are still trails that take you around for some spectacular views. It is one of Colorado's four national parks.
Tons of Activities
Black Canyon offers lots of activities to explore the area. With diverse hiking trails available on both the North and South Rims, you can be very active for hours. Plus much more difficult hiking, rock climbing, and even kayaking or rafting in the canyon itself. If you choose to venture into the canyon itself, you'll need to be prepared to spend an unexpected night.
Scenic Drives
Not interested in physical activity? Not to worry. Scenic drives allow you to see much of the incredible landscape plus fishing and watching the native wildlife will let you have a laid-back day, but still experience the beauty of the area.
International Dark Sky Park 
Black Canyon of the Gunnison National Park is a certified International Dark Sky Park, meaning the night sky isn't obscured by modern, artificial light. Only lights that are necessary for safety are used within the park and they are pointed at the ground, where the light is needed. Visit at night and experience the beauty of thousands of stars in the gorgeous sky.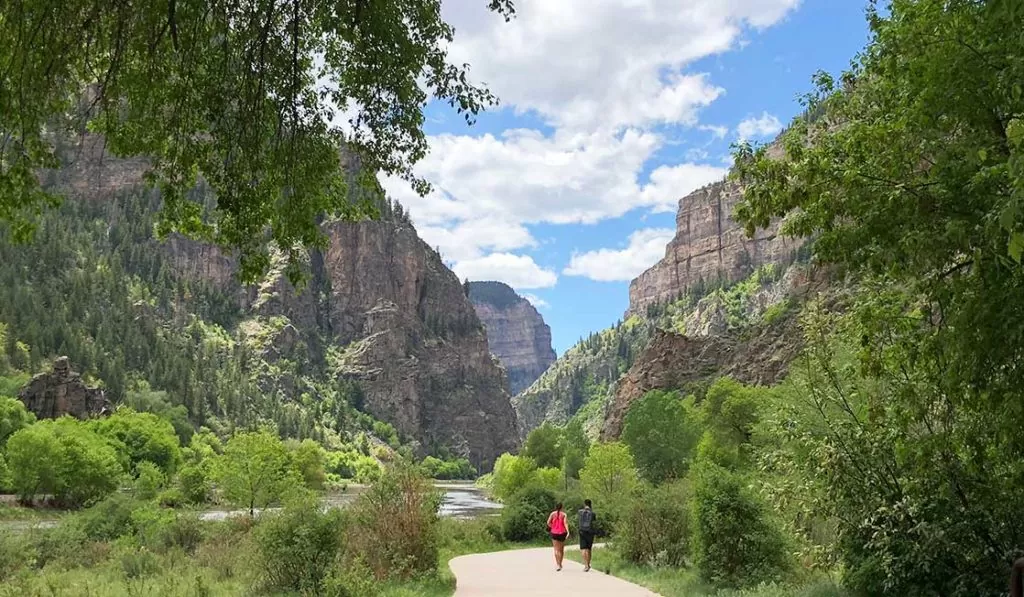 Glenwood Canyon
The largest canyon on the upper Colorado River, Glenwood Canyon is about 12.5 miles long and its walls are 1,300 feet tall in areas. Located in western Colorado, Glenwood Canyon has been used as part of the railroad and highway systems of the United States since the early 1900s.
Hosting the first route for cars through the Rocky Mountains, the canyon is known as one of the most beautiful, natural features along the United States Interstate Highway Systems. Apart from the travel benefits of the canyon, many activities are available within its walls.
Located in the canyon, Hanging Lake hike is one of the most popular, unique and beautiful hikes in Colorado. Note reservations are required.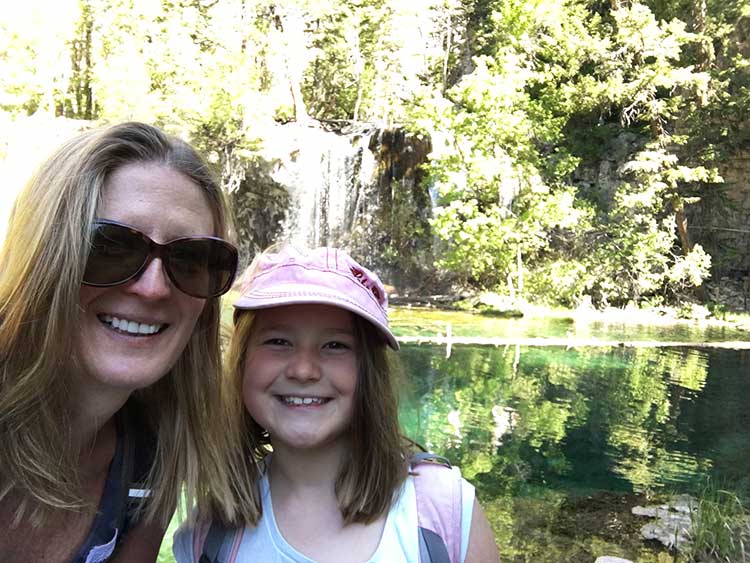 On the Colorado River itself, you can whitewater raft, canoe, kayak, and fish. Within the canyon, you have opportunities to picnic, hike, cycle, and view the local wildlife. Four distinct rest areas give you places to meet or rest plus access to the different activities.
Colorado National Monument
The canyon panorama here is stunning. There's plenty of wildlife. Watch closely for the Bog Horn Sheep as they do blend into the canyon walls. Bike, hike, camp or rock climb. Then take in the sunset views at what we think may be one of the most underrated national monuments in Colorado.
Castlewood Canyon State Park
This day use only state park protects the Castlewood Canyon Dam. The natural amphitheater and the Bridge Canyon Overlook gazebo at this state park are popular for weddings. Cherry Creek flows along the canyon floor, making for excellent hiking. This is one of the smaller canyons in Colorado, but something of a hidden gem.
Whether you choose to visit a canyon for a few hours or for an entire day, you won't be disappointed with your choice! Colorado is a beautiful state. There's unique and gorgeous natural landscapes that are just waiting for you to explore.
7 Stunning Canyons in Colorado