Colorado is world-renowned for its seemingly endless majestic mountain range and other unique landscape features, making it a popular destination for all sorts of outdoor enthusiasts. But what's equally as impressive is what you will find hidden beneath the ground. There's quite the variety of caves in Colorado.
Header photo: Cave of the Winds. Courtesy Visit Colorado Springs.
Colorado is home to grottos, caverns, and caves that offer breathtaking and beautiful sights that will utterly amaze you. Whether you're looking for a good hike before you reach your destination, or you're seeking a spot where you can simply unwind, each one of its caves has something different to offer you. These are caves in the state of Colorado that you'll want to consider exploring.
Cave of the Winds
Location: Manitou Springs
Difficulty: 3 tours that all have different levels of difficulty
What to Expect
Cave of the Winds is certainly rich when it comes to its history. It happens to be one of the oldest continuously operating attractions in all of Colorado, dating clear back to 1881. There's also evidence that the Apaches nation once considered this location sacred for a number of centuries. Located in Manitou Springs, this cave has 3 tours for you to choose from, all of which offer you incredible views. 
After you're finished, there are also a few attractions nearby that you may want to consider. They have the Wind Walker Challenge Course along with the Terror-Dactyl and the Bat-A-Pult, which both throw you over the canyon's mouth while witnessing gorgeous landscapes. Eek! There are even a Frontier Zipline and a Via Ferrata climbing wall that may be up your alley.
Insider Tip: If in the area, be sure to check out hikes in Colorado Springs.
Fault Cave
Location: Just outside of Golden
Difficulty: Short, steep hike up the mountain
What to Expect
If you consider yourself an experienced cave explorer and don't mind a cave that's a bit off the beaten path, then Fault Cave may be just what you are looking for. These caves were formed by a series of faults, hence creating a narrow, (sometimes claustrophobic) passageway.
Because of this, you won't think of this as your traditional cave visit, but who says that's a bad thing? You'll also want to do your research before you get there because the cave entrance can be difficult to find if you don't know what you're looking for.
Fulford Cave
Location: White River National Forest (Near Eagle)
Difficulty: Considered easy with a moderate hike (.9 mile hike there-and-back)
What to Expect
If this is your first-time cave exploring, (and even if it's not) Fulford Cave is an excellent one to explore for beginners. The cave only reaches a consistent year-round 42 degrees and is a bit on the wetter side in areas, so make sure that you prepare accordingly. Explorers especially enjoy visiting Fulford Cave after hiking during the summertime because it offers them a place to escape and cool off.
Groaning Cave
Location: White River National Forest
Difficulty: Difficult
What to Expect
Groaning Cave holds the record as being the largest cave in the state of Colorado, stretching for a length of nearly 12 miles! Its limestone canyon is said to be awe-inspiring, but it's in such a remote location and rated so difficult, that only a few of the most experienced spelunkers are able to ever witness it. The cave is only accessible from April 16th through August 14th, and you'll need to sign a waiver because of the large bat colonies that live within the caves.
Mollie Kathleen Goldmine
Location: Cripple Creek
Difficulty: Guided tour
What to Expect
When you first arrive in Cripple Creek, it appears as if Mollie Kathleen Gold Mine is a tourist trap, but rest assured; it's not. When you're first starting out you'll take a rattle cage elevator down an old vertical mine shaft to a depth of nearly 1,000 feet. That's taller than the height of the Eiffel Tower! The tour even gives you a hard hat to wear while you're venturing beneath the surface.
Rifle Mountain Park
Location: Rifle
Difficulty: Moderate
What to Expect
It's been said that Rifle is where you will find some of the best limestone sport rock climbing in all of North America. Their caves are also worth visiting, where some of them are home to a huge population of bats. You'll especially enjoy it if you visit during the winter because of the waterfall and canyon walls that freeze and forms a spectacular ice formation, including large icicles.
Insider Tip: If visiting Rifle Mountain Park make a short trek over to Rifle Falls State Park to see a spectacular triple waterfall. Here there's a hike with some small caves for the kiddos to explore.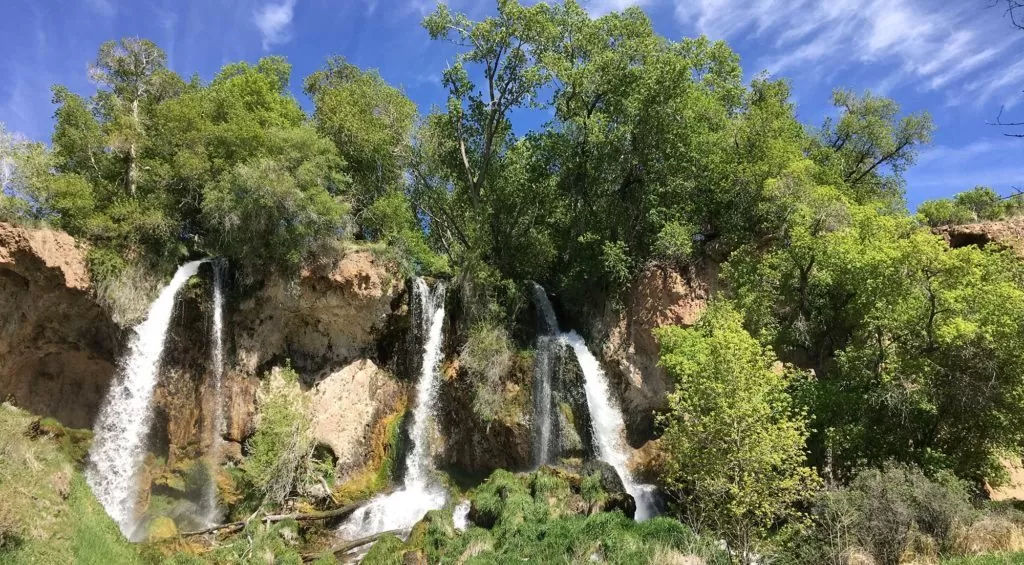 Spring Cave
Location: White River National Forest (1.2 miles there and back trail close to Meeker)
Difficulty: Difficult with a moderate hike
What to Expect
At Spring Cave you'll come across extensive underground tunnels and "Thunder Road", which happens to be one of the largest underground waterways in the state. The trail starts out around Meeker, in an isolated area that's surrounded by aspen and blue spruce trees. Note that this adventure is for the more experienced cave explorer.
Vapor Caves
Location: Glenwood Springs (Yampah Spa and Salon)
Difficulty: Relaxing
What to Expect
Vapor Caves offers you something completely different from all the rest on our list. For some of you, you'll be excited to find that there's no hiking involved whatsoever. That's because it's a spa that has natural underground hot springs within the caves.
It's certainly therapeutic for those that are needing a good steam bath, as temperatures remain around 110 to 112 degrees. If it gets too much for you, there's also colder water above the ground that you can soak in to cool you back off.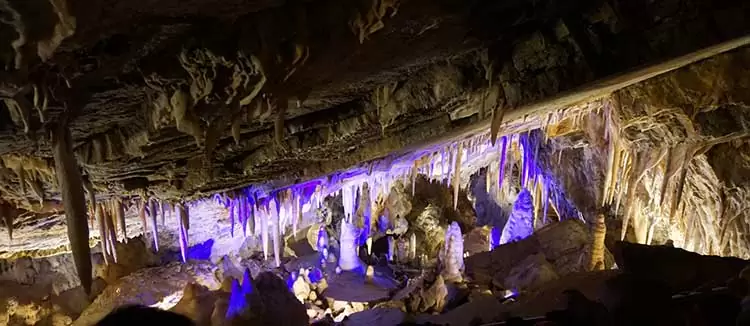 Glenwood Caverns
Location: Glenwood Springs
Difficulty: Easy
What to Expect
Discovered in the 1950's the Glenwood Caverns originally weren't accessible except to a few hardy cavers. Cavers had to be willing to crawl and wiggle through tiny spaces to see the caves.
The Fairy Caves became a thriving tourist destination in the 1890s. This was thanks to Charles W. Darrow opening them to visitors. At that time the known extent of the cave was about 800 feet. Today Glenwood Caverns accesses more than 16,000 known feet of caves.
When the Fairy Caves first opened to the public, visitors could only get to the caves three ways: Hiking up a trail; Riding a horse or burro; Being transported in style in a horse-drawn carriage.
Today, visitors access the historic Fairy Caves via the scenic gondola on the Iron Mountain Tramway at Glenwood Caverns Adventure Park.
No matter which caves on this list that you decide to visit, it will be a memory that you and your family will never forget. There's plenty of interesting things to see. And some of them have other attractions that you'll want to check out while you're in the area. Have any of you already visited one of these magnificent caves? Tell us about your experience and what you thought.
Caves in Colorado: From Spelunking to Fairy Cave Tours