We live in a small town in Colorado. The thing that provided me the most delight from our move here, was the ice skates that came to hang in the garage. Our little town of Eagle, maintains a free outdoor ice rink in the winter. I grew up ice skating and the idea of just being able to grab our skates and glide around the ice still brings me joy. Our Colorado mountain town is not unique. From Denver to our mountain towns, there are plenty of Colorado outdoor ice skating opportunities during our snowy winters.
Many think of skiing when they think of Colorado. But really it is these other winter activities like skating and sledding that really make Colorado such a winter wonderland. There's nothing better than grabbing your skates on a beautiful winter day and gliding and spinning around an outdoor ice rink. Just make sure to wrap the day up with some hot cocoa!
Colorado Outdoor Ice Skating Rinks
Ice skating is popular in Colorado, as is hockey. There are many, many ice skating rinks. Today we are really just talking about recreational outdoor skating rinks. The places that are made just for fun. From downtown Denver to our snowy ski resorts, you are sure to find ice skating fun for your family!
Beaver Creek Ice Skating
Beaver Creek Village Ice Skating at 60 Avondale Lane Avon, CO 81620 | (970) 845-0438
Open both summer and winter, skating at the Beaver Creek Ice Rink offers a quaint alpine village ambiance surrounded by heater cobblestone sidewalks, restaurants and shopping. $5 admission with your own skates; $10 admission and rentals for ages 12 and under; $15 admission and rentals for ages 13+.
Boulder Ice Skating
Ice Skating at One Boulder Plaza at 1801 13th Street 105, Boulder, CO 80302 | (303) 209-3722
Open seasonally during the winter, this ice rink is offers fun public ice skating as well as Broomball once a week. Restaurants and shopping is conveniently located around the rink.
Breckenridge Ice Skating
Stephen C. West Ice Arena at 0189 Boreas Pass Road Breckenridge, CO 80424 | 970.547.9974
This Breckenridge Ice Arena is comprised of two NHL-sized ice skating surfaces. Run by the Town of Breckenridge, one indoor ice rink is open year round and the outdoor ice skating rink open October through April. $6-8 per person, plus a $4 skate rental fee if you don't bring your own skates.
Copper Mountain Ice Skating
West Lake Ice Skating Rink at 243 Ten Mile Cir building w2, Frisco, CO 80443
Typically in December this lake freezes and then opens to the public for free ice skating. Visitors cab bring  skates or rent them from City Pop for $10 each. Or, spend $40 in the Village at Copper's restaurants or shops, Sun-Thurs and receive a free ice skate rental with the receipt.
Downtown Denver Ice Skating
Skyline Park at 1601 Arapahoe St, Denver, CO 80202
Downtown Denver offers free ice skating at Skyline Park. One of the more popular Colorado ice skating rinks, almost half a million skaters have enjoyed ice skating here over the last decade. Bring your skates or rent them here for $7-10. Broomball and other special events make this Colorado ice skating rink unique.
Other Denver Ice Skating
Denver International Airport (DIA) at 8500 Peña Blvd, Denver, CO 80249
From November 22, 2019 through January 20, 2020 DIA offers free ice skating outside on the Plaza between Jeppesen Terminal and the Westin Hotel. Skates available at no cost. This may be the only ice rink where you can skate for free without owning a pair of skates. Also, look for fun activities and entertainment on Friday afternoons.
Gaylord Rockies at 6700 N Gaylord Rockies Blvd, Aurora, CO 80019 | (720) 452-6900
New for 2019, Gaylord Rockies has brought Gaylord ICE! to Colorado. This Christmas extravaganza offers a cirque holiday show, a winter wonderland carved from more than two million pounds of colorful ice and more fun winter activities that include ice skating, ice tubing and ice bumper cars. For any of these activities you'll want to purchase tickets in advance.
Ft. Collins Ice Skating
Old Town Square Ice Rink at 199 Trimble Ct, Fort Collins, CO 80524 | (970) 484-6500

This outdoor skating rink uses Kwik Rink Synthetic Ice which is a low-maintenance synthetic surface used by competitive hockey players, figure skaters, and recreation users. It allows for ice skating in any weather conditions. Skating is available here for free through February 1, 2020. Bring your skates or rent them here for a small fee.
Keystone Ice Skating
Lakeside Ice Rink at Decatur Rd, Keystone, CO 80435 | (800) 328-1323
In winter Keystone converts this 5-acre lake into the largest Zamboni-maintained outdoor rink in North America. Festive holiday lights and fun music make this ice rink extra fun. Admission ranges from $5-15, and skate rental also ranges from $5-15.
Vail Ice Skating
The town of Vail is home to two charming outdoor ice skating rinks.
Solaris Ice Skating Rink at 141 E Meadow Dr #1000 Vail CO 81657 | (970) 476-9000
Open daily during the winter, skate rentals available next to the bōl restaurant in the Solaris. This is the ice rink that most commonly features special ice skating performances around the holidays.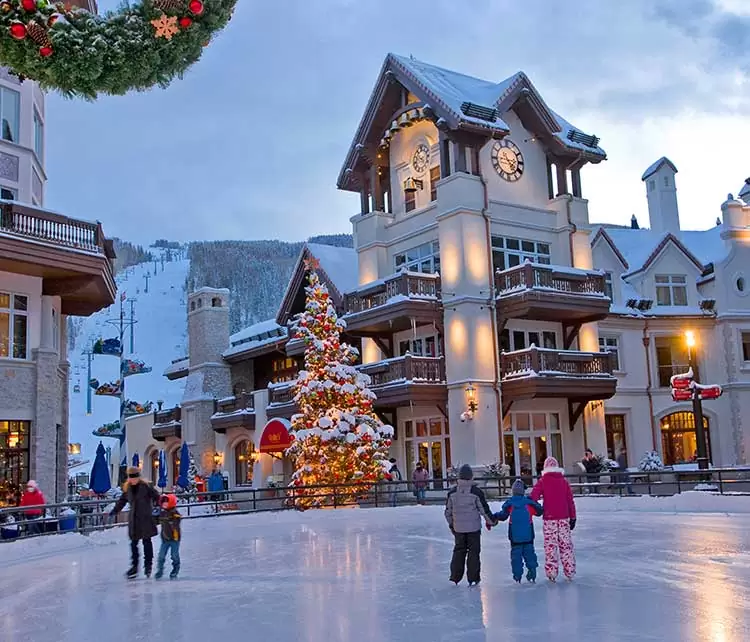 Alderhof Ice Rink at 675 Lionshead Place Vail CO 81657 | 970-429-5045

Operated by the Arrabelle hotel, the Alderhof ice rink is located at Vail Square in Lionshead Village. The rink is open daily throughout the winter, typically starting at Thanksgiving. Ice skates are available for rent. Call for pricing.
Insider Tip: Looking for indoor fun on the ice? Be sure to check out ice bumper cars! They are so much fun.
Colorado Outdoor Ice Skating Fun