Colorado is home to many spectacular hikes. As someone who has hiked Colorado for several years, Colorado Springs hikes actually surprised me with their diversity. From red rock views to Pike's Peak and breathtaking waterfalls there are trails for almost every level of hiker.
Several years ago, I would drive from Denver to Boulder to hike Sanitas with my dog a couple of times a week. I never thought to drive to Colorado Springs to hike. Come to find out that I was missing out on some beautiful and very different Colorado Springs hiking trails.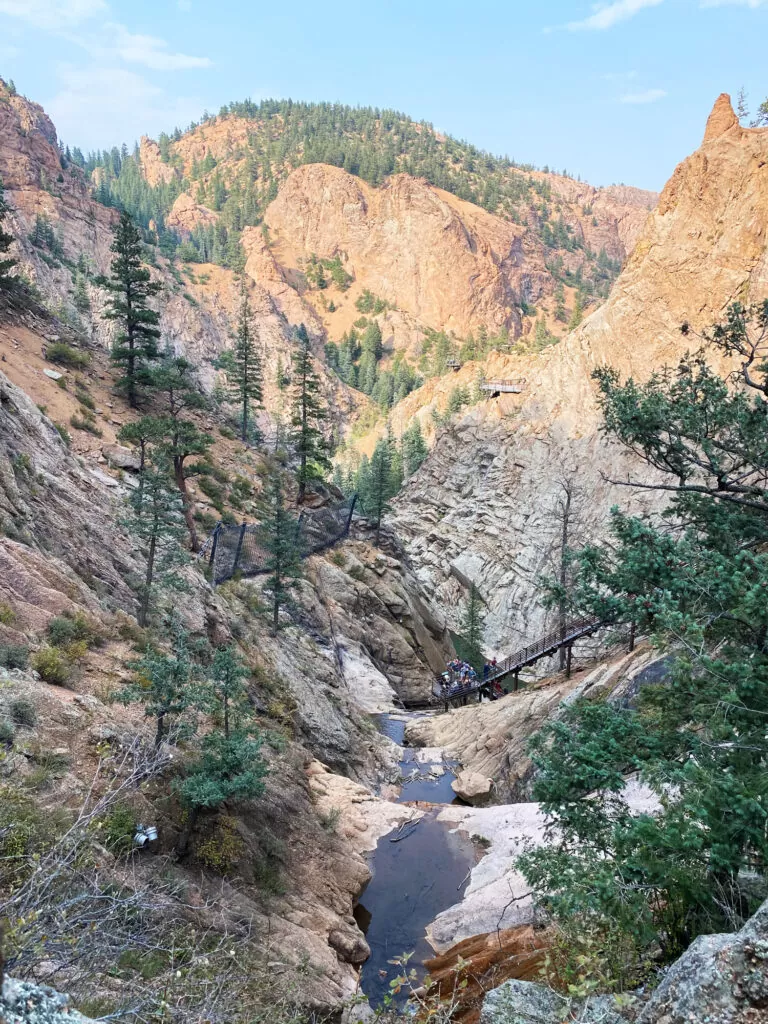 Seven Falls Hike
Owned and operated by the historic Broadmoor, Seven Falls is the only waterfall in Colorado to make National Geographic's list of international waterfalls. This unique series of waterfalls is situated in a 1,250-foot-wall box canyon.
Seven Falls is particularly easy to get to. Purchase a ticket and shuttle in. Then there's a pretty walk in that is less than a mile to the falls. A tram is available for those who don't want to walk it. There are both stairs and an elevator to take you to a viewing platform for the best views of the falls. Or climb the 224 steps to the top of the falls where the Seven Falls hiking trails are located. There are a couple of beautiful hiking loops to choose from at the top of these stairs.
The steps will likely be the most challenging part of the hike. The Seven Falls hikes don't have too much of an incline once you've summited the stairs. You can take one or both of the Seven Falls hikes. Midnight Falls trail is about 20 minutes roundtrip. And, Inspiration Point Trail is about an hour round trip.
This is one of our favorite waterfalls in Colorado.
Insider Tip: Seven Falls is dog friendly, as are many Colorado Springs attractions.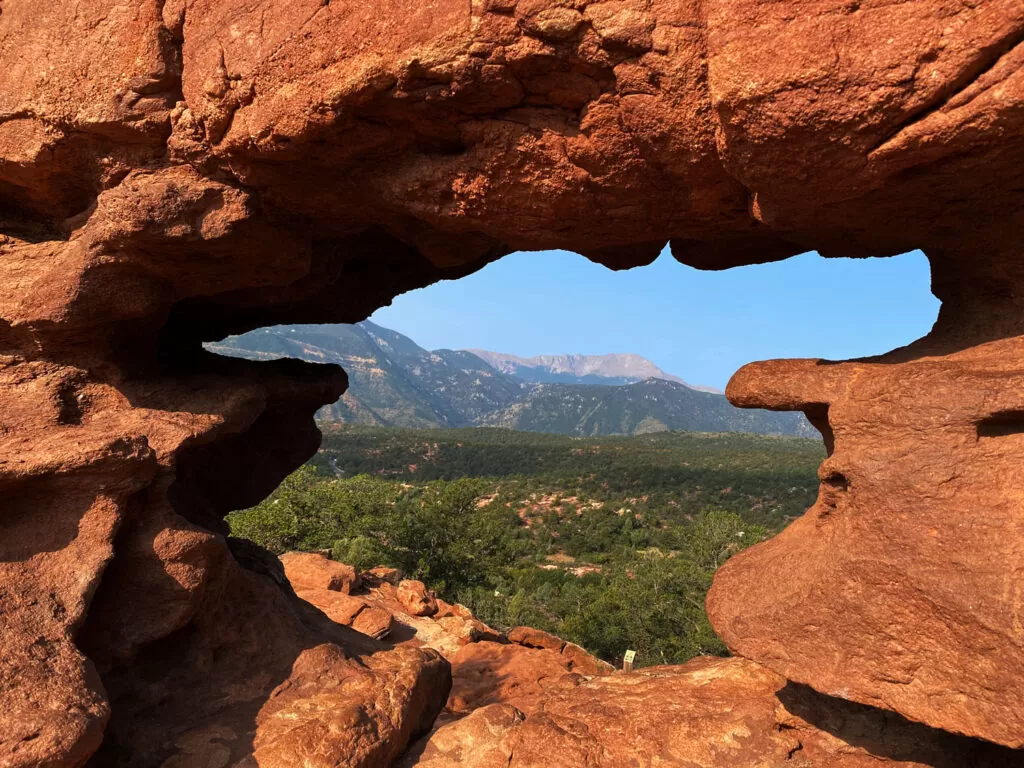 Garden of the Gods
Garden of the Gods has a variety of trails that attract a diverse group of people. From locals trail running to tourists taking in the views, this is a popular area. We found it not too busy fairly early on a Saturday morning. I'd love to come out at sunset to see it then too.
Garden of the Gods Park is a registered National Natural Landmark with 300 foot towering sandstone rock formations and spectacular views of Pikes Peak in the background. Be sure to stop at the Garden of the Gods Visitor & Nature Center information desk for a trail map.
Our family did not pick up a trail map and so ventured out on both Ridge Trail and Siamese Twins Trail, though our intent had been just to hike Siamese Twins. But neither are really very difficult.
Ridge Trail is a 1/2 mile loop and only has 100 foot elevation gain. Siamese Twins Trail is a short 1 mile hike, with less than a 150 foot elevation gain. The natural window of the twins is set with Pike's Peak in the background. Lots of people were taking photos up here. We even a pair of rescue wolves.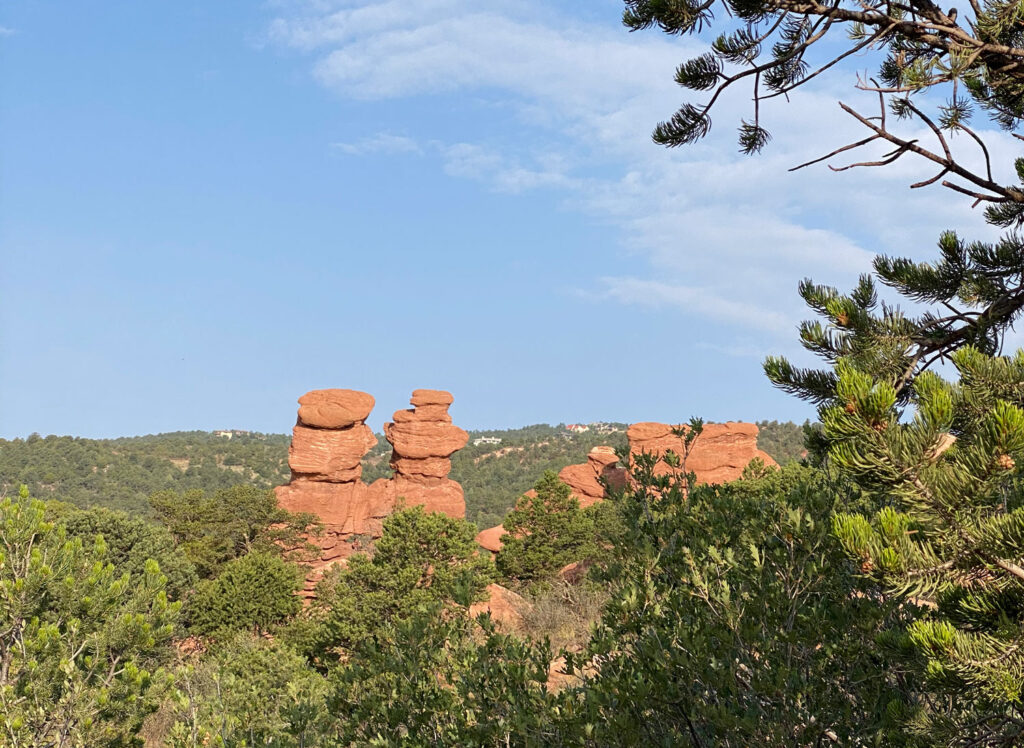 Red Rock Canyon Open Space
There are a handful of trails at Red Rock Canyon Open Space varying in length from a short one mile up to almost four miles. Originally the property was almost 800 acres. But recent purchases of White Acres and Section 16 have expanded the total area to almost 1500. acres. This added Palmer Red Rock Loop Trail into Red Rock Canyon Open Space adding several new hiking trails. Of these hiking trails, two are even off leash friendly for dogs.
Cheyenne Mountain State Park
Colorado State Parks offer some really fantastic hiking trails. Cheyenne Mountain State Park is no exception. Over twenty hiking trails of a wide variety of difficulty are spread throughout the park with beautiful views of Cheyenne Mountain. These trails cover 28 miles of fun for hikers and bikers. Though there are a few designated for equestrian use, and leashed dogs. Raccoon Ridge, Acorn Alley, Bobcat Way and a designated part of Soaring Kestrel allow leashed dogs.
This park is adjacent to Fort Carson so don't be startled by the light booms that are the result of artillery practice.
Austin Bluffs Open Space
If you haven't figured it out by now, Colorado Springs has some pretty distinctive rock formations. Most of the trails in this network of small hiking trails taking you to Pulpit Rock, one of the most distinctive rock formations in the area. But with other trails with names such as Angry Squirrel how could you resist checking it all out?
Ute Valley Park
The Ute Valley Park is a popular place for hiking and biking. There are sandstone cliffs and mesas to take in, but also some flat and wooded areas. The hikes are fairly easy and offer views of Pikes Peak and the Pope Bluffs formation.
North Cheyenne Cañon Park
This 1,600-acre park offers loads of hiking trails. It is where Helen Hunt Falls is located. But there are several other popular hikes in the park. Seven Bridges Trail is a four mile popular out and back trail that boasts a waterfall. Bear Creek Trail is a 6.9 mile lightly trafficked out and back trail in North Cheyenne Cañon Park.
Helen Hunt Falls
Helen Hunt Falls offers a parking area at the base of the falls, just a couple of miles from the entrance of North Cheyenne Cañon Park. From there, hike a half mile up a 150 foot elevation gain to Silver Cascade Falls to take in views of this second waterfall and a magnificent view of North Cheyenne Canyon.
Colorado Springs Hikes with Unique Views