Colorado has been my home for more than twenty years. But it wasn't until I had children that I discovered Colorado's many spectacular waterfalls. The best known and first Colorado waterfall that I visited was Hanging Lake. Then when looking for an easy hike, Rifle Falls became our new favorite of waterfall hikes. Now, we seek out some of these beautiful falls for hiking, fun and picnics. Fresh mountain air, cool water splashing down and pretty views. There's not a place I'd rather be almost anytime of the year.
Since my family doesn't love to hike like I do, I look for waterfalls that are relatively easy to access. Fortunately there are several of these throughout Colorado. Read on to discover these special places for yourself.
Hanging Lake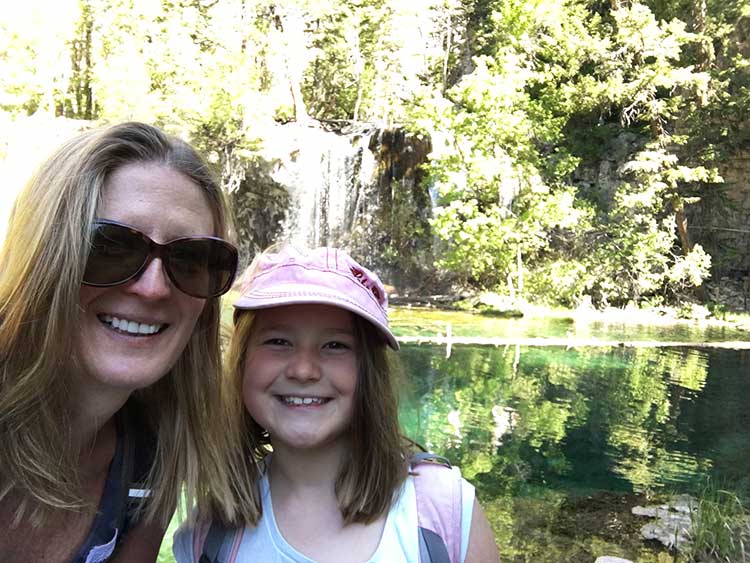 Glenwood Canyon, Garfield County
Yes, this is a lake, but waterfalls rush down into the emerald green lake. This is actually the most difficult of the Colorado waterfalls to get to of our collection. Hanging Lake Trail isn't that difficult of a hike. But because of its popularity many people who aren't hikers tackle the trail and find that it also isn't easy. The hike is 3.2 mile round trip hike with a fairly steep ascension of around 1,000 feet.
My daughter hiked this with me at age seven. I learned from that experience and waited until my son was a little older to take him. I made sure to let them bring friends and also pack some sweet treats to hand out along the way to keep up the motivation.
The payoff is truly great and well worth whatever hat tricks you need to get more reluctant friends or family to join you.After being temporarily closed due to the Grizzly Creek fire and then subsequent flooding, the National Forest Service re-opened it early summer 2022.
Due to its popularity there is actually a reservations system in place to be able to hike the trail. At this time reservations come with parking at the trailhead. There was a period of time when you were required to take a shuttle from Glenwood Springs. Happily that has been suspended for the time being.
No dogs are allowed on this trail due to its sensitive ecosystem. There is no swimming in the lake for the same reason. As always, it is important to respect signage and protect these special places.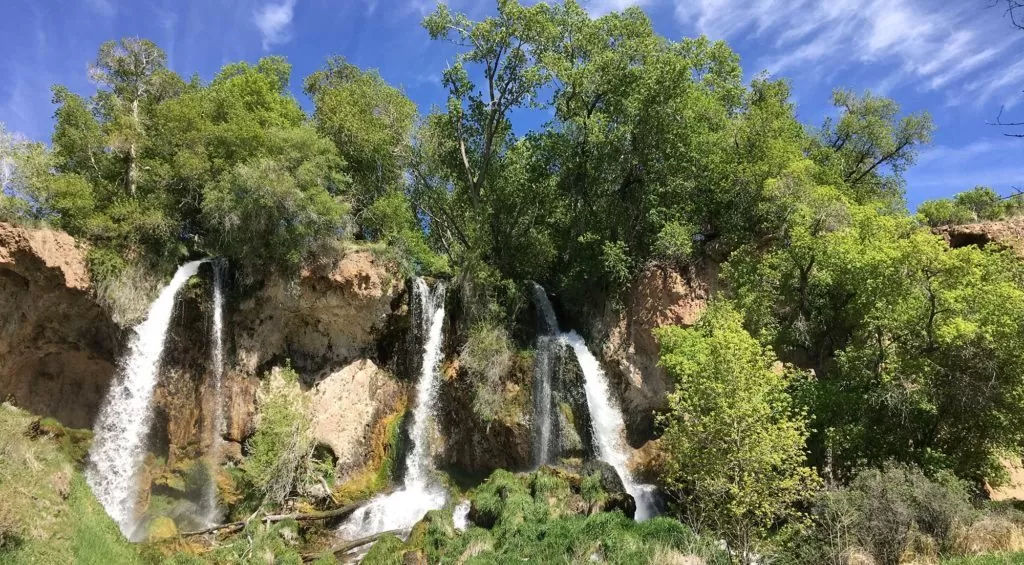 Rifle Falls State Park
Rifle, Garfield County
With three trails that loop 1 to 1.5 miles through waterfalls, limestone caves and ponds Rifle Falls is perfect for families. A triple 70-foot waterfall flows at the base of the trail. From there it is a short walk to explore caves, a fish hatchery, the top of the falls and then around to even go behind the waterfalls. When our kids were young, this was our family's favorite of the many beautiful Colorado waterfalls.
Camping sites located near the entrance to the park can be reserved in advance.
The parking lot does fill quickly on weekends, so it is best to get out early.
The drive is beautiful, through western Colorado farm land. There is no cell service as you near the park.
Dogs are welcome on leash on the main trail, but not on Coyote Trail and on the Colorado Division of Wildlife's Fish Hatchery at the upper portion of the park.
Snow Mountain Ranch Waterfall Hike
Granby, Grand County
YMCA of the Rockies' Snow Mountain Ranch property near Rocky Mountain National Park boasts a beautiful waterfall hike. You must either stay on property or get a day pass to access the hike.
The trailhead is a drive down a dirt road, with picnic tables at the trailhead. The trail is just over two miles round trip and is a fairly gradual slope on a wide path. Along the way you will find signs telling you about the wildlife, plants and more. The falls themselves are beautiful. Water rushing from above is always peaceful. Dogs on leash are welcome here. We spotted several families with young children.
Zapata Falls
Alamosa County, near Great Sand Dunes National Park
Located near Great Sand Dunes National Park, Zapata Falls is more of an experience than breathtaking falls pouring down from feet above. The falls themselves can actually be quite small depending on what time of the year you visit. But it is a really fun experience.
After a slow drive up a bumpy road it is a short half mile hike to a stream that leads up to caves where the falls come out. The water is snow melt off and it freezing. You have to walk up the river in the freezing cold water into a dark cave where the falls come out of a hole at the top of the cave, 25 feet above. The amount of water depends on the time of year and how much snowpack there was the proceeding winter.
The hike down affords beautiful views of the Great Sand Dunes. Leashed dogs are welcome.
Seven Falls
Colorado Springs, El Paso County
The only waterfall in Colorado to make National Geographic's list of international waterfalls, Seven Falls is particularly easy to get to. Purchase a ticket, shuttle in and then have less than a mile walk in. There are both stairs and an elevator to take you to a viewing platform for the best views of the falls. It is located on the Broadmoor property in Colorado Springs.
There are additional activities on site including a zip line and dining options. In the evening colorful lights line the waterfall.
There is a cost to entry. It does include parking and a shuttle. Dog on leash are welcome.
Rainbow Falls
Manitou Springs, El Paso County
Located in Manitou Springs, Rainbow Falls is easily accessible. Deriving its name from the graffiti painted on the walls and bridge, these falls are busy. It is different than some of the other falls we have visited in Colorado. Certainly not untouched by humans. But worth a visit.
Helen Hunt Falls
Colorado Springs, El Paso County
Helen Hunt Falls offers a parking area at the base of the falls, just a couple of miles from the entrance of North Cheyenne Cañon Park. If you are up for a hike, head up to Silver Cascade Falls to take in a breathtaking view of North Cheyenne Cañon.
Other Colorado Waterfalls
My family prefers falls that don't require several miles of hiking to reach. But there are plenty of other waterfalls throughout the state where you earn the views, or tat we just haven't had the opportunity or visit yet. Here are a few additional Colorado waterfalls to consider visiting.
St Mary's Falls
Catamount Falls
Bridal Veil Falls
Clear Creek Falls
Fish Creek Falls
Box Canyon Falls
Bear Creek Falls
Treasure Falls
Have you visited any of these Colorado waterfalls? Are there any others that we should add to the list? Tell us in the comments below!
Colorado Waterfalls filled with Family Fun