Costa Rica has something for everyone: beaches, rain forests, volcanoes, turtles, sloths, colorful birds, crocodiles and more! It is the perfect International family friendly destination. A relatively short flight from the United States, Costa Rica with kids makes for an ideal family vacation. There is plenty to do and see on a family trip to Costa Rica, for all ages from toddlers to seniors. Our family took a multi-generational vacation to this bucket list destination in November of 2019. Whether you are planning a 7 days in Costa Rica or staying for longer, we've got all you need to know right here about Costa Rican family vacations.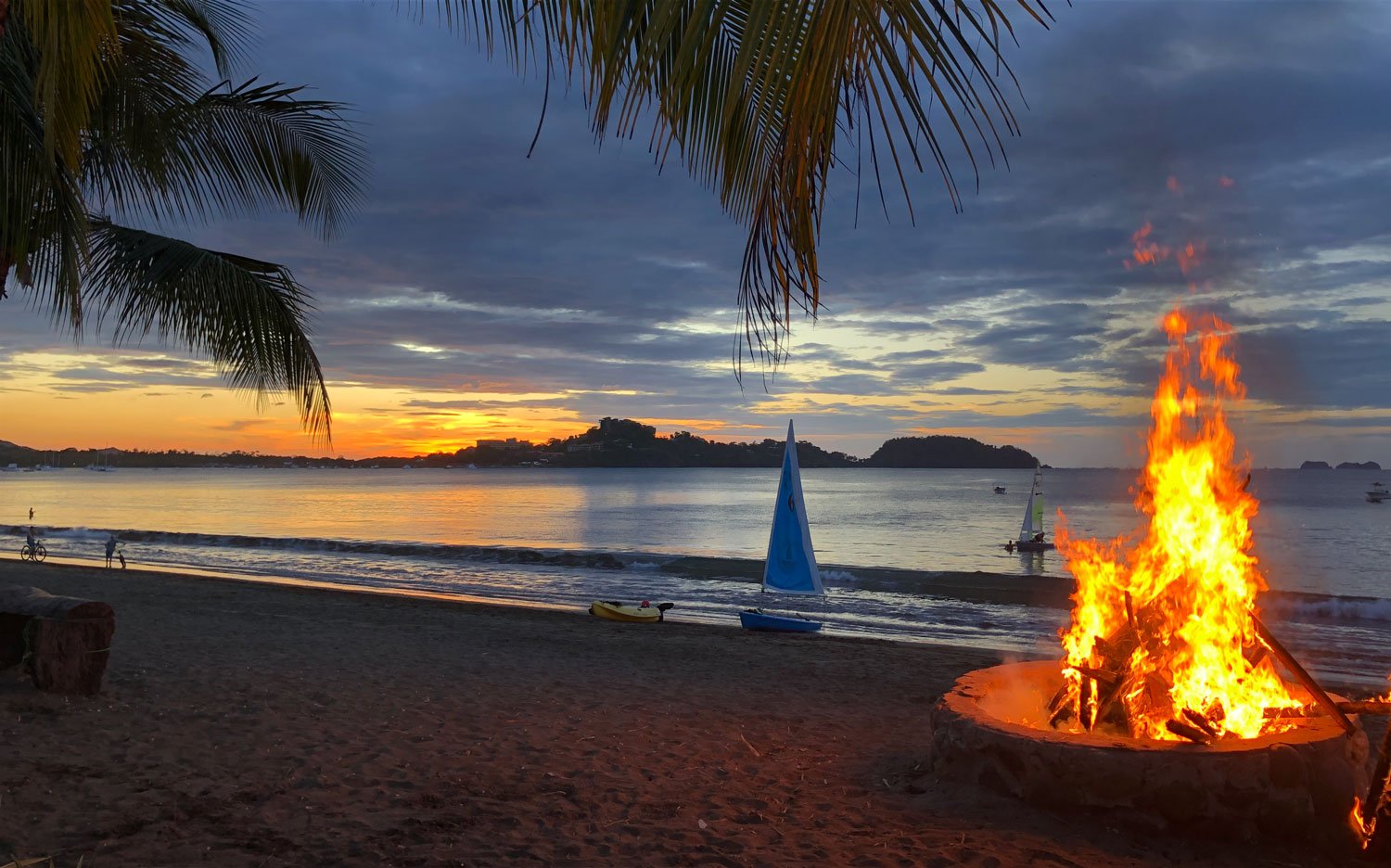 The seeds of this Costa Rican adventure were planted a couple of years ago when my son told his kindergarten teacher that we were going to Costa Rica for Spring Break. Spoiler: We weren't. But I had to ask "Why?" and he responded that he wanted to go because Mac C & Poppies (grandma & grandpa) had told him all about it. With just a little research, I discovered that Costa Rica is fairly easily accessible. And, it was a destination that Ma C and Poppies might have an interest in visiting again with us. Thus our family vacation to Costa Rica blossomed.
We could have rain forest adventures, and then go on to relax at the beach. We'd taken on a Caribbean cruise that stopped at International ports, but hadn't yet adventured out of the country with them. What a perfect first International destination for our family — Costa Rica with kids!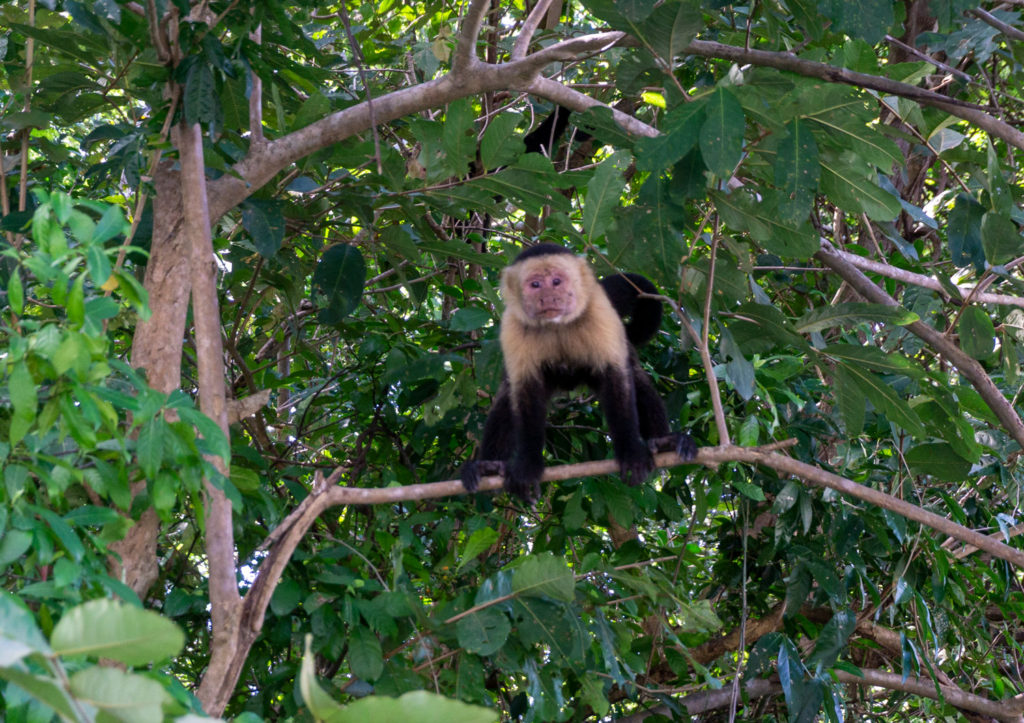 Prioritize What is Most Important for your Costa Rica Vacation
Where to stay in Costa Rica? Our family had a couple of goals from this trip. We wanted to experience the culture and people of Costa Rica. So, no all-inclusive resorts or hotels for us. Or, brand name resorts. Note: If an all-inclusive hotels are a better fit for your family, check out the Rio Guanacaste that our friends at Traveling in Heels enjoyed.
As much as possible, I searched out local family run businesses  for accommodations, dining, tours. I wanted to be a bit out of our comfort zone, all while spending quality time with extended family.
Different members of our multi-gen family have different vacation preferences. Some love the beach, others don't. Some love to continually explore, others like to relax. A multi-gen family vacation takes consideration of each member of the travel party. So, both beaches and rain forests made it onto our itinerary.
We actually enjoyed a Costa Rica 10 day itinerary with our family. But you could do what we did in 7, if willing to cut out a couple of days lazing on the beach.
Beach lovers, nature lovers, animal lovers… Costa Rica is for all of you.
Driving in Costa Rica with Kids
Costa Rican roads are downright scary. There are no shoulders, bridges are one lane and street lights are few and far between. There's no way to predict traffic. So, while it seems like a small country that you could cover in 7 to 10 days, you shouldn't try. Narrow down your Costa Rican destinations to two areas within three hours of each other. While we did rent a car and survived, it was recommended to us by many sources to hire a driver.
Airports in Costa Rica
Costa Rica offers two major airports accessible from multiple American cities. First you need to decide on your Costa Rica itinerary to determine which airport will be best for arrival. Or, perhaps you fly into one and out of the other. If you plan on spending any time in the Guanacaste region or the Nicola Peninsula, you will want to fly into Liberia International Airport. If you plan to visit Manuel Antonio, you will want to fly into San Jose International Airport.
Our family airline of choice, Southwest Airlines, flies to Liberia. We planned on visiting Playa Potrero in the Guanacaste region so that became our initial destination. Liberia isn't much of a city by American standards. There is a Walmart which you may want to stop at for a SIM card if you are renting a car and driving. Be sure to also load minutes or money onto the SIM card right there at Walmart or any other local Mercado.
The San Jose International Airport is the busier airport. You may be able to find a better variety of flights in and out of San Jose than Liberia. And, it will be your air port of choice if visiting Manuel Antonio or the Caribbean Coast.
7 Days in Costa Rica: Arenal Volcano – Guanacaste Region
You know your kids best. For us, it is important to have a home base and a place to settle into. We  recommend limiting your itinerary to two destinations for a 7-10 day itinerary. If you are a high energy, adventure focused family or are traveling with older children you might be able to add in a third destination.
If you want beaches, plan on flying into Liberia. We wanted adventure and rainforest first and then relaxation at the beach. But you could certainly switch this around and start with the beach. Here you'll find a couple of extra options for your Costa Rica itinerary.
Head to Arenal Volcano / La Fortuna Area first for adventure. There is so much to see and do in this area. Our family planned for one major activity each day. But if you are an active family (or with older kids) who doesn't need much downtime you might be able to get two activities in. We did stay at a hotel with hot springs so we didn't need to make that an activity as we did it as part of our relaxation time on property.
Day 1: Take one of the Costa Rica rainforest tours to see Sloths

A Sloth Tour is a great way to see the rainforest with a tour guide. Guides are skilled at spotting sloths and other animals that you would just pass right by. You also likely see monkeys, poison dart frogs and lots of birds. Conclude with the most delicious fresh juices and snacks. Our daughter came home with a new found love of Pico de Gallo thanks to this tour.
I found this chocolate and coffee tour in a Lonely Planet Guidebook. But as we drove there in the pouring rain, and located the destination with GPS rather than street signs, I had moments of doubt. We pulled up in a family's yard. Our guide, Minor, greeted us with bananas right off the banana tree in his yard. We then set off to take a tour of the land surrounding their home that was the most amazing ecosystem. To call this a chocolate tour is an understatement. I won't spoil all the surprises. But know that this is a must-do tour, possibly the favorite of our trip.
There are so many Costa Rica rainforest tours. But this is one you won't want to miss. Hire a guide and you will see lots of wildlife: Costa Rican raccoons, butterflies, frogs, bats, snakes and more. This is a pretty good hike, so could be a bit much for smaller children. But there is a short cut so you don't have to go the whole way. But you miss the waterfall if you cut out early. It is truly a spectacular place. And, this is where the rain finally stopped for us and the clouds cleared enough to get a view of the Arenal Volcano for the first time.
Day 4: Go Ziplining
Here you can zipline over a waterfall. Fun and a unique way to see the landscape around the Arenal Volcano. This is certainly one of the most spectacular places in the world to be able to soar over the canopy.
Day 5: Soak in mineral hot springs
This area of Costa Rica is known for its natural mineral hot springs. If you didn't stay at a property with hot springs on site, you should certainly squeeze in a soak before heading out. The better known hot springs in the area include Tabacon, Baldi  and The Springs.
Head to one of the beaches on the Nicoya Peninsula in the Guanacaste province of Costa Rica. Playa Potrero offers the sandy beaches, spectacular views and relaxed vibe. But there's also Playa Flamingo, Playa Grande and many other beautiful Costa Rican beach towns.
Day 6: Relax at the beach
Our family needs down time. And, the beach is the perfect place to get it. Don't feel like you have to schedule something every day. Take some walks on the beach, play in the waves and watch the kids build sand castles while you read a book.
Insider Tip: Find out what we think are the best beaches in Costa Rica!
Day 7: Take a sunset cruise
This area of Costa Rica boasts some of the most spectacular sunsets in the world. Catamaran tours depart in the afternoon, offer snorkeling, paddleboarding and kayaking. After some activity enjoy snacks and then take in the gorgeous sunset. The perfect end to a Costa Rica vacation!
Day 8: Palo Verde Boat Tour
Yes, this is a 7 day Costa Rican itinerary with an 8th day. Should you decide to spend an additional day at the beach this is a really fun option. Palo Verde National Park is about an hour and a half from Guanacoste. We saw as many interesting animals on this tour as we did in the Arenal area. The only one missing was the sloth. But this is where we got up close with crocodiles. And, it was from the comfort of a boat on the river.
Costa Rica Family Itinerary: Arenal Volcano to Manuel Antonio
Our family debated between the beaches of Manuel Antonio National Park or the Nicoya Peninsula of Guanacoste. Guanacoste and Playa Potrero won out as we wanted to be right on the beach. We wanted to be able to walk out of our condo and to be on the beach, and to walk on the beach to dinner.
One of Costa Rica's most popular national parks, Manuel Antonio does offer rain forest and beach all in one location. If you have a shorter time to visit, or San Jose is your airport of choice this itinerary could be a better option for your family.
If you have time, try to work in a visit to the Monteverde cloud forest.
Everything Else You Need to Know About Visiting Costa Rica
What is traditional Costa Rican cuisine?
Delicious. Fresh fruits right off the trees. Rice and beans. Arroz con Pollo. We ate our way through Costa Rica, stopping at as many sodas as we could. Sodas are open air restaurants with limited menus serving only traditional Costa Rican food, often operated out of someone's home.
Do I need to know Spanish to get around Costa Rica?
No, English is widely spoken in Costa Rica. But learning and practicing a few key phrases will garner respect from the Ticos. Practice greetings as simple as "Hello!" and "How are You?" "Hola!" and "Cómo estás?" And, be sure to include "Pura Vida!" as much as possible.
What money is used in Costa Rica?
Colones is the currency of Costa Rica. You can pick some up at the airport as you arrive. Or, stop at an ATM. ATMs are widely available throughout the country. Though you will be best served using one connected to a bank. Be sure to not wear hats and sunglasses while getting cash at a bank. It is best to pay in Colones although US Dollars are widely accepted. You can also use your major credit cards at most places other than some Sodas.
Is it safe to drive in Costa Rica?
That may depend on how lucky you are. We drove and certainly felt lucky that we had no accident while there. There are few street signs. There are no shoulders on the roads. Often there is no dividing line and cars may opt to not stay on their side of the road. As there are no shoulders, cars often park in the middle of the road. People, dogs and bicycles randomly roam the roads. There are no street lights. And, bridges are one lane.
If you do decide to drive, as we did, rent from Adobe Rental Car. They won't upsell you on the insurance. And, add either GPS or a WiFi Hot Spot. We added the WiFi hot spot and it was what got us to our destination. We used Waze on one phone and Google Maps on another phone. Sometimes directions were different. But one always worked.
Is Costa Rica safe?
We always felt safe while on our Costa Rican family vacation. But we did leave valuables at home. There is petty crime. So, just be be smart. Don't leave anything unattended. Don't wear flashy jewelry. And, lock anything important up in your safe.
Your passport is important, and is apparently hot on the black market in Costa Rica. If you are driving, the law says that you need to have it on you. But, we have heard that a color copy or image of the first page along with a copy of the page with your entry stamp would suffice. We can't say that we know. You will have to decide what is the bigger risk — having your passport stolen or not having the proper documentation if you drive and happen to get pulled over. We went with option B and locked passports away in the safe but carried an image on our phones.
Can you drink the water in Costa Rica?
Yes, the common advice is yes unless you are in a very rural area. We did mostly err on the safe side with mostly bottled water.  We did always make our coffee with tap water. And, bottled water may not be an option for much longer. Costa Rica is set to be plastic free very soon.
What immunizations do you need to visit Costa Rica?
Visit your doctor or call your local county health services for answer this. Our kids were up to date on immunizations and didn't need anything. My husband and I got an updated Hep A shot just to be sure. We did also bring Imodium and Pepto Bismol just in case we had any stomach issues.
Do you need a visa to enter Costa Rica?
For shorter visits as a US resident you do not need a visa in advance. You will go through customs at the airport when you arrive. You will need some basic information such as your dates of stay and where you will be staying.
Do I need an electrical outlet adapter for Costa Rica?
No. Costa Rica uses an 110 volt 2-pronged outlet like the US. No convertor needed when visiting from the U.S.
When is rainy season in Costa Rica?
Generally rainy season in Costa Rica is May to November. But it does vary greatly by region. The Guanacaste region receives much less rain than the Arenal Volcano area. Dry season in Guanacaste is December though April. It really rains all the time in the Arenal Volcano area. But the less wet season in Arenal is January to April.
So, what is the best time to visit Costa Rica?
Well that really depends on your budget and which areas you want to visit. We visited in November which was maybe even just a little hot for us at the beach. But we were lucky that we actually got a view of Arenal Volcano just one of the 4 days we were there. The holidays and the less wet seasons are more expensive.
How old should kids be to visit Costa Rica?
Again, you know your children best. If they are seasoned travelers then their age doesn't really matter. As in any destination, nap schedules will slow down your activities. Our kids were 7 and 11 at the time and the perfect ages.
Other Central American Destinations for Animal and Beach Lovers
While not many destinations can beat a Costa Rica rainforest and beach vacation, there are other destinations with similar experiences. Punta Canta, Dominican Republic is also on our family travel list for wildlife and beaches. Chocolate and Spider Monkeys. Need we say more. Check out what our friends at Carful of Kids have to say about Punta Canta.
Costa Rica with Kids: A Family Itinerary