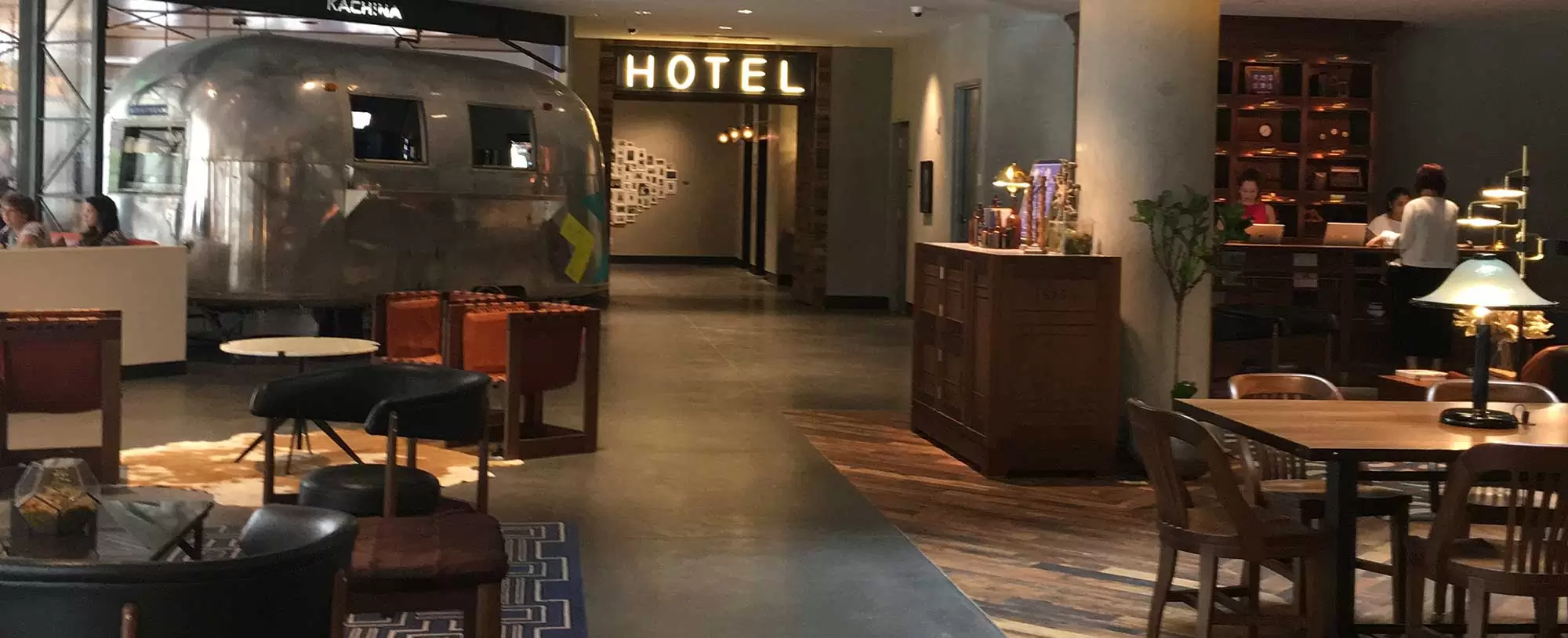 When you live in a Colorado mountain town you don't find too many excuses to leave, especially in the summer. But every once in a while you want a dose of the city and cultural activities that your town doesn't offer.
We seem to do this in the fall when school is starting back. Maybe you are still in need of a few supplies. Or maybe you just want to get a dose of the city. We made the short trek to Denver to celebrate our daughter's birthday. We also went to visit our favorite kid attractions (zoo and children's museum) and to experience the new trendy LoDo Denver hotel, The Maven.
The Maven Hotel
As happened last time we visited, we visited for fun activities but a cool hotel property became the centerpiece of our fun family weekend in Denver. Last visit was to the Crawford Hotel at Denver Union Station. This time we discovered just around the corner, The Maven in the new, upcoming Dairy District in Denver.
We drove in early on Saturday to make a day of the zoo, before heading to the hotel for a nap for our youngest. Our youngest didn't want to leave the lobby. He wanted to stay and play with a cool metal truck. We finally convinced him that he could come see it later. But then we were derailed again by the cool swings hanging outside the elevators on each floor.
I took our daughter to Cherry Creek Mall while our youngest rested. After we returned we ventured down to the lobby and enjoyed a crafted cocktail at the Poka Lola Social Club off the lobby. This was included as a part of the resort fee and our waiter even served up mocktails for the kiddos. We then made our way over a couple of blocks to Union Station so that our youngest could check out the trains, one of his favorite activities. The hotel itself was so interesting that we headed back and spent the rest of the evening there.
We enjoyed breakfast out of the airstream in the Maven lobby early the next morning. It was quick, good and easy.
Children's Museum of Denver at Marsico Campus
Since fun activities were what we came down for we checked out and headed to the Children's Museum to arrive as it was opening. The Children's Museum has always been one of our favorite activities. Sadly, our eldest seems to be outgrowing it. At least to we thought until we got outside. Kids of all ages will enjoy the zip swing and water features. They looped round and round the zip swing and then when the line finally got longer made their way to the water feature. We had to drag them away from that when it was finally time to head back up the hill.
Urban Family Glamping
LoDo's newest industrial-chic hotel, the Maven, recently rolled out a new Urban Family Glamping package. The hotel caters to kiddos with swings outside the elevators on every floor and a fun bunkroom option. Plus an inviting lobby featuring dozens of interesting Colorado art pieces, antique pinball machines in the Poka Lola Social Club and an Airstream trailer that serves breakfast will be hits with the entire family.
Who says camping season needs to end? Our urban glamping package is perfect for families who would like a staycation campsite right in the city. Make camping memories year-round with:
A mini tent in-room upon arrival
In-room, specialty hot cocoa packets for hot chocolate with the family
A take-home, customized Maven flannel picnic blanket
Board games to play, available at the front desk upon check-in
Two specialty cocktails from Poka Lola Social Club for the parents' night out
We love experiencing fun new unique hotel properties and The Maven did not disappoint!
Denver's Dairy Block
Dairy Block is a new mixed-used redevelopment of the historic LoDo block that once housed Denver's Windsor Dairy. The soul of Dairy Block is the pedestrian Alley, which runs from 18th and 19th between Blake and Wazee Streets. This was not yet fully opened during our visit in August of 2017. But I had the opportunity to visit for an event May 2019. And, what fun it is now!
You know we love art, and especially local funky art. Dairy Block features more than 750 original art pieces created by emerging and established Colorado artists, including Andrew Ramiro Tirado, Christine Buchsbaum, Mario Zoots, Molly Bounds, Karen Fisher and Diego Rodriguez-Warner.
On our original visit we had the opportunity to enjoy Kachina Cantina and Poka Lola Social Club. Both were really fun and unique experiences.

Other Dairy Block Finds
Run for the Roses, a new underground lair by Denver's Steven Waters pays homage to the elegant cocktail clubs of yesteryear, serving 52 classic libations & seasonal cocktails in a cozy yet sociable setting.
Denver Milk Market is an all-local, all-wonderful mix of take-away and dine-in restaurants and bars run by Colorado chef Frank Bonanno. It includes Lou's Hot & Naked, Ruth's Butchery and Mano Pastaria. So many creative dining and drink options from which to choose!
Seven Grand serves one of the largest selections of premium whiskeys in the West. There's nothing better than specialty classic and seasonal cocktails in an intimate space with features live music, weekly tastings & more.
Engine Room Pizza also created by Chef Frank Bonanno, serves thin slice New York-style pizza and thick crust Sicilian pizza.
Blanchard Family Wines offers an award-winning Sonoma wine country experience with a full line-up of wines as flights, by the glass, by the bottle, or to-go, along with charcuterie, cheeses & desserts.
Huckleberry Roasters pours a variety of coffee, espresso and tea drinks along with specialty coffees, shakes and smoothies and an assortment of toasts, waffles and snacks. I did get to try a Huckleberry coffee for my drive back up to the mountain and it did not disappoint.
This is an updated post, originally written in August of 2017.
Denver Family Fun at The Maven Hotel