San Diego, California has a special place in my heart. It is one of the beach areas that I've been fortunate enough to visit many times. This past week we had the opportunity to share this beautiful coastal city with our kids for the first time on a family vacation. The vacation began with a visit to La Jolla San Diego. We think we really did things right here. We stayed at the best beachfront family hotel. Ate at amazing family friendly restaurants. Listened to the waves on the beach, Took in the most spectacular sunsets. And, we had the best time as a family, both on the beach and off. Our only regret was not spending more time here.
Disclosure: The writer was hosted on this trip by La Jolla Shores. All opinions, however, are her own.
San Diego is comprised of many quaint beach villages or neighborhoods. La Jolla is one of the more upscale areas, perhaps due to its spectacular ocean views to three directions. Our family also considers it the best family beach in San Diego.
La Jolla Shores vs. The Cove and Bird Rock
We discovered that there are really two village areas that are about two miles apart. One is the La Jolla Shores area. The other the hilly heart of La Jolla known as The Cove and Bird Rock. We fell in love with the La Jolla Shores area. The La Jolla Shores village is quaint and has an authentic beach town feel to it. While still upscale, this area wasn't quite as full of tourists and Instagrammers as The Cove and Bird Rock. The sandy beaches of La Jolla Shores are full of surfers, kayakers and families. The beaches of The Cove and Bird Rock are full of seals and seagulls, and a few surfers. Though you'll see the kayakers in the waters below exploring the rocky caves.
Insider Tip: The California coastline is quite spectacular. Here are some ideas for scenic California road trips.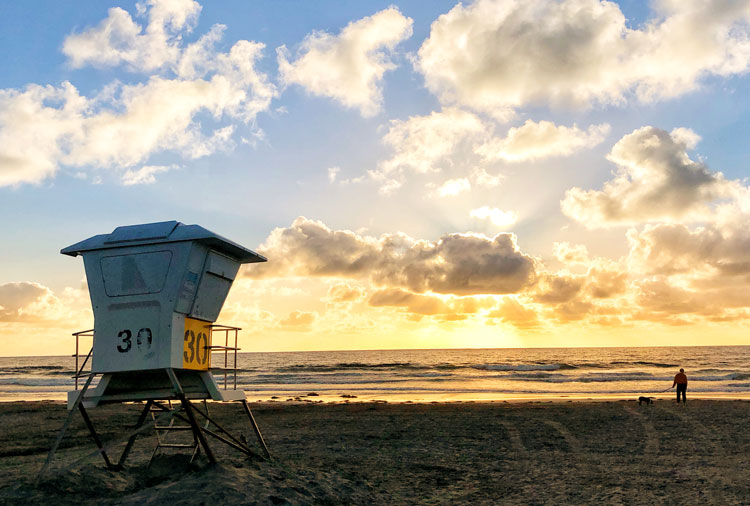 Top 5 Things to Do in La Jolla San Diego for Families
There are so many fun things for families to do in La Jolla! But if you visit a beach town, the beach should really be first.
Visit the Beach!
Here you can choose to build sand castles or chase waves as our children did. You can venture to the beach in front of the La Jolla Tennis and Beach Club at low tide to explore tide pools. Enjoy the beachfront playground at Kellogg Park. Or, spot the seals at Children's Beach. Take in the spectacular sunsets. Walk or run on the sandy beach. Or, be more adventurous with a kayaking excursion or surf lessons.
Eat!
There are some amazing restaurants in La Jolla. If you don't spoil yourself with breakfast in bed, then start your day with a hearty maple fried chicken breakfast sandwich at the Shorehouse Kitchen. Stop at Galaxy Tacos for lunch. La Jolla Shores Restaurant boasts the most beautiful sunset views from their open air patio. And, the chef prepares the most delicious Maine Diver Scallops. After dinner, walk off dinner on the beach directly in front of the restaurant.
Visit the Birch Aquarium to see colorful fish amidst Kelp forests.
Learn about our oceans and the importance they play in our environment, providing both food and oxygen. See in person how a 300 pound black sea bass dines using suction. And, then let the kids try out the interactive exhibits outside on the plaza. And, make sure to stop to take in the coastal view.
Play at Kellogg Park located beachfront at La Jolla San Diego.
What kid doesn't enjoy time at a park. As a bonus, the kids made some friends, as did I. It was a great place to get some local advice on what else to see and do in San Diego.
Enjoy the evening on a private balcony in La Jolla San Diego.
Once the kids are asleep, enjoy wine and cheese on your balcony overlooking the beach, park, pier or ocean. Hint: You may want to stay at La Jolla Shores Hotel to fully take advantage of this one.
Explore San Diego
The city of San Diego has tons of fun for families. From the San Diego Zoo to Balboa Park and the USS Midway there's something for every member of your family. Check out these 20+ places to discover in San Diego with kids!
Where to Stay in La Jolla San Diego for Families
Possibly the best beach hotel in San Diego, La Jolla Shores Hotel is the quintessential family beach hotel. It is one of only a few hotels located directly on the beach in the San Diego area. La Jolla Shores Hotel was built in 1970 and maintains most of its original colonial Spanish architectural charm. Many of the guest rooms have received a charming beach themed renovation. They managed to maintain the original charm of this La Jolla beachfront hotel.

If we had the opportunity to stay longer we might reserve a room with a kitchenette. They had several of these. Though there is no shortage of fantastic dining options nearby for families. As it was, we loved our third floor coastal view room. Those third level room have lofted ceilings that are the highest I've seen in a hotel room.
The location on the beach and next to the park is ideal for families. The heated pool and hot tub is also fun. We also loved the surrounding village area. You may find your family hesitant to even leave the hotel grounds and beach. But there are lots of quirky beach shops and casual restaurants just a couple of blocks from the hotel.
If you are planning on exploring more of San Diego you will likely want to rent a car. The paid self park underground parking at the hotel is ideal, and easy in and out. We again went with our favorite, simple car rental service, Silvercar by Audi.
We loved our stay at La Jolla Shores Hotel and hope to return again!
Where Else to Visit in California with Kids
Once you are finished exploring La Jolla, head up north and discover more that Southern California has to offer. Disneyland and Legoland aren't the only amusement parks in southern California. In fact, Orange County is home to several fun beaches and amusement parks in Buena Park, Santa Ana, Valencia and San Juan Capistrano. If you can, spend more time in the area exploring this beautiful coastline.
Family Guide to La Jolla San Diego