Colorado Springs is not only a beautiful place to visit, but it has plenty of things that you can do with your kids while you're there. Did I mention that several of these activities and attractions are free? It's true! There are plenty of fun places for you and your kids to visit that won't require you to reach for your wallet. These are some of the best free things to do with kids in the Colorado Springs area.  
Colorado Springs Pioneers Museum 
Hands-down, one of the best things to do for free in the area with your kids is the Colorado Springs Pioneers Museum. It's definitely worth the visit, especially if you'd like to find out more about the history of the Colorado Springs and Pikes Peak area. There you will find Western art, Plains and Pueblo Indian Culture, and exhibits that change periodically to provide you with a different experience every time you visit.  
Cripple Creek Heritage Center
In the late 1800s, fortune-seekers found themselves in Colorado Springs, hoping to discover riches with the last great gold rush the country would ever see. Today, your kiddos have a chance to do a little exploring of their own at this location.  The Cripple Creek Heritage Center is an 11,600 square foot center where you will find several hands-on exhibits that not only your kids will enjoy but you as well.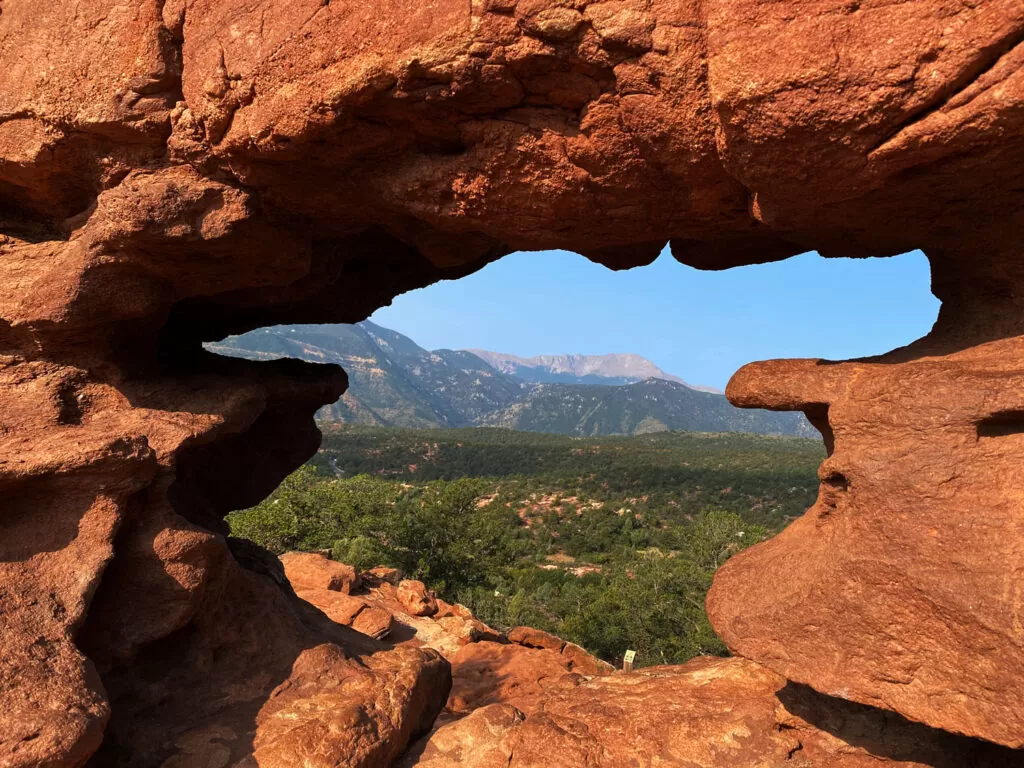 Garden of the Gods
Located not far from Pikes Peak, Garden of the Gods is a stunning natural attraction that has enormous red rock formations that are surrounded by a gorgeous landscape.  Be sure to stop by their Visitor and Nature Center and Museum, where you and your kids will learn about the area's history, geology, and ecology, with plenty of fun and interactive exhibits. Pick up a map and take a hike to take in the stunning scenery. After a visit there, you're sure to be amazed that everything was free.  
Hike a Mountain Trail
Colorado Springs hiking trails surprised me with their diversity. From red rock views to Pike's Peak and breathtaking waterfalls there are trails for almost every level of hiker. A few include Garden of the Gods, Red Rock Canyon, Cheyenne Mountain State Park and Paint Mines Interpretive Park. A couple of these may have minimal entry fees. But most are free. And, there's nothing better than getting into nature and breathing fresh air.
Historic Manitou Springs
Wanting to find out more about how Colorado Springs got its name? Long ago, the Native Mountain Utes and other plains tribes paid homage to the Great Spirit Manitou for providing them with spiritual and healing powers from these same springs. 
Eight of these springs are still open to the public today. Also, be sure to stop by the Manitou Springs Visitor Center for a map and brochure of the area. You'll even receive a sampling cup of the freshwater that comes from one of their springs. 
The United States Air Force Academy
Another free place that's open to the public is the United States Air Force Academy. There are a few scenic trails in the area, sporting events that your family can check out, and your kids can find out what it takes to become a cadet. It also features Cadet Chapel, a stunning architectural building that's truly impressive to see. If you want to find out more, go to their USAFA website. 
Rocky Mountain Motorcycle Museum & Hall of Fame 
This small and free museum offers lots of cool old motorcycles from USA, Germany, Japan & UK. All of the motorcycle are labeled with facts about them. The museum is currently being relocated. Look for it to reopen soon.
Bear Creek Regional Park
Do you have a dog. Be sure to visit this 25 acre fenced off-leash dog park. There are a handful of entrances at Bear Creek Dog Park, with a watering station right by the main entrance. A second, smaller fenced area at the main entrance offers a less intimidating or active play area for smaller and older dogs. The park has a main walking loop that is just under a mile long, and several other trails. Though your dog is likely to just run wherever their nose or the other dogs take them. A small creek offers the opportunity for your dog to cool down, romp and get dirty. There's even a fenced agility training area. The is the best of Colorado Springs dog parks.
Colorado Springs is an excellent place for families to visit, where you all can have a good time, even if you're on a budget. The Pikes Peak area really has something for everyone.
For those who live or have seen Colorado Springs before, what are some other free things to do with kids that would also be worth doing? I'd love to hear from you.
Free Things to Do in Colorado Springs with Kids