Glenwood Springs, Colorado is as close to our home as Vail, Colorado is. We frequent this historic town often on day trips. There are really so many fun things to do in Glenwood Springs with kids!
Our daughter has celebrated many birthdays at Glenwood Caverns Adventure Park. And, the hot springs are always a great way to relax. While tourists think of visiting Vail and Aspen, Glenwood Springs is something of a hidden gem. It offers a deep history and surprisingly is a fun place to visit with kids. Here are all of our favorite things to do in Glenwood Springs!
Where is Glenwood Springs?
Located approximately midway between Aspen and Vail or 160 miles west of Denver, Glenwood Springs is set in the canyons of the majestic Rocky Mountains at an altitude of 7,000 feet. As so many other Colorado Mountain towns, Glenwood Springs is known for its plethora of outdoor activities. In fact, many of these activities are free things to do.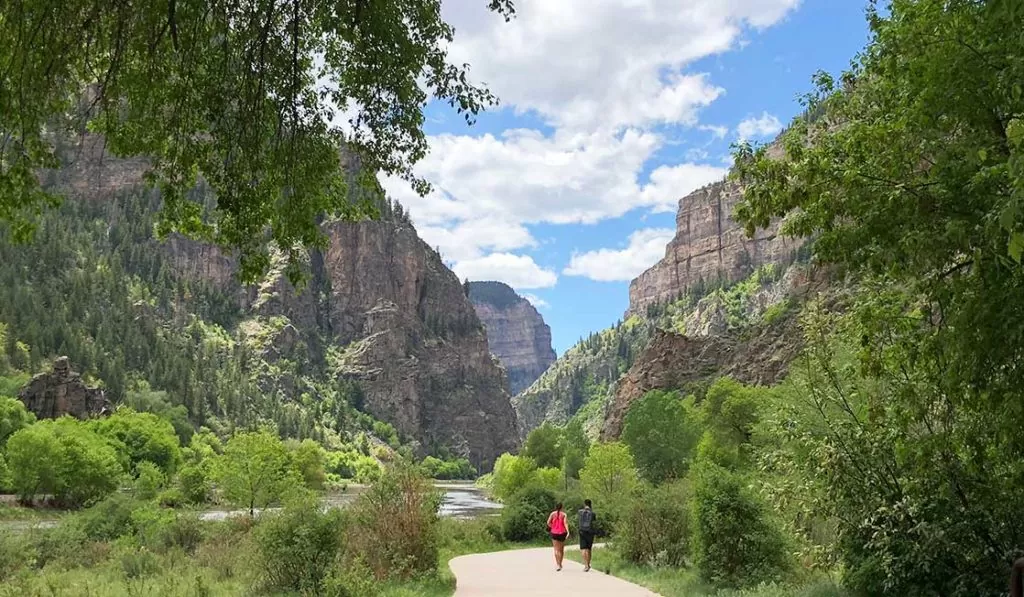 Hike Hanging Lake
One of the most famous waterfall hikes in Colorado is located in the Glenwood Canyon. This hike became so popular that now you must actually make reservations and take a shuttle to the trailhead during the popular summer months. If you go during the winter you just need a permit. Hanging Lake is a hidden oasis. A not-to-long, but fairly vigorous hike leads to spectacular waterfalls that pour into an emerald green lake.
I did make my daughter hike Hanging Lake Trail with me once. But now it is annual tradition for me to hike it solo for my birthday. It is a way for me to get ready for summer and to kick my body into hiking shape. The reward is in the views when you reach the top.
Note that dogs are not allowed on the Hanging Lake Trail. If you want to take your dog along, you might try Grizzly Creek Trail instead. While not as spectacular as Hanging Lake it ides offer views of the river and other waterfalls.
Insider Tip: There are several great Glenwood Springs hiking trails.
Glenwood Caverns Adventure Park
As the park boasts, your biggest challenge will be how to pack it all in. The Glenwood Caverns Adventure Park features cave tours, a gondola ride, the longest alpine coaster in Colorado, a giant swing, laser tag, 4D motion theater, mountain-top dining and much more. The peaceful gondola ride up to the park and many of the thrilling rides showcase stunning views of Glenwood Springs.
The cave tours are not only a great way to cool down on a hot summer day but also one of Colorado's unique caves that can easily be explored.
Visit the Hot Springs
There are a few hot springs options located in Glenwood Springs. The Ute Indians were the first known people to use the hot springs here. The Utes named the spring Yampah, which translates to "Big Medicine." They used the hot springs to fortify themselves before battle, for healing and spiritual enlightenment.
Glenwood Hot Springs Pool is the largest hot springs pool in the United States. and was first opened to the public on July 4, 1888. It is known for its large pool filled with mineral waters. But they recently added the Sopris Splash Zone which adds so much fun for families. From a splash pad and water slides to the ultimate Colorado-themed water ride it is so much fun for families.
Iron Mountain Hot Springs offers 16 thermal mineral pools for soaking (98 to 103 degrees) plus a large family pool that is kept between 90-95 degrees (cooler than the other tubs). So, while not offering as many kid-friendly options as Glenwood Hot Springs Pool it is still fun for the entire family. Mom and dad will certainly enjoy getting away to the soaking tubs with views of the river.
Glenwood Canyon Bike Ride
The Colorado River cuts through the spectacular Glenwood Canyon, And, some smart person planned and built a bike bath along the river. The Glenwood Canyon bike trail is beautiful, and it is a smooth ride for family members of all ages. This is a fun way to spend an afternoon. Bike along the river while watching the rafters and listening to the sounds of the water.
Hike to Doc Holliday's Grave
Glenwood Springs boasts an interesting history intertwined with railroads, gangsters and the gold rush. Doc Holliday was a dentist turned gambler and gunslinger who came to Glenwood Springs with the hope that the hot springs would offer him a cure. It didn't. He died from tuberculosis in Glenwood Springs in November of 1887.
While I never need an excuse to hike, the story behind this hike may make it more fun for the kids. You will be able to take in some beautiful views along the way.
Go Skiing
Located just south of Glenwood Springs, Sunlight Mountain Resort is family-friendly, affordable ski mountain. Sunlight Mountain offers Sunlight excellent snow, terrain perfect for intermediate skiers and almost zero crowds on weekdays. It makes our list of the most affordable resorts to learn to ski in Colorado.
Go Rafting with the Glenwood Adventure Company
Have you always wanted to try whitewater rafting? It is exhilarating to ride on a raft over rough waters while attempting to keep your balance and stay onboard. The Glenwood Adventure Company offers this experience to locals and tourists who are feeling adventurous. You can make your reservations in advance to book a spot with the company.
The Glenwood Adventure Company offers several types of adventures for guests to choose from. 
Some of these adventures include the Guided Inflatable Kayak Adventure, Middle Eagle Rafting, Dowd Chute Rafting, and Browns Canyon Full-Day Rafting. 
If you do not want to spend a full day rafting, half-day options are available. 
When you want to challenge yourself and have the time of your life doing something different, consider participating in one of these many rafting adventures. 
Go Biking and Hiking at Red Mountain / Jeanne Golay Trailhead
Do you look forward to spending plenty of time outdoors while visiting the Glenwood Springs area? If so, the Red Mountain Trail, known as the Jeanne Golay Trailhead, is a great spot to visit. You can walk on the trails with loved ones or ride bikes together. It is a beautiful place to stay with loved ones because you can enjoy great conversation while taking in all the amazing scenery. The breathtaking views around you will leave you in awe as you continue climbing your way through the trails. 
You will have the option of taking different trails throughout the area. Some popular trails include the Red Cross Trail and Green Trail. No matter which of the many options you choose, you will have impressive scenery surrounding you the whole time. There are even shortcuts available for you to take if you start getting tired. Be prepared to get a workout in because some of the trails are steep! If you do not mind the incline, you can have a great time here.
Enjoy Delicious Food at One of the Many Restaurants
Make sure to enjoy the delicious food found in Glenwood Springs. The area is home to dozens of different restaurants serving fresh and wholesome cuisine. 
We most commonly stop at Smoke BBQ for lunch. Both the salads and barbecue are delicious. But the mac and cheese is a family favorite.
Juicy Lucy Steakhouse is our favorite splurge in Glenwood Springs. We mostly stop for lunch and a cheese steak sandwich. But are itching to get over there for a date night.
Glenwood Canyon Brewpub is a great option for lunch with delicious pub food. If going with the adults, be sure to get sample the craft beer.
Slope & Hatch is one of the top-rated restaurants in the area. You can enjoy assorted tacos, chips with dip, hot dogs, and fresh cocktails at this restaurant. 
If you are looking for something different, try visiting Mama's Pierogi. It is a highly-rated restaurant serving many variations of the delicious pierogi. 
When you want to keep it simple, the Rocky Mountain Pizza Co. is a great choice. You can get pizza, fries, and other delicious foods for dine-in, pickup, or delivery. Many people say this restaurant serves the best pizza they have ever tasted.
Other Favorite Things to Do Around Glenwood Springs
Daytrip over to Redstone, Colorado about a half hour away. Not only is this a beautiful area, but the whole town is on the National Register of Historic Places, and there's a castle to check out.
Fun Things to Do in Glenwood Springs