Growing up, we loved spending hours outdoors, all summer long and even in the winter. Today, our kids are content staying indoors, watching movies or playing video games on their iPads. It has become harder to to get kids outdoors in general. And harder to get them to engage in outdoor activities. Once they are out there, they enjoy it. But often video games and screens suck them in first. Older kids can be even more affected by technology thanks to their access to social media. So why and how do you motivate your kids to get outdoors?
Insider Tip: We have some awesome gift ideas for the outdoors woman that include some items to help you enjoy time outside with your kids.
Why is Spending Time Outdoors in Nature Important?
On average an American kid supposedly only spends 4 to 7 minutes per day in unstructured outdoor play. How crazy is this?! And, to top it off they then spend 7 hours on a screen! According to the Child Mind Institute, "studies agree that kids who play outside are smarter, happier, more attentive, and less anxious than kids who spend more time indoors."
Nature and Outdoor Play Boosts Moods, Physical Mental Health for Children
It is not only nostalgia that makes us want to get our kids out into nature more. We also know that it is good for them. Nature and outdoor play has a ton of benefits on children's health. From mood boosts and reducing depression to improved health and fitness, the benefits of getting outdoors are immense.
A Stanford study showed that a walk in nature could be an easy and almost immediate way to improve moods. When I am feeling down or in a funk, I take a walk or go for a bike ride. Why wouldn't it be any different for our children?
Nature Boosts Academic Learning for Children
Recent studies provide evidence that experiencing nature boosts academic learning in eight distinct ways according to Christopher Bergland in Psychology Today:
Positive Effect on Attention;
Relieving Stress;
Boosting Self Discipline;
Improving Engagement and Motivation for Learning;
Better Fitness;
Improved Context for Learning;
Improved Self Control;
Better Cooperation.
So, how can you spend time with your kids outdoors, and encourage them to engage in more outdoor activities for kids?
Outdoor Activities for Kids
We recognize that we are fortunate to live in a place with easy access to nature. Out of our recent extensive list of fun things to do with kids in Colorado, few of the activities were indoor activities. Not everyone has that. So in this article, we have sampled some of fun activities that almost anyone can do with their kids to encourage them to spend more time outdoors.
Play outdoor games
There are so many outdoor games you can engage in with your kids and this is limited to your creativity. Some of our favorite games include iSpy, Capture the flag, scavenger hunts as well as treasure hunts. The beauty about outdoor games is that they allow your kids to do some physical activity while still having some fun. Find out what kind of games would be interesting to your kids and have fun while at it.
Go bird watching
This is a great and fun activity if you live near the woods. Bird watching could be both educative and fun for you and your kids. While you are at it, you might also get a chance to watch other animals in their natural habitat. Carry a camera and binoculars so that you can enjoy this activity to the fullest. The woods are a serene place to be and the chirping of the birds makes everything seem so peaceful and inviting.
Go bike riding
Cycling and bike riding is another fun outdoor activity you can engage with your kids. When the sun is shining, bring out your bikes and your gear and go out to have fun. Riding is one of the most fulfilling outdoor activity you can engage into with your kids. It is also a very healthy one as well.
Go camping
If you do not have the time to venture far off to camp, you can always do it in your backyard. There is so much fun in camping and your kids will learn very useful life skills in the process. Camping is also a great bonding moment between you and your kids. You will get the chance to interact with each other at a very close level.
Do some gardening
If you have a small piece of land in your backyard, you can engage in some gardening with your kids. There are all sorts of vegetables and herbs you can grow, either on the ground or in containers. Teach your kids to appreciate where the food they eat comes from. Let them get dirty and have fun while gardening.
Go for a hike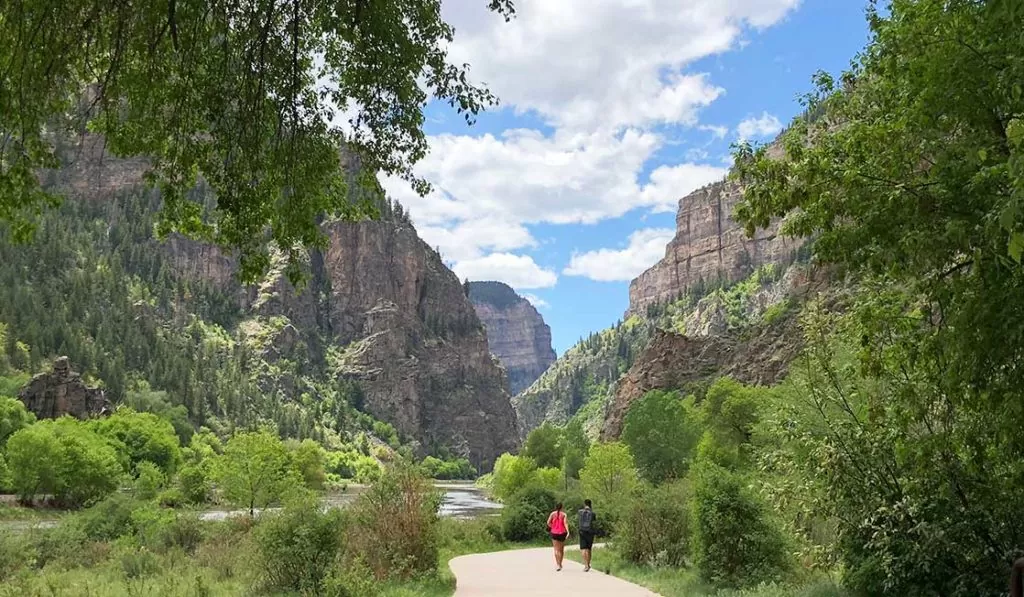 Taking a walk or a hike in the neighborhood could also be a very refreshing activity. Get your kids to join you in your next hiking expedition. Make it interesting by combining the hike with a picnic escapade. Carry some snacks and water to give to your kids when they get hungry during this hike. A simple walk around the neighborhood could do wonders for everyone. Make sure that you take photos or videos of nature you come across and remember to have fun while doing it.
Insider Tip: Read our tips on how to start hiking as a family!
Engage in nature art and crafts
It would be a great idea to let your kids explore their creative side by engaging in nature art and craft in your backyard. Kids love to experiment and when they are not limited to what they can do or work with, they can have real fun. If they want to experiment with dirt, let them do so. Give them water based paints and let their creativity flow.
Go star gazing
When the sky is clear at night, you can let your kids go out and look at the stars. Kids love being out of the house at night anyway. By giving them a good reason to join you, it becomes a good distraction from other technological forms of entertainment they are used to. If you own a periscope, you can have a good time looking at different constellations and trying to explain to your kids how astronomy works.
Have a bonfire in the backyard
A bonfire is one of the exciting moments people look forward to each day when they go camping. This is when they get the opportunity to gather around, share jokes and stories and have fun with each other. This is something you can replicate in your backyard. You do not need to make a huge fire that can become a distraction and a bother to your neighbors. Light a simple fire, have your family gather around and have some fun. You can roast some marshmallows as you bond.
Take on a volunteer project
Every now and then you should take your kids out on a volunteer project. It is a good way to teach kids how to give back to the society while still having some fun. Look for something that involves some sort of physical activity. For instance, you can engage in trash pick up projects in the community, walk dogs at your local animal shelter or volunteer to visit elderly at a senior center.
Join your kids outdoors whenever you can
There are a lot of fun things you can do with your kids to get them to go outdoors more often. Depending on where you live, you will need to be creative. The outdoor activities for kids we have sampled here are just a few of them. Encourage your kids to unplug now and then. You can limit the amount of time they spend online and on social media to give them space to go and play outside. Join them whenever you can as this will keep them motivated.
On that note, I am going to log off from the computer and see if my son wants to go to a field nearby to fly his drone. It is certainly also possible to combine electronics and nature in fun ways.
Fun Ways to Spend Time with Your Kids Outdoors