The Glenwood Canyon is one of the most beautiful places in the state of Colorado to hike. Sadly, the Grizzly Creek fire of 2020 changed that landscape. We are hopeful that Hanging Lake remains intact. In the meantime, there are a few other options for Glenwood Springs hiking.
Hanging Lake Hike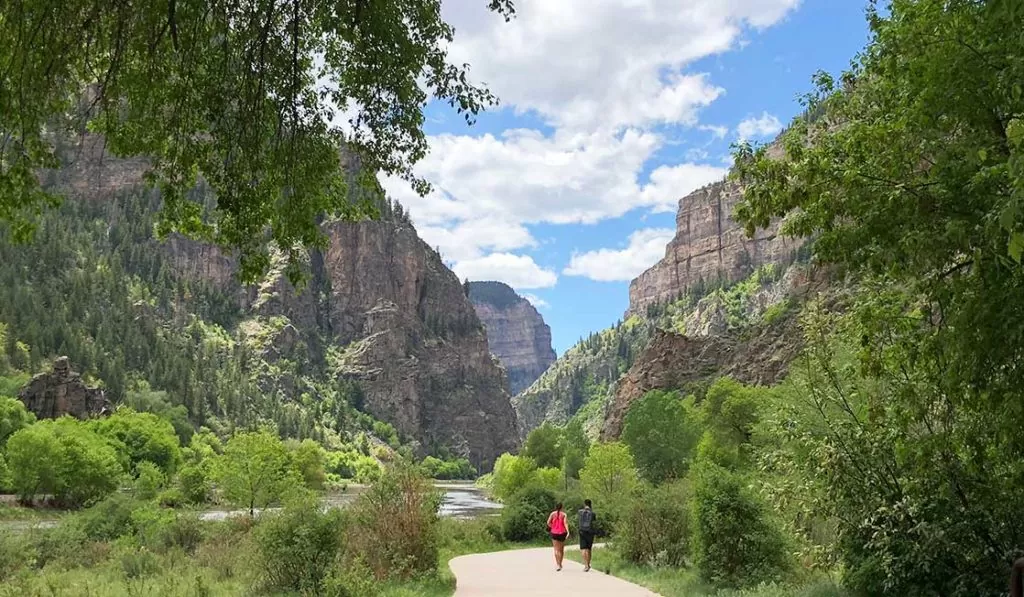 Hanging Lake is likely the best known hike in Colorado. It is certainly one of the most popular. A reservations system was put in place to preserve its sensitive ecosystem.
Travertine depositions are the foundation of the lake. The natural geologic processes continue to operate as they have done for thousands of years. The lake is the most beautiful deep green. It was designated a national natural landmark by the Secretary of the Interior in 2011.
The Grizzly Creek fire of 2020 went right over the lake, not damaging the lake itself. We don't know yet if the surrounding burn area will damage the ecosystem when run off occurs. But we do know that the National Forest Service will do what they can to ensure this treasure remains safe. There is no date for reopening.
Insider Tip: Don't forget your sunglasses on your hike! We love our Maui Jims for hiking Colorado's high country.
Grizzly Creek Hike
The fate of Grizzly Creek hike is not quite as optimistic. The Grizzly Creek fire of 2020 began here. The landscape here will likely never be the same. No anticipated date of reopening. But never fear, there are plenty of other places to hike Glenwood Springs.
Doc Holliday's Grave
Glenwood Springs boasts an interesting history intertwined with railroads, gangsters and the gold rush. Doc Holliday was a dentist turned gambler and gunslinger. He made his way to to Glenwood Springs with the hope that the hot springs would offer him a cure. It didn't. He died from tuberculosis in Glenwood Springs in November of 1887. The story behind this hike may make it more fun for the kids. You will be able to take in some beautiful views along the way. Dogs are welcome here, on leash.
Insider Tip: Be sure to check out the other fun things for families to do in Glenwood Springs.
Scout Trail
This 6.2 mile loop trail is popular due to the colorful wildflowers and views of Mt Sopris and the Colorado River below. It is a pretty steep incline starting out and can be hot without much shade. Be sure to bring lots of water. Dogs are welcome, on leash.
Glenwood Canyon Overlook Trail
From the Dotsero trailhead this 3.2 mile trail in is an old doubletrack. Vehicles are no longer allowed. It dead ends on a ridge above Glenwood Canyon with beautiful views below. It is more convenient to those coming from the east side of the canyon.
Rifle Falls
Not in Glenwood Springs proper, but Rifle Falls is a short drive away. This may be our very most favorite hike for kids. With three trails that loop 1 to 1.5 miles through waterfalls, limestone caves and ponds Rifle Falls is fun even for those who may not be fans of hiking. The falls are spectacular and there are plenty of caves to explore. Lots of shade. Dogs are welcome on leash, except up at the fish hatchery.
What are your favorite Glenwood Springs hiking trails? Tell us in the comments below!
Insider Tip: For other spectacular hiking trails be sure to check out Colorado National Parks.
Glenwood Springs Hiking for Families