Once upon a time, in the early 1900s, someone had a bold vision. This weekend our family experienced the fruition of that vision, 100 years later. During a summer of social distancing our family has sought out Colorado destinations with access to fresh mountain air and wide open spaces. Upon planning our visit to Grand Lake Lodge, I really only knew that a trip to these Grand Lake Colorado cabins met that criteria for summer 2020 travel. But, at this Grand Lake cabin our family also made new memories while coming to understand how special Grand Lake Lodge really is.
Grand Lake Lodge has an exceptional location adjacent to Rocky Mountain National Park, one of Colorado's four national parks. Guests can actually hike into Rocky National Park from their cabin, or enjoy views of beautiful Grand Lake from the property.
Disclosure: We were hosted on this trip by Grand Lake Lodge All opinions, however, are our own.
Grand Lake Lodge History
The Lodge is a registered National Historic Landmark. On this Grand Lake vacation we discovered why. A gentleman by the name of Roe Emery eventually became known as the founder of Colorado tourism due to his development of Grand Lake Lodge 100 years ago. Emery envisioned this great lodge in a special place. In fact, he modeled its design on the great lodges of Old Faithful and Glacier National Park Lodges. In addition, he created the "Circle" package. This package was a three-night tour through the Colorado Rockies with a stop at Grand Lake Lodge for a grand total of $27.
Once you understand the history of the lodge, you almost feel as though you have stepped back in time. The narrow roads up to the cabins were built for Model T cars, a couple of which welcome visitors to the lodge. Our kids loved playing in the the Model T fire truck and car parked at the lodge entrance. There's a big fireplace in the center of the lodge. The lodge itself is built of huge beams and has multiple swings both inside and outside. The swings outside of the lodge line "Colorado's favorite porch" offering spectacular views of the lake below and mountains beyond the lake.
Huntington House Tavern
Huntington House Tavern is located within the lodge and also has the grand lodge feel. The dining area is gorgeous. Request a table near the windows, which slide open for an al fresco feel to your dining experience. Here you will find what may be the best restaurant views in Colorado. With plenty of spectacular mountain and lake views in the state, that is a pretty strong statement that I don't say lightly.
The food matches the environment. The menu changes and is two courses for $49. Warm loaves of bread proceed dinner. These buttery soft rolls straight out of the oven were so delicious that our son took the initiative to order more all on his own. Our first course choices included a lodge salad and cheese and charcuterie board. We didn't go wrong with our dinner choices of seared diver scallops with jumbo lump crab cakes and a grilled 10 oz marinated sirloin. My husband made the comment that he would have made the two-hour drive just for that steak. Of course, handcrafted cocktails, wine and delicious desserts are also available to compliment your dinner experience.
Deer Deck, Mountainside Pavilion & Nuptial Noll
I would also recommend spending time out at the Deer Deck or lawn below the lodge after dinner to catch the sunset over the water with the mountains in the distance. The views are spectacular and it is the perfect place to take them in with friends or your furry companion. Yes, Grand Lake Lodge does offer pet friendly cabin rentals.
You will also want to take a stroll down to the pavilion and out to the wedding deck. The views are incredible. There's just a relaxing vibe about the entire property.
There is a steep half mile trail from the Deer Deck that leads to Grand Lake Village and the lake area below. It is walking distance to town as long as you are prepared for a climb back up. We live in the mountains but at a slightly lower elevation than Grand Lake Lodge's elevation of 8,769 feet above sea level. We know well how a steep hike can wind you fairly quickly.
Insider Tip: Be sure to check out our tips for preventing altitude sickness.
Grand Lake Lodge Cabins
Highway West Vacations purchased the Lodge in 2018 and immediately set to work undergoing renovations. They've kept the original character of the property with the upgrades. The cabins have been remodeled but certainly there are some things that stayed the same. The size of the cabins was set. You can rent half a cabin or a whole cabin. We'd recommend a whole cabin with double queens for a family of four though there are some that can sleep up to five people. Even though there was no wall it was like having two bedrooms.
The beds are very comfortable but with a style from the early 1900s. The windows are also small but slide open to the fresh pine smell and green views of the forest, and in some cases the lake. The bathrooms are small in the half cabins but spacious in the double queen full cabin. Most of these Grand Lake Colorado cabins have partially screened in front porches. We enjoyed breakfast out there. As did our neighbors, though theirs looked like more fun with mimosas.
There's also a honeymoon cabin, and a couple of larger cabins sleeping up to 12 (3 bedrooms) and 25 people (8 bedrooms). Those could be perfect for weddings or family reunions.
Insider Tip: If camping is more your style, there are also several nearby Grand Lake campgrounds.
Things to Do at Grand Lake Lodge
There are a handful of hiking trails departing directly from the property. It is a hikers paradise. Just grab your gear and head into Rocky Mountain National Forest.
For kids there's a small park, basketball and volleyball court and most importantly a pool with spectacular lake and mountain views. A Model T fire truck and car sit at the entrance to the property. Our children lived pretending to drive those. There's a grassy grilling area. But the place to relax is either the Deer Deck with its fire and comfortable couches and rocking chairs, or Colorado's Favorite Porch, just outside the main entrance to the lodge. You are sure to find a place to just be at peace here at Grand Lake Lodge.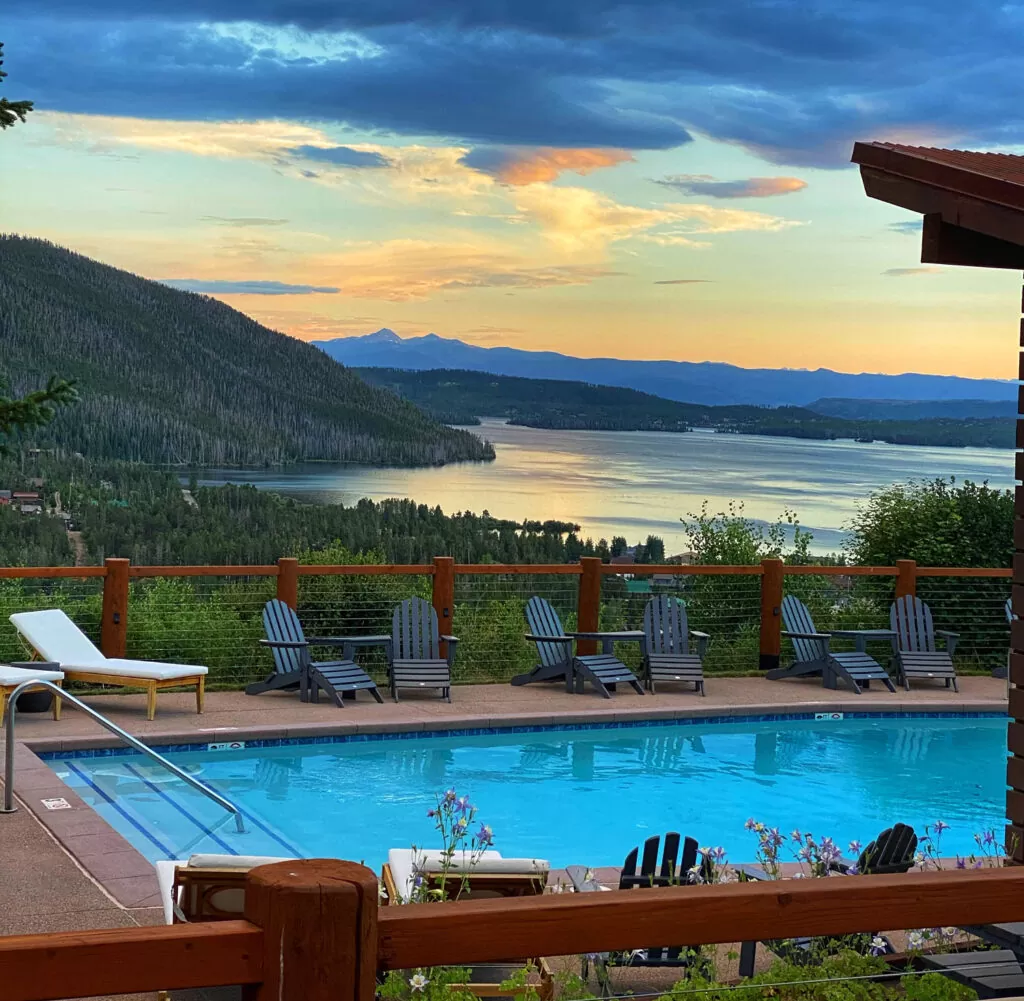 Weddings at Grand Lake Lodge
It is easy to see why Grand Lake Lodge is a popular mountain wedding destination. Nuptial Noll and Mountainside Pavilion boast spectacular backdrops for special occasions. The cabins offer a few different lodging configurations for couples and families. And, there's even a large cabin that can sleep up to 24 guests.
Grand Lake Wildlife
Grand Lake Lodge boarders Rocky Mountain National Park. The area is known for moose and other majestic wildlife. There's a good chance that you will have the opportunity to spot wildlife during your visit. The lodge does its best to educate visitors on wildlife safety.
Grand County Colorado
Grand County really is a beautiful part of Colorado. In addition to Rocky Mountain National Park, it boasts several of Colorado's prettiest lakes and or/ reservoirs. This area of the state is probably tied with Estes Park for the largest selection of Colorado mountain cabins.
Grand Lake Lodge: Ultimate Grand Lake Colorado Cabins