Colorado's Rocky Mountains may be best known for their ski slopes. But do you know what other natural wonders they boast — perfect for après ski, healing or relaxation? Natural mineral hot springs! There are several relaxing hot springs near Denver, Colorado. There's even an official Colorado Historic Hot Springs Loop. Our entire family is a fan of visiting natural hot springs, particularly on snowy winter days. There's just something magical about soaking in the warm water as snow flakes float down around you.
Offering a soothing escape from the bustling city life, these geothermal wonders provide an opportunity to unwind in warm, mineral-rich waters surrounded by stunning alpine landscapes. Whether it's the rejuvenating pools of Glenwood Springs, or the tranquil ambiance of Mount Princeton Hot Springs Resort, the options are diverse and alluring.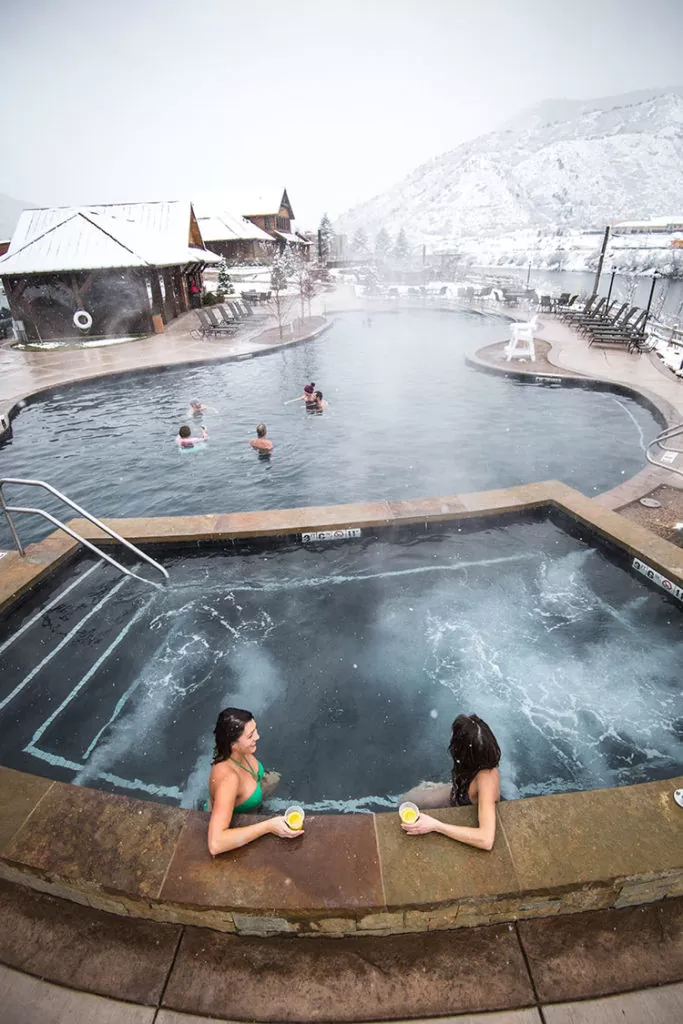 History of Hot Springs Near Denver
Wondering why visit mineral hot springs near Denver? Not only does it feel good to soak in warm water, but the natural minerals in the water also have health benefits. Many of these hot springs have quite a history dating back to the 1800s.
Historically, mineral hot springs have been used to soothe muscle aches and arthritis. Calcium and sodium bicarbonate has been shown to help with circulation, which in turn can help lower blood pressure. Of course, the relaxing aspect of the hot springs could also be helping with this. In addition, hot springs are typically set in nature. Just being out in nature is good for us.
Chaffee County, Pagosa Springs, Ouray County, Glenwood Springs, and Steamboat Springs have come together to form the Colorado Historic Hot Springs Loop. This 720-mile hot springs loop showcases some of the most popular hot springs attractions in the country. But never fear. You don't have to actually drive the 720 mile loop. We've got the scoop on the hot springs closest to Denver for you.
Insider Tip: Hot Springs aren't just for adults. This is also one of our favorite things to do with kids in Colorado.
Hot Springs Available for the Day
Here we focus on hot springs where you can pay an entry and gain access for the day. There are other private hot springs where you must stay overnight on site to enjoy the mineral waters. We've noted one of these private hot springs below. We are also big fans of staying at hot springs cabins where you have easy access in a secluded place.
Colorado Springs
The hot springs nearest Denver is probably Desert Reef Hot Spring located southwest of Colorado Springs. But there are other areas in Colorado better known for their hot springs.
Salida, Nathrop and Buena Vista
Approximately 130 miles southwest of Denver on Highway 285, it takes about two and a half hours to get to any of the Chaffee County hot springs.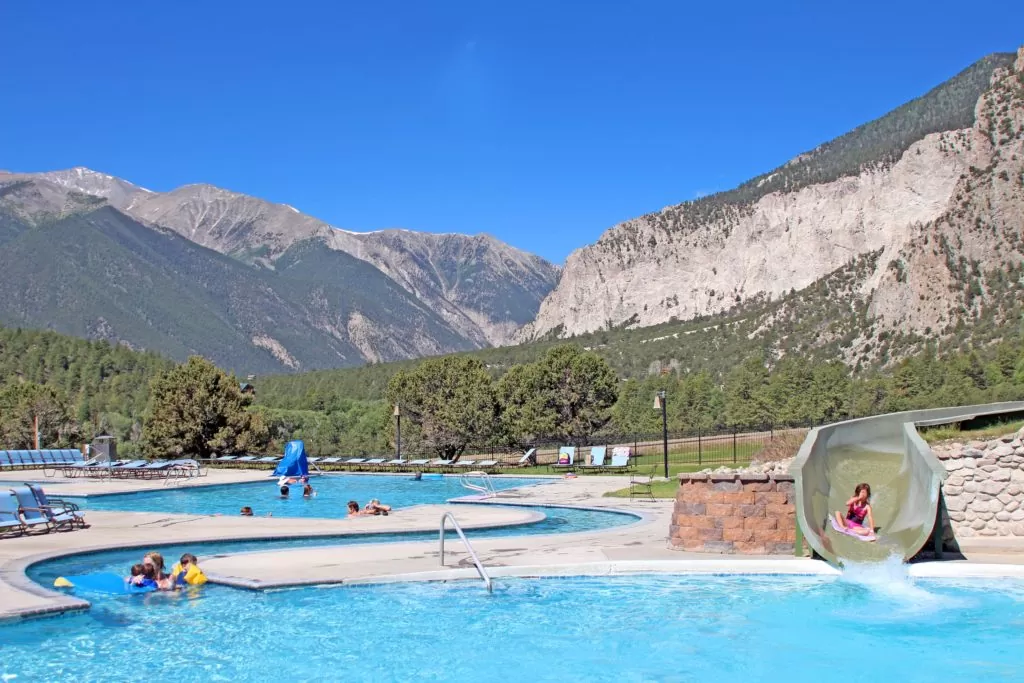 Mount Princeton Hot Springs Resort
15870 County Road 162, Nathrop, Colorado 81236 | 719.395.2446
These 100 percent natural hot springs can be enjoyed in five different odorless pools. There's also a 400-foot water slide lazy river and in-river hot pots in Chalk Creek.
Cottonwood Hot Springs
18999 County Road 306, Buena Vista, CO 81211 | 719.395.6434
Surrounded by San Isabel National Forest, Cottonwood Hot Springs offers pristine and odorless mineral waters in three pools.
Salida Hot Springs Aquatic Center
410 W Rainbow Blvd, Salida CO 81201 | 719.539.6738
This pool claims the title of largest indoor hot springs facility in North America. Two main pools host a range of water activities from fitness classes to therapeutic swims. There are also two smaller European-style private pools available.
Glenwood Springs
Glenwood Springs is located approximately 160 miles west of Denver on I-70. It is a straight shot, and typically easy highway driving, at least in the summer.
It is no surprise that a town with "Springs" in its name would be home to several wonderful mineral hot springs options. This is one of our favorite places to visit specifically for the hot springs. All of the Glenwood Springs hot springs share the same source of mineral waters. Visitors can even check out the actual water source located next to the Glenwood Hot Springs Pool.
Glenwood Hot Springs Pool
401 N River St, Glenwood Springs, CO 81601 | 970.947.2955
While this pool is enjoyable year round, we love it most in the summer. In 2019 they added the Sopris Splash Zone and Shoshone Chutes which are a blast for the entire family. Shoshone Chutes mimics the Colorado whitewater rafting experience, but in a safe and warm environment. It is a blast! Stay at the adjoining hotel and entry to the pool is included. And, here you'll find a variety of unique spa services.
In 2024, six new pools will open at the historic Glenwood Hot Springs Pool. A new mineral waterfall pool, cold plunge pool, hut plunge pool, infinity edge mineral pool and mineral pool with waterfall will be added to the offerings.
Insider Tip: Glenwood Springs itself is full of fun things to do with kids. And, it offers one of our favorite spots for affordable ski lessons in Colorado.
Iron Mountain Hot Springs
281 Centennial St., Glenwood Springs, CO 81601
The newest of Colorado's hot springs, Iron Mountain is another of our favorites. Set on the Colorado River, originally there were sixteen different soaking pools, plus a much larger family pool with jetted hot tub set above it. A 2023 addition brought the total number of pools to thirty-two!
Annual passes are available to Iron Mountain Hot Springs.
Insider Tip: In addition to hot springs, there are some fabulous winter pools in Colorado. Be sure to check these out as well!
Yampah Spa & Vapor Caves
709 6th St, Glenwood Springs, CO 81601 | 970.945.0667
The thermal spring waters flow through the cave floors to create the underground geothermal steam baths at Yampah. These vapor caves were used by the Ute Indians for purification rituals. These mineral baths are idea for adults, rather than families.
Avalanche Ranch Hot Springs
12863 St. Hwy 133, Redstone, CO 81623 | 970-963-2846
This is the one private hot springs we've included, located outside of Glenwood Springs. To enjoy the three hot springs set in a natural landscape and rock formations of the Crystal River Valley you will want to stay overnight in one of the cabins located on this beautiful Colorado property.
Steamboat Springs
Another "springs" town, Steamboat Springs is also known for its hot springs. Due to its location near the waters of the Yampah River, Stagecoach Reservoir and two hot springs, water activities abound here.
Steamboat Springs is located about 160 miles, or just under 3 hours, from Denver via I-70 and Highway 40.
Note, one of the hot springs closet to Denver is Hot Sulphur Springs Resort & Spa. It is located just 97 miles or 2 hours and 20 minutes away, on the way to Steamboat Springs in the Granby area.
Strawberry Park Natural Hot Springs
44200 Co Rd 36, Steamboat Springs, CO 80487 | 970.879.0342
Due to its pristine location in nature, Strawberry Park is known for its intimate setting. Your best bet will be to book a tour that includes a shuttle to and from the springs as well as just over an hour of soaking. Camp sites and rustic cabins are also available.
Old Town Hot Springs
136 Lincoln Ave., Steamboat Springs, CO  80487 | 970.879.1828
Located in downtown Steamboat Springs, Old Town offers water activities including a splash area, waterslides and a kids' climbing wall. It is also a fitness center with equipment. classes and even childcare.
Ouray, Ridgeway, Pagosa Springs, Dunton and San Luis Valley
Located a bit further from Denver, a 5 to 6 hour drive, but not to be missed. Ouray, Ridgeway, Pagosa Springs and Alamosa (near the Great Sand Dunes National Park) are also known for their natural mineral hot springs. Here you will want to make a weekend of it and stay on-site at one of these hot springs. Historic hot springs meet dramatic vistas in this part of southern Colorado.
The options in these areas include:
Ouray Hot Springs Pool (clothing optional)
The Historic Wiesbaden Hot Springs Spa
Box Canyon Lodge & Hot Springs
Twin Peaks Lodge & Hot Springs
Orvis Hot Springs
The Springs Resort & Spa
Overlook Hot Springs
Healing Waters Resort & Spa
Alpine Hot Springs Hideaway
Antero Hot Springs
Creekside Hot Springs Cabin
Dunton Hot Springs
Lakes in Colorado
Colorado is also home to many spectacular reservoirs and lakes. While hot springs are our favorites on a snow winter day, on a hot summer day we are more partial to a Colorado mountain lake.
Colorado's Warm Outdoor Pools
Colorado is also home to some pretty spectacular outdoor swimming pools that you might want to check out!
What are your favorite hot springs near Denver? Tell us in the comments below?
Relaxing Hot Springs Near Denver