It will only take a second glance for you to realize why Manuel Antonio Beach is one of the most popular destinations in all of Costa Rica. Known for its warm, white sandy beaches, turquoise waters, swaying palm trees, and its bustling beach city, Manuel Antonio Beach is truly a diamond in the rough.
Manuel Antonio National Park offers rain forest, beaches, coral reefs and more. The Manuel Antonio beaches are some the most beautiful beaches in Costa Rica. A visit to Manuel Antonio park offers not just serene beaches, but also wildlife spotting.
Playa Manuel Antonio receives well over 140,000 visitors annually, making it the number one most visited destination in the country. Here's a closer look at Manuel Antonio beach and what you can expect.
The Beach
When you first lay eyes upon Playa Manuel Antonio, you'll notice an exceptional view. The beach has plenty of shade from the surrounding rainforest, along with clear blue waters. The waters are much calmer along the beach and extremely suitable for swimming.
There are also tide pools that are perfect for snorkeling and seeing coral, tropical fish, sea turtles, and sea urchins.
The beach does not have any restaurants close by, so going early and getting out before lunch is advised. You can not bring food into the park. You'll also want to be advised that there are plenty of monkeys in the area and the beach can get fairly crowded at times due to its popularity.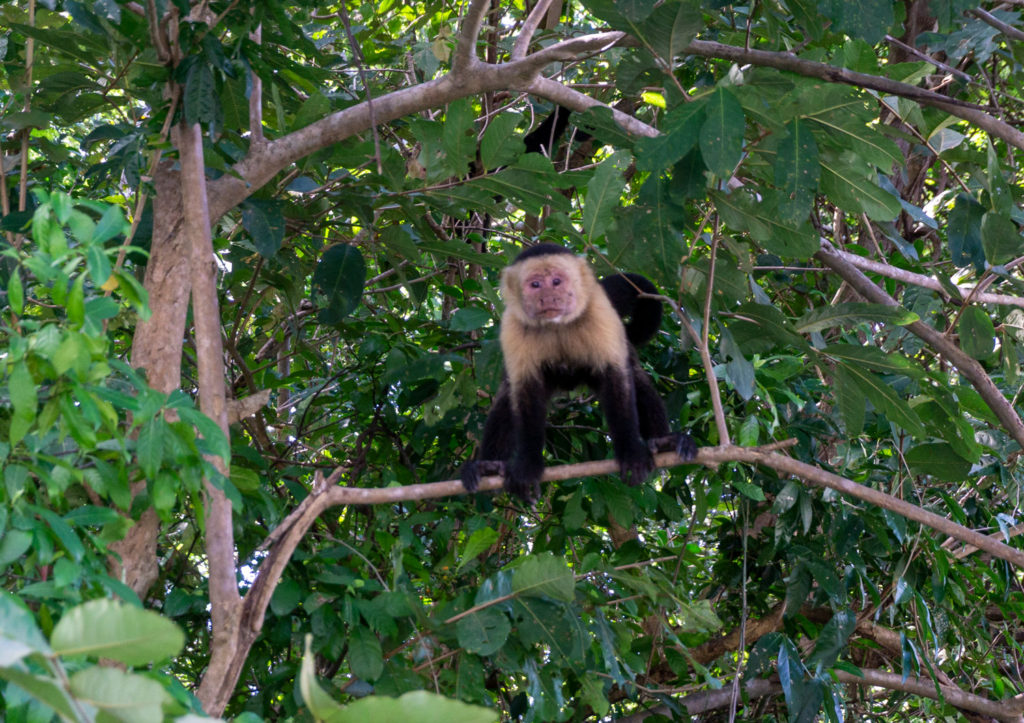 Located Within Manuel Antonio National Park
Manuel Antonio Beach National Park receives up to 600 visitors each day and is loaded with wildlife surrounded by a gorgeous setting. The park has iguanas, sloths, frogs, agoutis, and countless species of birds. It is a popular place for spotting sloths in Costa Rica. If you're visiting during the peak season (starting in December) you'll want to get there early in the morning after purchasing tickets in advance.
There are also 3 hiking trails within the park that aren't too difficult, but may be too much for children. Also, a guide is recommended to help you spot, and fill you in on information about the wildlife. The beach is located within the national park itself, so there is an admission fee of $16 for adults, while 12 and under are free.
Activity Overload
There are so many activities in the surrounding Manuel Antonio area that you simply can't enjoy them all. There's scuba diving, whitewater rafting, surfing, sportfishing, and riverboat safaris that will take you through the Damas Island Estuary. The north end of the beach is especially ideal for surfing, as well as learning how to surf.
Land activities include ziplining, rappelling, hiking trail, and many more. There are also several spa locations that you can hit up afterward for some much-needed relaxation.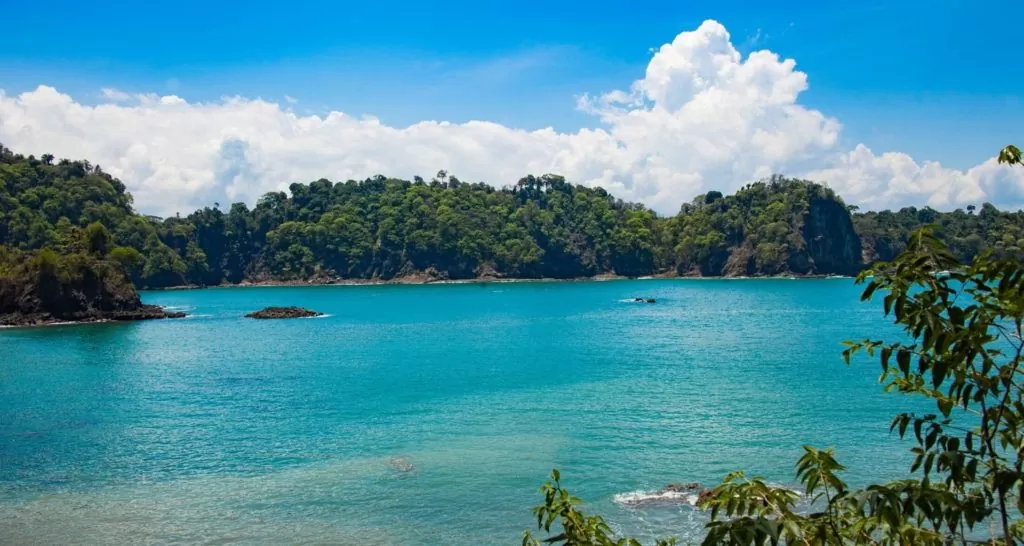 Getting Around the Area
Though renting a car can be convenient. Driving in Costa Rica is interesting, and parking is limited. It's pretty easy getting around Manuel Antonio. The town has a beach bus that will take you from Quepos to Manuel Antonio every half-hour, costing you only 50 cents. There are also plenty of cabs that can take you where you're trying to get.
Playa Espadilla
Espadilla Sur is just across from Manuel Antonio beach is is also another of the most popular beaches in the area. Swim, surf, horseback riding, parasail or take a banana boat ride.
Playa Biesanz
For a quieter beach experience, check out Biesanz Beach. It is more remote and harder to get to, but offers a quieter experience. It will also be a better beach for wildlife spotting.
Manuel Antonio Hotels
While our preference is to rent a villa, home or condo, there are also many lovely hotels in the Manuel Antonio area. For vacation rentals in Costa Rica VRBO and AirBnB work well. Though in some areas there are property management companies, like Krain Management, with whom you can book direct.
For a well deserved splurge, stay at Tulemar, a gated residential community located in the heart of Manuel Antonio. Tulemar is also home to the Sloth Institute. Or, consider Gaia, a small boutique 5-star luxury hotel on 15 acres of pristine jungle. For spectacular coastline views check out Makanda By the Sea, with 12 acres of wildlife sanctuary, located 100 meters above the ocean.
Other Costa Rican Beaches
Costa Rica has some of the most beautiful beaches in the world. The country's commitment to preservation should also keep the beaches that way for years to come. This does make it harder to find true beachfront hotels. If your heart is set on a beach hotel, you might check out the Guanacaste region of Costa Rica such as Playa Flamingo and Playa Potrero.
The Manuel Antonio beach area is not only beautiful, but there are so many things there to keep you busy that we recommend you spend at least 3 to 5 days there. If you are planning a trip in the near future to Playa Manuel Antonio, what are you most excited about for when you visit?
Manuel Antonio Beach: What to Know