The Centennial State has over 637 mountain peaks that all reach a height of over 13,000 feet. One can wonder if it is even possible to be able to narrow it down to only an iconic few. Yet that's exactly what we did. By taking a brief look at their beauty, stature, and history, these iconic mountains stepped across the line on their own. Here's a closer glance at six of the most iconic mountains of Colorado.
All of these stunning mountains of Colorado are home to a variety of mountain towns. Many of Colorado's mountain towns are old mining towns, turned ski resorts. While these days people come to Colorado to enjoy the mountains, originally they came to carve out a living mining.
Longs Peak
Longs Peak received its name from Major Stephen H. Long, the leader of an earlier exploration group dating back to 1820. His group may only have this mountain peak from a distance. But being the tallest mountain along with the range, his men believed it was a mountain worthy to bear his name. Today, you can find this majestic beauty just outside of Denver.
Standing at a height of 14,255 feet, Longs Peak is the most climbed mountain in the entire state. It's a challenging climb that only experienced climbers should attempt to ascend. The Keyhole route has very narrow ledges, loose rock, and vertical rock faces in certain places. If this has your stomach churning as you're reading this, I'd suggest that you take the 2.8 mile Mills Lake Trail. This will provide you with beautiful scenery and great pics of this mountain peak.
Maroon Bells
About a 12 mile drive outside of Aspen, and located in the Snowmass Wilderness area, the Maroon Bells are not actually one, but two mountain peaks. Their names are Maroon Peak and North Maroon Peak, both of them rising to over 14,000 feet in elevation. Photographers from all over come here for their chance to witness these towering snow-covered giants, as they reflect off of the stunning Maroon Lake. The wildflowers, conifers, and greenery in the surroundings creates a setting so beautiful it almost hurts the eyes.  
Due to the spectacular views this may be the most popular of the mountains of Colorado. You will discover a number of hiking trails around the Maroon Bells area. Most hikers take the 1.9 mile Maroon Bells Scenic Loop to snap a shot of the peaks around the lake. But be aware, it can be heavily-trafficked at times.
For a drive with spectacular views be sure to take the Independence Pass route to get to the Aspen area.
Mount Elbert
Mount Elbert happens to hold the record for being the highest peak in the state of Colorado, and 2nd tallest in the United States. Stretching to the sky and reaching a height of 14,440 feet. What's strange about this, is that many people will tell you that they've never even heard of this mountain before.
It's not the most photogenic mountain on our list. But obviously, due to its elevation, many climbers and hikers can't wait for their opportunity to reach its summit. Mount Elbert can be approached from two different locations, Leadville and Twin Lakes. The North Mount Elbert Trail is a 4.5-mile hiking route up to its peak. You gain in elevation by more than 4,500 feet!
Yet if you're looking for a slightly different viewing experience for you and your family, you can see the peak (along with Mount Massive) from a window while riding on the Leadville Colorado & Southern Railroad.
Mount Evans
It's not every day that you can take a motorized vehicle to an elevation of over 14,000 feet! Mount Evans happens to be not only Colorado's highest byway but also the highest paved road in the entire United States. The 28-mile scenic byway that takes you up the mountain starts off in Idaho Springs. You will then pass the Continental Divide and the pristine alpine waters of Echo Lake. If you have time for a short and easy hike, capturing a photo of a reflection of Mount Evans off of Echo Lake is certainly worth getting up early.
Once you've reached the summit, (14,271 feet) you will be greeted with valleys and surrounding mountain ranges that will leave you awe struck. You're also sure to come across plenty of wildlife, including mountain elk and mountain goat towards the pinnacle. Be aware that this road does close from Labor Day until Memorial Day due to the amount of snow that the area receives.
Mount Sneffels
Oftentimes referred to as the "Queen of the San Juans", Mount Sneffels is a 14,150-foot peak that truly captures the hearts of nature enthusiasts and mountaineers alike. Many people consider it to be one of, if not Colorado's most beautiful and recognizable mountain. The San Juan mountains are truly spectacular. To help back up this theory, you can find it on many calendars and postcards in Colorado stores everywhere.
Unfortunately, there are no roads that lead up to this mountain. So instead, hikers set out from the town of Telluride to climb the difficult 14 mile Sneffels Highline Loop. They're rewarded with majestic mountain scenery and epic panoramic views when they get there. If you're not looking to get up and personal with this mountain, the very least you could do is set your camera tripod somewhere along the Dallas Divide Pass. This is right on Highway 62, as soon as you leave Ridgway.
While in the area, you might also want to drive Red Mountain Pass between Ouray and Silverton, for some spectacular mountain views.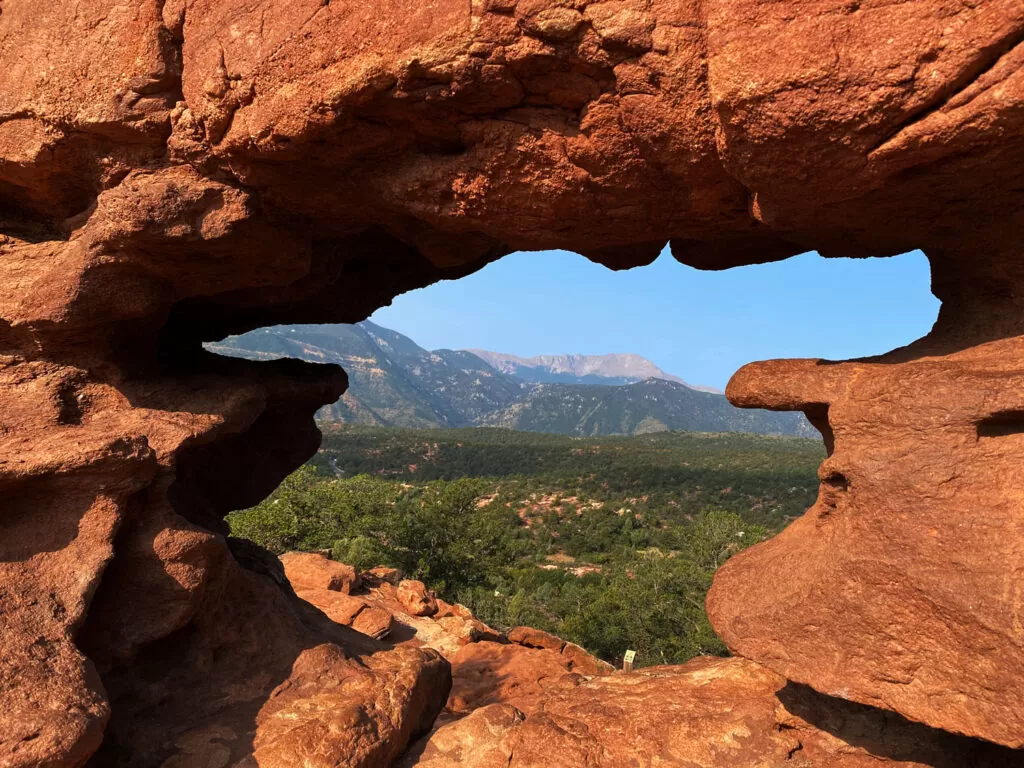 Pikes Peak
Zebulon Pike may have been unable to reach its peak. However, he was still the first explorer ever to make such an attempt. As history has it, the mountain monument is named after this early pioneer explorer due to his effort. Today, you can find Pikes Peak by traveling west along Highway 24, as you're leaving Colorado Springs.
At 14,115 feet, Pikes Peak happens to be the highest of the mountains of Colorado in the southern Front Range of the Rocky Mountains.
The best way to explore this mountain is on the scenic Pikes Peak Highway. It has a picture waiting for you around every turn.
The highway is a 19-mile paved road where you will travel past mountains, beautiful lakes. There's also sure to be wildlife roaming around in the area.
But if you'd rather hike it, the strenuous Barr Trail is another popular choice amongst its visitors.
Rocky Mountain National Park
Colorado is home to four national parks and several national monuments. Rocky Mountain National Park is home to countless mountain peaks. One of which is mentioned above, Longs Peak. This is the place to see and hike several of Colorado's most stunning mountain peaks.
These iconic mountain of Colorado are nothing short of postcard-worthy. Whether you choose to agree or disagree, these mentioned above are amongst the most notable ones that you can visit. If you've climbed or hiked on another Colorado mountain before, which one was it, and how was your experience? Leave a comment below!
Iconic Mountains of Colorado