Travel is increasingly driven by a location's Instagram popularity. According to a survey by UK holiday home insurer Schofields, more than 40% of millennials consider "Instagrammability" the most important factor in choosing their vacation destination. This is having a negative impact on many of the world's special places, including Colorado. As of May 1, 2019 my favorite hiking trail now requires a reservation and fee. While this may be a bit more inconvenient for me, I am glad to see our natural treasures protected. Perhaps we need to consider giving more attention to our off the beaten path Colorado destinations?
These statistics resulted in an "Ah-ha" moment for me. Our family spends much time exploring the mountains of Colorado. Instead of showcasing the overrun touristy areas, we should be showcasing the places that are just as special, but off the beaten path. Many of Colorado's mountain towns are also hidden gems. And, don't forget about the Colorado National Parks and Monuments. Many of these are located in remote areas of the state.
Instagram highlights only one sense of a special place, that of sight. But many of these special places offer so much more. On a hike we not only use our eyes to take in the natural beauty, but we also smell the pine needles, hear the rushing water and singing birds as we feel the breeze across our faces.
Special Colorado Places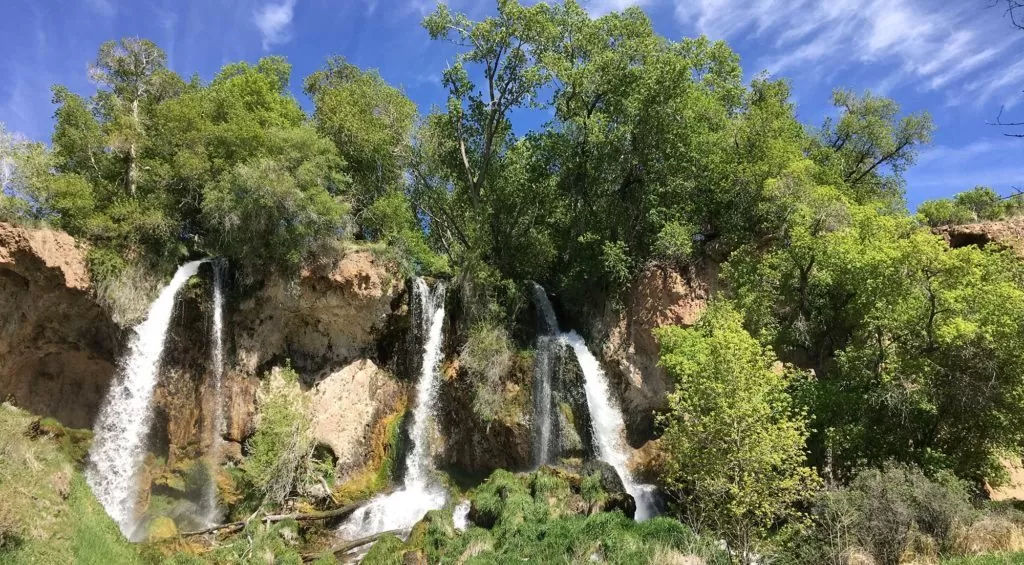 Rifle Fall State Park: Colorado's Best Family Hike
Rifle Falls State Park is located a few miles off of I-70 just west of Glenwood Springs. There are a couple of other state parks nearby, including one with a reservoir. This particular park has an impressive triple waterfall. The base of which is easily accessed from the parking lot. From the base of the falls a trail loops approximately 1 mile up to the top of the falls and around. It is an easy trail with lots of limestone caves along the way. Kids can explore and play in the caves along the way.
Rifle Falls is managed by the Colorado Parks and Wildlife division. There are small fees to enter, and on a busy summer weekend visitation is available on a first-come, first-served basis. If you don't get there early, you may be turned away. The park does have campsites available on a reservation system.
Leadville for Colorado History
Leadville almost became the capital of Colorado. This highest town on Colorado is not the easiest place to get to. Though it may have been back in its heyday of mining history.
This charming town with old colorful Victorian buildings with a rich history also boasts spectacular views. Visitors will want to be sure to visit the National Mining Hall of Fame & Museum, Healy House and Matchless Mine. Be sure to take guided tours of the Healy House and Matchless Mine. Leadville is full of characters and gifted storytellers. The stories of Horace Tabor and Baby Doe and their meteoric rise to wealth are enthralling. As are the tales of smoke moneys, children whose jobs at the mines was to place dynamite sticks.
In addition to its rich history, Leadville is home to a couple of unique events. The Leadville Ski Joring event has been going on in Leadville since 1949. Each March a horse-and-rider pulling a skier compete for the Ski Joring prize. Winners take home cash prizes and spectators have fun watching this unique competition. Leadville is also home to the Leadville Trail 100 Run and the Leadville Trail 100MTB, grueling races on foot and bike. Pro athletes have been know to compete in these races, and to have been bested by local athletes.
Oasis in the Middle of Nowhere Colorado: Gateway Canyons
Gateway Canyons, Colorado is just south of Grand Junction, which is a fairly well know destination in Colorado. The area is known for wine vineyards and mountain biking. But, if you'd never heard of Gateway Canyons Resort you might have had no reason to take this unique and spectacular road less traveled. I am grateful that my husband and I stumbled upon it and hope to bring the kids back when they are a bit older.
This small town was turned luxury resort by Discovery Channel founder, John Hendricks. It is probably the only place in Colorado to see a one-of-a-kind 1954 Oldsmobile F-88 concept car, speed a fast sports car round curves on a rural road, view the canyons from a helicopter, play outdoor laser tag, take a horseback ride among spectacular scenery, relax at the spa, mountain bike, hike and learn the history of the area from a Curator of Curiosity.
Most Awe-Inspiring Landscape of the American West: Colorado National Monument
As the 15th most visited national monument in the U.S., I debated whether to include this. But national monuments are less overrun than national parks. And, Colorado National Monument is well managed by the national park service, so well protected. It is such a truly special place. At Colorado National Monument visitors have the opportunity to see up close the most spectacular sunsets, wildlife such as eagles, turkey vultures, black widows, big horn sheep and more. The geologic formations are ancient and towering.
To see Colorado National Monument at its most beautiful, sunrise and sunset, reserve a campsite. The area also offers biking, hiking and rock climbing. Make sure to pick up a Junior Ranger Book for your kids on the way in to the park and have them complete it before departing so they can earn a Junior Ranger Badge.
Ancient History: Mesa Verde
Mesa Verde typically has between 500,000 to 600,000 visitors each year. Again, not really off the beaten path. But consider that the most popular national parks in the United States see over 10 million visitors each year then it fits this list. Located in the southeastern corner of the Colorado, it is very near the Four Corners.
Mesa Verde is also one of the most ancient sites in the United States. Ancient Pueblo people built these cliff dwellings and made it their home for over 700 years, from 600 to 1300 CE. Here are nearly 5,000 known archeological sites of which 600 are cliff dwellings. Many of which are well preserved. This is certainly a place where visitors can discover some of the most significant stories of ancient America. In 1978, Mesa Verde National Park was designated a UNESCO World Heritage Site.
A Colorado Beach: Great Sand Dunes
The Great Sand Dunes is another national park, one with just under a half million annual visitors. It is a crazy sand dune area at the base of the Sangre de Cristo Range in southern Colorado. These are the tallest dunes in North America but rather than set at the beach are set amidst grasslands, wetlands, conifer and aspen forests, alpine lakes, and tundra.
There are motels near the entrance to the park. Camping is also available. We stopped here briefly in the fall and are headed back early summer. The thing I am most looking forward to this time, other than learning more about the area, is sand sledding.
Note: If you aren't much for camping, you might want to check out some of Colorado's beautiful glamping spots.
Off the Beaten Path Colorado