What international destinations top your family travel bucket list? Costa Rica is one that should be on your list! It really has it all, from beaches to the rain forest and more. And, it is a relatively easy destination to reach from the United States. Your biggest challenge may be narrowing down where in Costa Rica you want to visit. Thanks to assistance from my friend who owns a condo in Playa Potrero Costa Rica, this quiet beach town made its way onto our itinerary.
Our family flew into Liberia International Airport, and began our Costa Rica with kids adventure with a visit to the La Fortuna Arenal Volcano area. We then headed down to Playa Potrero on the Pacific coast for some much needed relaxation and beach time.
As much as I love adventure, it is amazing how time slows down and you can truly relax on the beach. And, especially a beach like Playa Potrero. Friendly people and beautiful sunsets are the norm here.
We didn't spot any vacas (cows) roaming the beach. Though apparently it is common here. There are also friendly beach dogs that walk themselves on the beach. All species appear to live in harmony here.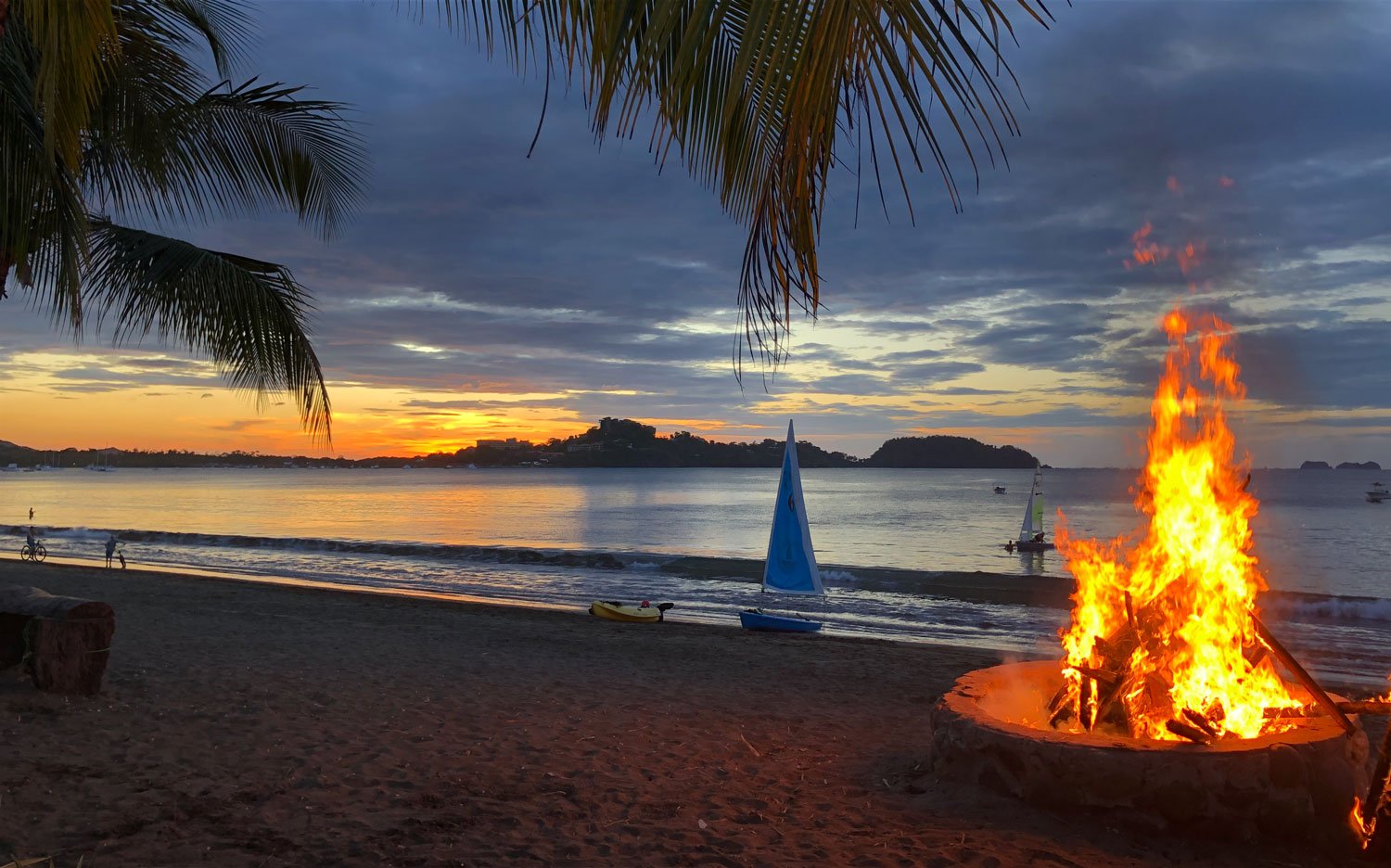 While we were greeted with "Hola! Cómo estás?" with perfect Spanish pronunciation, it was often Americans offering the greeting. We were happy to be able to claim new friends as a result of this vacation.
Playa Potrero is a hub for Americans. The Guanacaste region of Costa Rica is home to two high-quality International schools, both a short drive from Potrero. These are Costa Rica International Academy (CRIA) and La Paz pre K-12 dual language school.
Don't expect things to be cheaper here. And, also don't expect American standards of convenience and luxury. But you will experience a culture worth understanding and even adopting in some form. And, you will see some spectacular sunsets. The entire Pacific coast is lined with beautiful Costa Rican beaches.

Things to Do in Potrero Costa Rica
Enjoy the Sunset
There is something special about sunsets on the water, but I have to say that the sunsets in Potrero are brilliant enough to have a boat-full of people on a sunset cruise (aka booze cruise) stop dancing and take picture after picture.
Really I could just be happy sitting on the deck or walking on the beach while the colors spill from the sky.
Take a Sunset Cruise with Panache Sailing
There is something soothing about being out on the water. We booked and boarded a catamaran with Panache Sailing for our last afternoon in Potrero. The boat was clean. The staff was entertaining. The views were spectacular.
There was an interesting cadre of other guests. Though I am sure they felt the same about us.
The things our kids have talked about was the ability to order whatever drinks they wanted. From cokes to virgin Pina Coladas they lived it up! Our son showed off his natural dancing ability, to whatever music came his way. And, the sunset was just brilliant with sailboats and islands outlined against it.
Playa Potrero Snorkeling
Water sports abound in the Guanacaste region of Costa Rica. Rent a boogie board or paddleboard and enjoy a morning on the ocean.
Or, take a sunset sail to a private beach where you can snorkel, kayak or paddle board. The highlight of my snorkeling at Playa Potero was seeing a yellow Puffer Fish.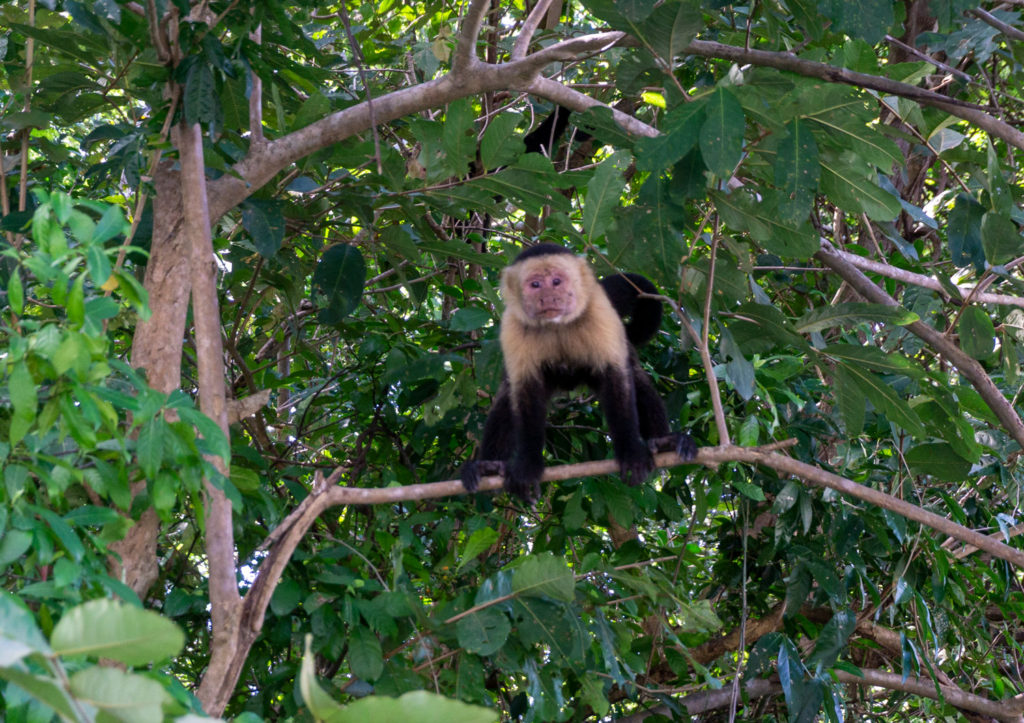 Palo Verde Boat Tour
If you want to see wildlife in the Guanacoste region of Costa Rica, this is your best bet of wildlife tours. About an hour and a half from Playa Potrero, Palo Verde Boat Tours offers guided tours of the wetlands of Palo Verde National Park.
From the comfort of a covered boat you can see birds that you've never even heard of, iguanas and maybe even a crocodile or Howler Monkey. The tour ends with a delicious Tico lunch served with fresh juice.
Insider Tip: Either have transportation to the park included as a part of your tour, or be sure to have good GPS to find this hidden gem.
Visit Las Catalinas
Just north up the Monkey Road is a new walking town with an Italian feel to it. It is worth a few minute drive up the windy road to Las Catalinas to spend a day playing on the pristine beach, walking the trails and then enjoying lunch or cocktails in the town square while the kids play in the spray pad.
Horseback Riding
This was on my list, but I didn't fulfill it until a return visit to the area in November 2023. But we did see a fair number of cowboys on their horses showing off what appeared to be dressage. It was the pleasure I imagined to take a horseback through the dry forest and down to the beach. We did this as our activity at Diamonte Adventure Park. While overall I feel like the park is a bit overpriced, the horses seemed to be well take card of and the guides very friendly.
Pick Coconuts
You will have to be lucky to have this experience. We staying in a condo on Playa Potrero with a coconut tree right in front of our beach view. We could see the coconuts just hanging there waiting for a monkey to toss them to us.
Well, since that didn't happen… My mother suggested to my son that they go throw coconuts at the tree to try to knock down more coconuts. Our friendly neighbors witnessed the game and came to make it a reality.
The husband located the pool tool, removed the net and replaced it with a hand-fashioned piece of wood with nails sticking out. He reached right up into that tree, stuck the coconuts with the nails and twisted them down. My son was in awe.
Visit an Adventure Park
Buena Vista del Rincon offers more than you can fit into a day: ziplining, horseback riding, hanging bridges, jungle waterslide and hot springs. Diamonte Eco Adventure Park offers the longest dual zip line in the country and one of the finest animal sanctuaries, as well.
Search for Seashells on Potrero Beach
Potrero beach is beautiful. Any excuse to take a walk in the sand is a good one. We did a fair amount of sea shell hunting. But then discovered that you can't bring them back to the United States. So, we ended up returning them to the beach. But that didn't dampened the fun of the search.
Go Fishing
We are not fishermen. But we watched plenty of locals wade into the water just in front of our beachfront condo with not much more than a line and hook to wait for fish to bite. You can certainly charter boats to take you out for some serious fishing, and then even have a local restaurant cook it up for you.
Playa Potrero Costa Rica Restaurants
Hemmingway's at Costa Rica Sailing Center
Many of the businesses in Playa Potrero are run by Americans. This one is no exception. Jeff & Justin moved to Playa Potrero from San Francisco and have built the most popular place in this sleepy beach town. The location of the Costa Rica Sailing Center is ideal. Food is very good. There are plenty of activities. And, ambiance is unbeatable. We really thought about eating here every meal.
Nasu Italian Grill
The Bahia del Sol Hotel offers a couple of dining options. We chose Nasu Italian Grill for our final evening of our most recent trip to the Guanacaste area. Food was good, and the grounds are beautiful. There is a pool with a waterfall. Individual tables are scattered throughout a manicured grassy area with lights strung above and umbrellas covering each table. A path leads out to Playa Potrero for colorful sunset views.
Soda Estero Azul
While in Costa Rica, you must eat at a Soda. Sodas are open air restaurants often run out of the kitchen of someone's home. They serve traditional Costa Rican Tico fare. They are less expensive than traditional restaurants and often only accept cash.
Soda Estero Azul is a hidden gem on in Playa Potrero Costa Rica. It really is difficult to find. But with spectacular views and excellent Tico fare. There were even hammocks to relax in. Here we got our fill of Arroz con Pollo, a new favorite dish.
The Beach House Bar & Restaurant
The Beach House is another hot spot for sunset dining in Playa Potrero Costa Rica. This restaurant offers live music and fun happy hour specials.
Bowls and seafood are the main fare here. But they also have a "You Hook It, We'll Cook It" special. You supply the fresh caught fish and for $10 they'll cook it to order and supply the sides.
Reparito
A restaurant called Reparito replaced Carpe Diem, just north of Potrero. When it was Carpe Diem it was favorite of ours for breakfast, sandwiches and smoothies. We didn't get a chance this most recent visit to try Reparito so can't vouch for it. But it is a great spot to dine so that after you can walk down the dirt road behind the restaurant to possibly see monkeys or buy a refreshingly cold coconut from Ricardo.
Coco Loco in Playa Flamingo
Here we truly got to experience how the food varies in different regions of Costa Rica. Beans and rice are standard fare. We'd consumed our fair share in the Arenal Volcano area before coming to Playa Flamingo for lunch. The side of beans and rice here had an additional flavor and texture that we hadn't experienced in La Fortuna — coconut!
Fresh coconut water was also on the menu. And, to top to off was the sight and sounds of the ocean waves hitting the sand. We also enjoyed the tuna and Mahi Mahi tacos.
Cafe del Sol
Sadly El Castillo is no more. But Bahia del Sol put in a new cafe offering a bakery, bistro and rooftop bar. It is just across the street from the hotel and Hemmingway's.
Where to Stay: Playa Potrero Rentals
One of our desires for this Costa Rican multi-generational family vacation was to immerse ourselves as much as possible into the culture. We avoided large resorts and hotels, though there are a couple in the area. There are a great variety of beachfront condo rentals on Playa Potrero. And, we took advantage of this.
Through the connection with my friend at Falvos' Flights, we rented a three-bedroom condo with spectacular ocean views though Krain Costa Rica Real Estate vacation rentals.
While not luxury, the views, kitchen, private balcony and friendly neighbors made this the perfect place to stay. Also, we could walk to almost anything we needed.
A fresh fruit stand was just a few feet away and the local grocery store catering to Americans was just a couple of blocks away.
If you are looking for a local hotel, Bahia Del Sol will be your best bet.
However, if you are open to a large resort property, Margaritaville Beach Resort sits a hop across the street from the beautiful Flamingo beach. And, there's a Westin Golf Resort & Spa at Playa Conchal.
Where to Shop in Potrero
There are several grocery stores withing a short drive from Playa Potrero. But, although slightly pricier, we really found what we needed at the local Merkdo just a couple of blocks from our beach condo. This little liquor and grocery store clearly caters to the local Americans with specialty foods, as well as wine and beer.
For luxury clothing head over to Las Catalinas where the Las Catalinas Collection has stylish beach and town wear, and Chuches offers milkshakes and upscale consignment.
For souvenirs check out Sea Star in Brasalito. Or, you can just head to Playa Flamingo and shop from a street vendor. I know we like to support local vendors. And, you know you are getting something authentic. Avoid shopping at the airport for souvenirs as you will pay a hefty surcharge. Though it is a good way to get rid of any extra Colones.
What is the Best Time to Visit Playa Potrero
The answer to this may depend on your budget and preferred weather. This area of Costa Rica is not as rainy as others. But rainy season ends in November and then there are about six months with no rain. This also means it is hot.
We visited in December which is the start of high tourist season. It just gets busier from there, especially the holidays. We thought December was great. But I think I'd consider November if I wasn't also visiting a more rainy area of Costa Rica.
Where Else to Visit in Costa Rica
Our family chose the rain forest of Arenal and La Fortuna and the beaches of Guanacaste. But Manuel Antonio and Monteverde are popular choices as well. Check out our other ideas for itineraries for 10 days in Costa Rica.
Just north of Potrero is a new Italianesque luxury walking village, Las Catalinas, that will appeal to those seeking an upscale experience on the beach.
Of course Manuel Antonio is where you will find the best wildlife. Our stay at Tulemar was one of our favorites with monkeys making their way onto our balcony and sloths hanging in the trees on the grounds.
How to Get to Potrero
Fly into Liberia International Airport rather than San Jose. Potrero is just over an hour drive from the Liberia airport. Driving in Costa Rica is not for the faint of heart. So, you may want to hire a car or take a shuttle.
If you do decide to rent a car, rent through Adobe or Vamos. And, avoid the Monkey Road unless you have a 4 wheel drive. We did drive. Our party of six prevented us from getting 4 wheel drive. We ended up with a large van instead. We mostly drove during the day and felt lucky that we had no issues.
Safety in Playa Potrero Costa Rica
Just be smart, that's all. There is petty crime here, as there is everywhere. Don't leave cash and valuables in plain sight. Lock doors. Use your safe, if you have one. I even left my wedding ring at home so as to not attract undue attention.
What to Pack for Playa Potrero
Beachwear, flip flops and sunscreen will be the most important. But you should certainly plan to make a trip to a national forest or rain forest while here. So, you will need to pack for a variety of climates. Be sure to download our printable Costa Rica packing list!
Playa Potrero Costa Rica: Everything You Need to Know