Often referenced as the "Birthplace of California," San Diego was the first place frequented and established by Europeans on the Western Coast of the United States. Now it is a bustling oceanfront city that is also a tourist destination. With beaches, museums, national parks and more there are so many fun things to do on a San Diego vacation for families. Here are a few of our favorite activities you may want to include on your San Diego 3-day itinerary.
Where is San Diego Located?
Its location on the Pacific Ocean as well as the border with Mexico makes it a busy city, both by land and sea. The San-Ysidro Port of Entry between Tijuana and San Diego is the main access point to cross the border between the United States and Mexico and also ranks fourth in busyness between international land border crossings in the world, only outdone by ports in Asia. The San Diego International Airport is the most active single-runway airport in the entire world.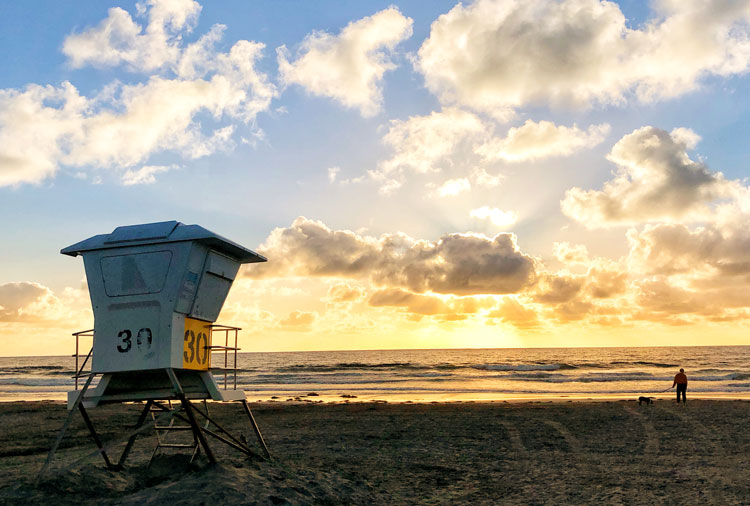 With all its bustling tourism, harbor activities, culture, and cuisine, there is tons to do in San Diego! Let's try to narrow it down to three days of activities to see and experience for an ideal Sand Diego vacation for first-time visitors.
Insider Tip: Be sure to check out our comprehensive list of things to do in San Diego with kids.
Day One of San Diego 3-day Itinerary: History and Culture Day
On this day, experience the history and culture of San Diego. In Downtown San Diego, there are tons of tour options. Using a GPS Talking Car Tour or a Self-Guided Scooter Tour, see the sights of Downtown and Old Town. Either of these options takes a couple of hours to complete. Options are also available for the Gaslamp Loop.
Historic Park 
To further learn about the history of the area, visit the Old Town San Diego State Historic Park. You'll want to allow for 2-3 hours of wandering through the museums, restaurants and retail shops while you immerse yourself in the lives of Mexican and early American settlers in the mid-1800s. 
Cultural Places 
Some other cultural places that are worth exploring include the culinary wonder of Little Italy, the Gaslamp Quarter also known as the "historic heart of San Diego," and Whaley House Museum, one of Southern California's most popular tourist destinations. 
Museums 
For a unique museum experience, try the USS Midway Museum or the Maritime Museum of San Diego. Both offer tours and lots to explore aboard restored historic vessels. The maritime museum is one of the top three maritime museums in the world, so it's definitely worth a trip!
National Monument
Located on Point Loma, Cabrillo National Monument is home to an old lighthouse and paths throughout the property with spectacular ocean views. Tour the visitors center, lighthouse and then head down to the tide pools. Arrive in the morning at opening to beat the crowds.
Day Two of San Diego 3-day Itinerary: Balboa Park
Spend an entire day just in Balboa Park! With the San Diego Zoo, 17 cultural institutions and museums, more than 10 food options ranging from a quick snack between destinations to a beautiful sit-down dinner,  over 10 attractions, multiple gorgeous gardens, and the possibility of spectacular performing arts, be sure to map out your favorite options ahead of time to maximize your time.
Trying to navigate this 1,200-acre cultural hub may seem overwhelming, but there is a free tram that will get you from one of the three parking lots to within 10 minutes walking distance of your destination!
Check out the area eateries ahead of time, too, and plan your meals and snacks along your routes. Stop in at the Natural History Museum and then enjoy lunch at Panama 66.
San Diego Zoo 
The San Diego Zoo alone should be allowed 3-4 hours of touring time. Sitting on 100 acres of land in Balboa Park and hosting more than 12,000 animals, this zoo is known as one of the largest and best zoos in the world. It is also one of the very few zoos to accommodate and breed Giant Pandas! It's a must-see attraction in San Diego.
Choose Another Attraction
After the zoo, be sure to pick a museum or two, a few attractions to explore, or a performance to attend ahead of time. Take the tram and save some walking time! Check out the area eateries ahead of time, too, and plan your meals and snacks along your routes. There's so much to do and see in Balboa Park!
Day Three of San Diego 3-day Itinerary: Water Day
Could it really be a trip to San Diego without exploring the incredible bays and beyond? Multiple tour options are available plus other attractions that are beautifully located.
Insider Tip: Find out the best family beach in San Diego!
Seal Tour 
Tour the land and the sea with a SEAL Tour. This unique experience takes you by both land and sea in one Hydra Terra vehicle! This 90-minute narrated tour will take you through the beautiful streets of San Diego before taking you right out into San Diego Bay. You'll learn all about the history of the area and experience the unique ecology on this fun tour.
Sealife Cruise 
Another incredible opportunity that is unique to San Diego is to take a Whale & Dolphin Watching Cruise. It may take around four hours, but you'll be able to see San Diego landmarks as well as harbor seals, sea lions, dolphins, and hopefully a Grey Whale!
Sea World San Diego 
From incredible animals to roller coasters and rides, Sea World San Diego has tons to offer! There are rides involving splashing water perfect for a hot day. The shows are sure to delight, and maybe even educate. Located on Mission Bay, SeaWorld is fun for all ages.
Belmont Park 
San Diego is full of beachfront fun at Belmont Park. From a more than 10 ride amusement park and tons of food and shops to beach and water transportation rentals, to the largest indoor heated pool in Southern California (The Plunge), there are a plethora of options for activities to last you most of the day on Mission Beach, if you'd like. With free parking and admission, it would be fun to explore, even if you don't do tons of activities.
Kayak La Jolla
For a unique way to visit a truly beautiful place, take a kayak through the La Jolla Ecological Reserve and the Seven Sea Caves. You can explore the sea caves and cliffs for an hour and a half with a guided tour or for two hours on your own after a little training. The local marine life you could see includes harbor seals, sea lions, leopard sharks, Garibaldi fish, and maybe even a dolphin! You could also spend an afternoon learning to surf in San Diego or kayak, snorkel, or paddleboard in La Jolla.
Where to Stay in San Diego
Shelter Island
Shelter Island is a peninsula very close to the San Diego downtown area. It offers beaches, a park and the sight of ships sailing by. Its proximity to most San Diego attractions combined with the views of the San Diego skyline make it one of our favorite places to stay.
La Jolla Shores
For more of a beach town experience stay at La Jolla Shores. This area of La Jolla has a beautiful beach that you can easily access, especially from the La Jolla Shores Hotel. And, there's a fantastic park right on the beach. Life guards are on duty here during the day so you can feel comfortable with your kids splashing in the ocean.
San Diego has so much to offer that three days may not quite be enough! You can pack quite a bit in if you plan well, though, so make your list of must-see attractions, restaurants, and experiences and get ready to have a fantastic time exploring the second most populous city in California.
San Diego 3-Day Itinerary