Winter in Colorado is special. Snowflakes drift from the clouds to create a magical winter wonderland. Twinkling lights shine through the snow at night. Adrenaline inducing ski slopes abound. Heart rate raising snowshoeing, nordic or back country skiing may be more your pace. Perhaps a romantic horse drawn sleigh ride is on your bucket list. These are all wonderful attributes and activities available during the Colorado winter. But don't forget about steamy Colorado winter pools!
Header photo courtesy Iron Mountain Hot Springs & Jack Affleck.
This is one overlooked winter experience that everyone should put on their list. Colorado boasts an abundance of heated outdoor pools and hot springs set with spectacular mountain backdrops. Soaking or splashing in warm water as snowflakes float down around you is quite a memorable experience. This is one activity that the entire family can enjoy together, at the same pace!
Disclosure: This post contains affiliate links. This means that if you click through and make a purchase we may earn a commission which will help us to continue to provide free, useful content. Thank you!
Your first priority in planning your Colorado ski trip may not be the hotel pool. But we would argue you should make it a consideration. Certainly make sure that the entire family packs swimsuits. From Aspen to Vail here are 10 Colorado pools to warm you up after a day of snowy adventures. Most of these relaxing pools are resort hotels pools. So you will want to plan to stay on property to enjoy them.
Colorado Winter Pools: Aspen
Residences at The Little Nell is located at the base of Aspen Mountain, and the pool and two hot tubs are located on the rooftop, offering spectacular views of the surrounding mountains and town of Aspen. Owners and rental guests of this fractional ownership property have exclusive access to the rooftop pool and terrace.
Colorado Winter Pools: Beaver Creek
The Osprey welcomes guests with their gorgeous, outdoor pool area with a toasty warm hot tub — all offering a direct view to the slopes. Ski-in/ski-out access to the mountain is just 26 feet away.
In the mood for a workout in addition to scenic relaxation? The Westin Riverfront boasts a heated 25-yard outdoor pool and three infinity hot tubs overlooking the Eagle River. Its saline-based filtration system uses 90% less chemicals than a standard pool.
Insider Tip: Thinking of bringing your kids on their first ski trip? Beaver Creek is our family's choice of resorts for kids to learn to ski.
Colorado Winter Pools: Glenwood Springs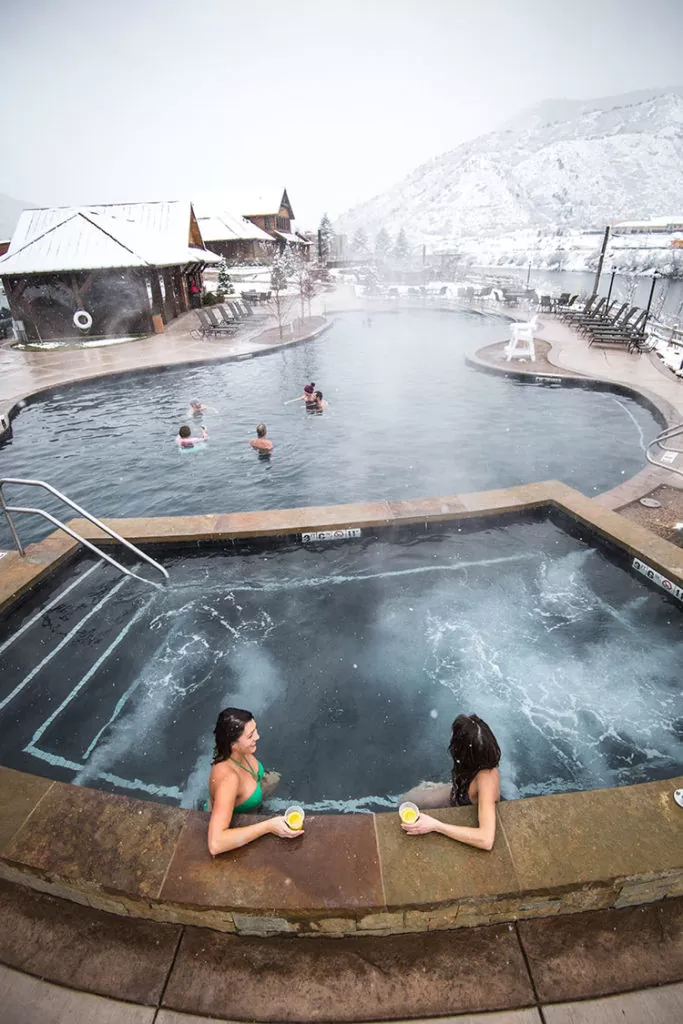 Open to the public year-round, Iron Mountain Hot Springs is especially wonderful in the winter. Each of the 16 naturally shaped soaking pools on the bank of the Colorado River are unique. They range in temperature from 98 to 108°F. The views vary from pool to pool. Two are infinity pools and two have smooth stones on the bottom for foot reflexology. There's also a larger family pool.
No chemicals are added. The soaking pools are filled with pure, sand-filtered thermal mineral water. It's constantly flowing through the pools and back out into the Colorado River, so each pool is completely refreshed every two hours.
Colorado Winter Pools: Snowmass
The outdoor pool at Viceroy Snowmass is an all-season heated pool (typically steaming between 90 and 93 degrees) and features a terrace as well as a cabana. The pool's slope-side location is second to none as it's conveniently located next to the resort's new ski-in, ski-out bar, NEST Bar & Grille, and provides unobstructed views of the ski lifts.
The pool at the Lichenhearth condominiums is special because of the view of the mountain and slope views. Guests can ski right down to it, making it a ski-in/ ski-out pool. The end of the day is the best time to relax in the warm water and watch the skiers coming down Fanny Hill while the light changes as the alpenglow sets in.
For a more private winter pool experience the Aspenwood condominiums heated pool includes a sensory water feature running the length of the pool. There is a hot tub at the top of the feature, and then another hot tub at the bottom of the feature.

Insider Tip: The base of Snowmass Mountain just underwent a huge revitalization. If you haven't visited or visited in a while this is the time to check it out. There's a new climbing wall on the front of the new Limelight hotel and lots of family-friendly activities.
Colorado Winter Pools: Vail
Antlers at Vail boasts what is arguably the most spectacular pool in Vail. Hot tubs lined with natural stone adorn both sides of the heated pool. The pool and hot tubs sit on a deck above Gore Creek with views of the ski mountain. There's really no better place to relax after a day of mountain adventures. Known as a family-friendly and unpretentious Vail resort, it is also a fun place to socialize with guests who have been coming to the Antlers for decades. In addition to the mountain views, you just might also catch a fun story or two.
Insider Tip: Antlers at Vail is offering a "Chill Out" Family Spring Break package for March – April 2019 that includes a free room upgrade, free skis for the kids with each adult paid pair, a free dinner and pool toy.
Perhaps Vail's best kept secret, at the Game Creek Chalet, guests can ski right to the door, or relax in a hot tub with spectacular mountain views while a private chef prepares a gourmet dinner to enjoy in privacy. This 4 bedroom, 5 bath secluded cabin with its own personal concierge service, personal chef and Snowcat transportation rests high above Vail Village, nestled in the glades of the Game Creek Bowl. During winter, the chalet becomes a secluded hideaway—10,500 feet atop Vail Mountain.
Colorado Winter Pools: Winter Park
In the winter, swimming in a spectacular heated indoor access/outdoor pool, sleigh rides, trail rides, cross country skiing, ice-skating, snowshoeing, tubing, star gazing parties are just a few activities available at Devil's Thumb Ranch Resort & Spa. Welcoming vacationers and Nordic enthusiasts for more than 45 years, Devil's Thumb Ranch Resort & Spa offers a true taste of Colorado's winter wonderland just 15 minutes west of Winter Park.
Insider Winter Pool Tip
Pool toys are just as much fun for the kids in the winter as they are in the summer! Check out some of these hilarious and crazy cool pool floats, rafts, towels, inflatables and more to make the most of your winter pool time.
Have you spent time in any of these warm Colorado pools during the winter? Are there any others that should have made our list? Let us know in the comments below!
Take a Dip: Warm Winter Pools in Snowy Colorado