Colorado Springs is a beautiful mountain scenery city that not only adults will appreciate, but there are also hundreds of exciting destinations and thrill-seeking activities that your kids will love as well. There are a handful of museums, fascinating historical cliff dwellings, adventure parks, and even one of the most interesting zoos in Colorado! These are some of the best things to do with kids in Colorado Springs area.   
We had the opportunity to take a family trip to Colorado Springs last summer. Here you can walk (or zipline) across a crazy high bridge, learn history at castles or historic sites, hike, explore caves and so much more. There are so may fun things to do that we couldn't fit it all into a single weekend. We'll surely have to return to visit a few additional attractions.
Colorado Springs is a great year round destination. Most of these activities are open year round. Almost everything is kid friendly, family friendly and even dog friendly.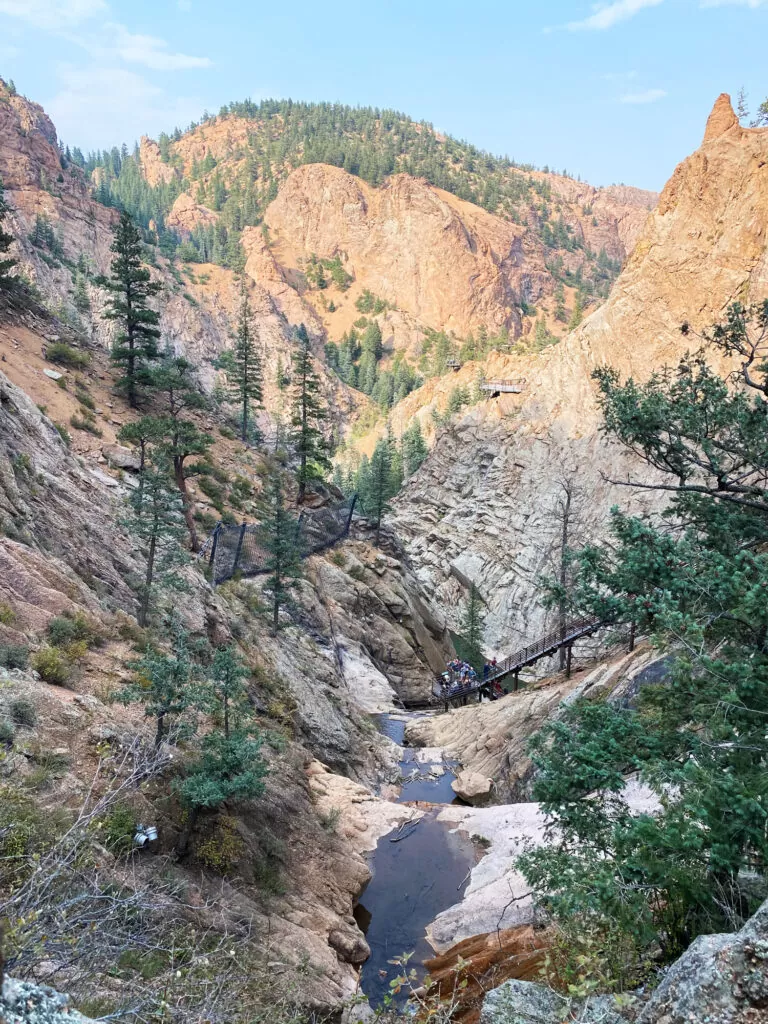 Broadmoor Soaring Adventure
For those of you that have older children that could certainly use a little adrenaline rush every now and then, Broadmoor Soaring Adventure is a zipline course that's sure to bring fun and thrilling excitement for the whole family. They have the Woods Course which is suitable for beginners, where you will find 5 zip lines that will reach speeds of up to 45 mph and over a height of around 150 ft, just above a waterfall.
There's also the Fins Course, which is ideal for intermediate and the more advanced. This course has 5 zip lines, two rope bridges, a 180 ft assisted rappel, and then you'll find yourself soaring over a height of 500 ft! Just keep in mind that the company's weight restrictions are between 90 and 250lbs for this activity.
These zip lines are located at Seven Falls, which is an experience itself. It is one of Colorado's many beautiful waterfalls.
Cheyenne Mountain Zoo
If you happen to be in the Colorado Springs area, don't miss out on a chance to experience America's one and only zoo that is located on the side of a mountain. Cheyenne Mountain Zoo also happens to be the 6th best zoo in the nation, and one where you're sure to burn a ton of calories. Your kids will fall in love with zoo life as they encounter and interact with the animals. They'll have the chance to feed giraffes, chickens, goats, and so many more. The human food is pretty tasty too!
Drive to Pikes Peak
By taking the time to drive up to Pikes Peak (America's mountain), you and your kids will have the opportunity of a lifetime to witness some of the most awe-inspiring views in the entire country. It not only has 360 degrees of the surrounding beauty, but there's also plenty of wildlife that you'll see on this 19-mile scenic trip up to the summit. Your children will be fascinated with the change not only of the terrain but the much-cooler temperatures as well.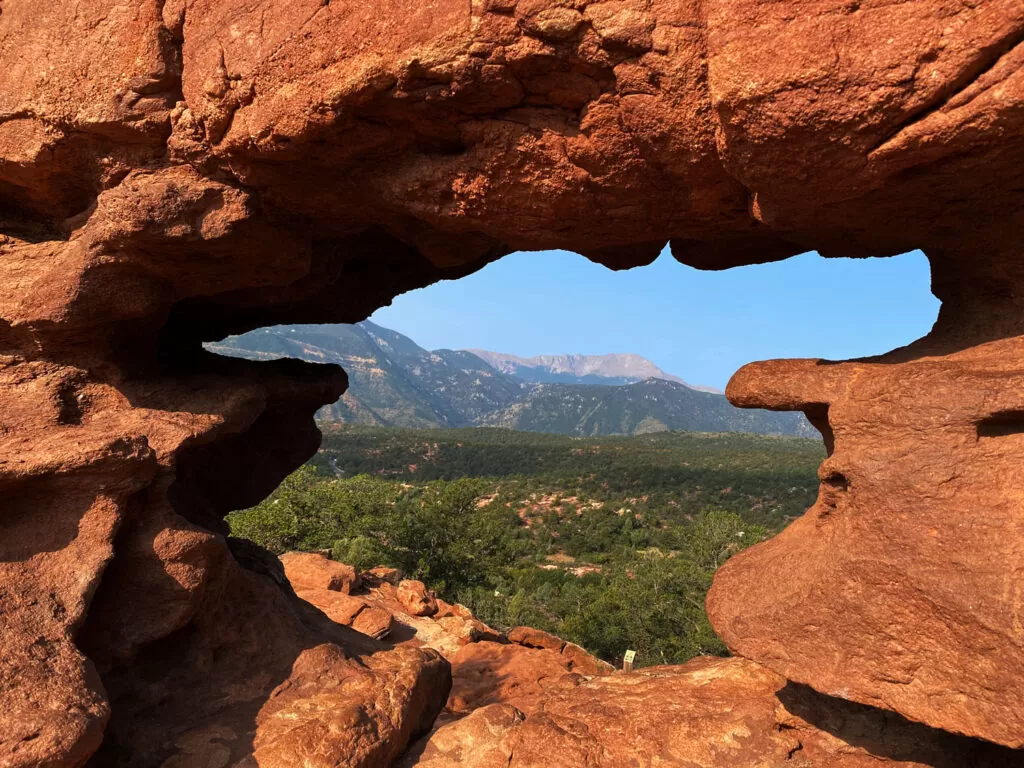 Garden of the Gods
Garden of the Gods is a gorgeous free public park that has towering red rock formations and several activities for families to do. They offer hiking and biking trails, rock climbing, and a number of other outdoor adventures to make your experience that much more memorable.
Garden of the Gods is one of many wonderful areas to hike around Colorado Springs.
Hit up Some of Colorado Springs Bike Trails
If you happen to have brought your bikes with you on your vacation, Colorado Springs has several different biking trails that offer something for every biking level. Here's a little glimpse at 11 of the best bike routes that you will find in the area.
Lost Island Adventure Park
At the Lost Island Adventure Park, there's a little of something for everyone. They offer two 18 hole mini golf courses, an inflatable outdoor park, an outdoor ninja warrior training gym, and an indoor play area. There are even snacks for the kids and a Tiki bar that sells adult beverages that mom and dad can enjoy. This is the perfect destination to bring your kids so that they can wear off some of their energy.
Manitou Cliff Dwellings
Even if you're not planning on making the trip out to Mesa Verde National Park, a visit to the Manitou Cliff Dwellings will be just as worth it. The relocated site is situated just a few miles west of downtown Colorado Springs. There you will discover a fascinating museum that your kids can explore (and touch), and see just how these early Anasazi people lived. Be sure to check out their massive gift shop at the end of your visit.
Noah's Ark Whitewater Rafting
Still in search of your family's next thrill-seeking escapade? Look no further than the Noah's Ark Whitewater Rafting company, where they have friendly and expert guides that will make it an experience that you and your kids will never forget. They also have an aerial zipline course that you could do afterward if your kids are still full of energy.
Play Street Museum
Even if it's a rainy day out, there are several places that you can still enjoy while visiting Colorado Springs. For those of you with children 8 and under, the Play Street Museum is a kid's museum that allows them to learn more about the world around them. The museum has plenty of hands-on exhibits and other activities that are sure to hold their interest.
Royal Gorge Bridge and Park
If exploring daring heights sounds appealing to you, or you're simply looking for a way to spend an afternoon, I'd encourage you to head over to the Royal Gorge Bridge and Park. It's located about an hour's drive away from Colorado Springs.
There is an entrance fee when you first arrive, but you'll have access to walk across America's highest suspension bridge, take a gondola ride across the huge gorge, play on their Playland playground, and also visit their theatre.
If you're willing to splurge a little bit more, there's also their Royal Rush Skycoaster, where you'll experience a 50 mph freefall and hover just 1,200 feet above the Arkansas River.
Royal Gorge is one of our favorite daytrips from Colorado Springs.
Springs Adventure Park
Springs Adventure Park is a trampoline park where your kids can bounce and jump while mom and dad get a much-needed break. The park also has dodgeball, jousting, and other epic warrior games as well.
Colorado Springs is also home to, or very close to some interesting caves as well as unique castles. Be sure to check those out too!
Now that you have a better idea of what to expect when you bring your kiddos along, which of these will you be hitting up with your family when you visit Colorado Springs in the near future? If you live in the area or have already visited a kid-friendly attraction when you were there, I'd love to hear about it.
Things to Do With Kids in Colorado Springs