Colorado is our home. We spend a lot of time exploring the entire state and taking advantage of all it has to offer families. From Colorado's mountain towns to Denver & Boulder, there's so much for kids and adults alike. There's no shortage of things to do with kids in Colorado.
Planning a trip to Colorado and curious about family-friendly activities? Whether you're a Colorado resident seeking ways to entertain your kids on a day off or a visitor, there's a wide range of options to explore. You can immerse yourselves in the majestic mountains, delve into the rich culture and art scenes in the cities, enjoy winter wonderland activities in the snow, or cool off with water adventures in the summer. To help you make the most of your time, we've compiled a comprehensive list of our top 99 kid-friendly activities in Colorado!
New Things to Do with Kids in Colorado
Casa Bonita
June 2023 was the re-opening of one of Colorado's most famous family attractions, Casa Bonita. Renowned for family fun, though not its food, Casa Bonita opened under new ownership in June of 2023. A new chef re-designed the menu, so that now it can hopefully be known both for fun and food. A major renovation restored the original design while cleaning it up. We are looking forward to seeing cliff divers and the lagoon but now while enjoying good food.
Meow Wolf Denver
Meow Wolf Santa Fe draws us to the city different about once a year. A multi-dimensional, multi-sensory place of discovery and imagination that was born of art, Meow Wolf is an ideal place to cultivate kids' love of art. Here at Convergence Station Colorado-based artists have brought a different story to life.
Created from trash, or old recycled electronics, Convergence Station tells the story of a cosmic event that displaces citizens into four distinct worlds.
Slick City Action Park
Slick City Action Park is the world's first Indoor slide (with no water) located in Denver. If you are looking for a place to burn off some energy on a cold day, this place has you covered. There are a ton of slides to whiz down, or race friends on.
Adventure Forest at Children's Museum of Denver
Adventure Forest, at Children's Museum of Denver, is a 500 ft. long aerial adventure course laced with a hidden journey. Kids can push their limits of bravery and strength on the chimney climb or spider web. They can get an adrenaline rush whooshing past rainbow prisms in the 70 ft. slides. Or they can decode a secret language or discover unique treasures.
Things to Do with Toddlers in Colorado
Goat Happy Hour
Happy hour may indicate an adult outing. But that isn't the case at Vail Stables where all ages will enjoy feeding the cute goats, seeing the horses and playing in the yard. There's something stress reducing about hanging out with goats in an alpine environment. As much as adults enjoy it, toddlers will be the most in awe of the cute goats eating from their hands.
Play at a splash pad
We think of the mountain of Colorado as a cool summertime destination. But the reality is that summer can get hot, even in Colorado. There's nothing better, as a toddler. than running through cool water spraying from the ground, on a hot summer day. Splash pads abound. Our favorites are located outside of Unions Station in Denver and in Vail Village (the Children's Fountain).
Ride a Bus
This might be a silly idea anywhere but the mountains of Colorado. Colorado's ski resorts are known for their free and convenient buses. In Vail Village these run about ever 10 minutes and make a loop all the way from Golden Peak to the west end of Lionshead Village. This was a favorite activity of our daughter's as a toddler. To this day our kids still love to do this when it isn't too crowded.
Ride a Train
Colorado's mining history also means that there are several operating historic trains in the state, with stunning mountain views. These will all appeal to toddlers. Our son still talks about the time is grandmother and grandfather took him on a train ride in Leadville. The school that our kids attend takes an annual trip to the Georgetown train. And, the Durango and Silverton Railroad and the Colorado Railroad Museum both offer magical Polar Express train rides during the holidays.
Ride a Gondola
Ski resorts about in the mountain of Colorado. Most boast heated, enclosed gondolas. These are the perfect vehicle for toddlers to take in a ride up the mountain. The views are spectacular and it is certainly a different way to travel. Typically there is also some sort of playground, adventure park or hiking trails atop the mountain to enjoy once you arrive.
Play at a Park
Obvious, but one that can't be left off the list. In our small mountain town we have a dozen parks. All of these have slides, swings and other play features. These parks also offer trees and covered picnic areas. What kid isn't entertained at a park? Often this is a place for both kids and parents to make new friends.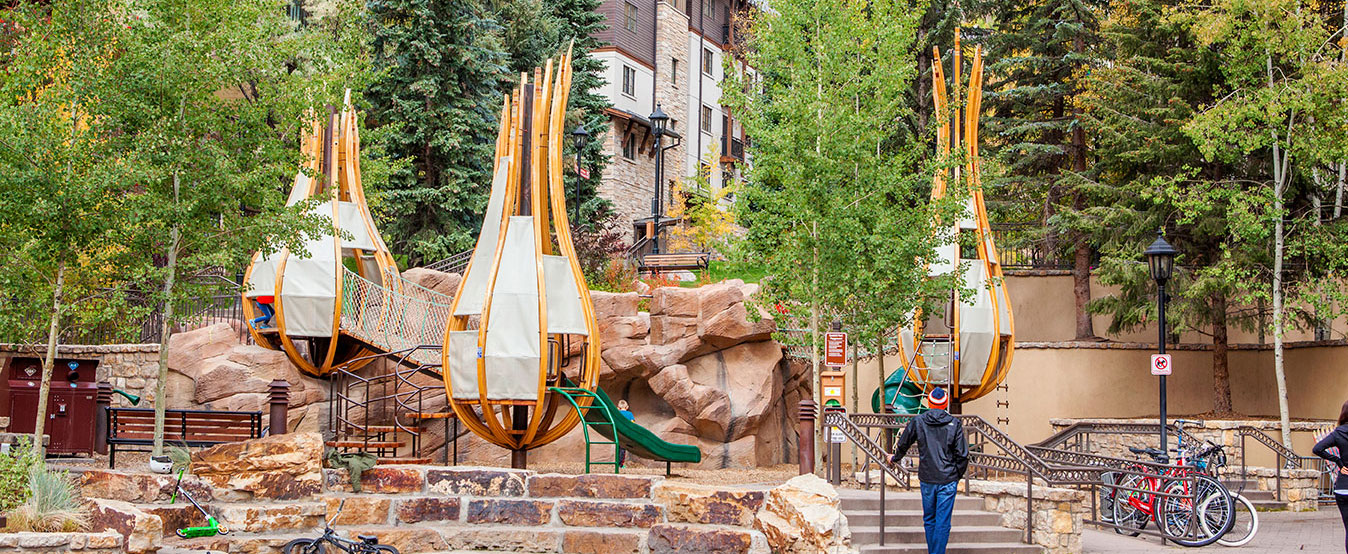 Take a Hike
Colorado is known for its spectacular wildflower hikes. There's no time better than now to introduce your kids to hiking in the great outdoors. Start small. Find an easy hiking trail with lots of interesting things for the kids. A couple of our favorites are Rifle Falls and Sylvan Lake State Park.
What to Do with Teens in Colorado
Ziplining
Colorado offers many places to zipline, fro the top of a mountain to old mining areas. Whizzing through the air harnessed to a rope is sure to thrill even the pickiest teen.
Ropes Courses
Challenge or Ropes Courses also abound in the mountains of Colorado. They can be found at the top of mountains, in historic mining areas and on ranches. The thrill of whizzing across a valley in a harness is sure to thrill most teens.
Axe Throwing
In recent years, a rather unexpected pastime has been making its way into the mainstream: axe throwing. This thrilling and unique sport has gained popularity throughout Colorado. From YMCA of the Rockies to Vail Cascade, there are plenty of opportunities for your teen to learn how to axe throw. It is not your typical sport. But certainly will be a memorable experince.
Snow Tubing
Snow tubing can be found in many ski resort towns. Similar to sledding, but typically on a man made course. Ski resorts and ski towns have built these tubing hills to be steep and have several lanes. You can race friends or even go together in a group.
Insider Tip: Here are some of the best snow tubing hills in Colorado!
Moonlight Snowshoing
Snowshoing to the light of a full moon is a rare way to have fun late-night without getting into trouble. Meadow Mountain in Minturn is a Vail area favorite spot to go for a moonlight snowshoe hike. But there are also a couple of great mountain hikes to take you to a unique dinner. Snowshoe Bachelor Gulch (Beaver Creek) to Zach's Cabin for dinner or appetizers and hot cocoa, or snowshoe to dinner in a yurt at Tennessee Pass, near Leadville.
Escape Rooms
Escape Rooms are a great, fun team-building activity. They offer a few different adventures of varying difficulty. This is also a good activity for a rainy day, or a day when there's just not enough energy for a mountain adventure.
Paddleboarding
For kids who like the water, this is a way to get away from it all. They can get out on a calm lake for some serenity. Now there are river parks that also offer a little more exciting variety of paddleboarding. The more advanced SUPers can get out on the river.
Insider Tip: Check out some of our favorite lakes in Colorado.
Glamping
Have a hard time getting your teen away from a device? Take a glamping trip where there's no WiFi. Our family recently visited Piney Lake Vail to do just this. It is a sure fire way to get quality time with your teen, or younger children too. Hike, fish, wildlife watch, canoe and roast s'mores by the campfire. Colorado has some spectacular glamping destinations.
Take a Hot Air Balloon Ride
Colorful hot air balloons rising into the sky in the early hours of the morning may be one of the most beautiful sights. Our entire family watches transfixed until they disappear from sight. So, what better than taking your teen on a hot air balloon ride? There are several locations throughout Colorado where this activity is available. We were lucky enough to experience the Snowmass Hot Air Balloon Festival.
Things to Do with Kids In the Winter
Ice Castles
The magical Ice Castles were founded by a father who moved with his family from California to the mountains. He then started building igloos and ice structures in his backyard for his daughter. The display in Dillon takes up a little less than an acre and includes towers, tunnels, a fountain and a slide to crawl through. It is all made of ice in a castle like structure. The twinkling lights in snow and ice are sure to charm kids of all ages. Plus there are ice slides to whiz down!
Ski and Snowboard
Colorado is known for its epic skiing, so perhaps this should go without saying. No, it shouldn't! There is so much that skiing can teach kids and adults alike. It is a sport that all kids should have the chance to try out. It can teach resilience, build confidence and is just plain fun.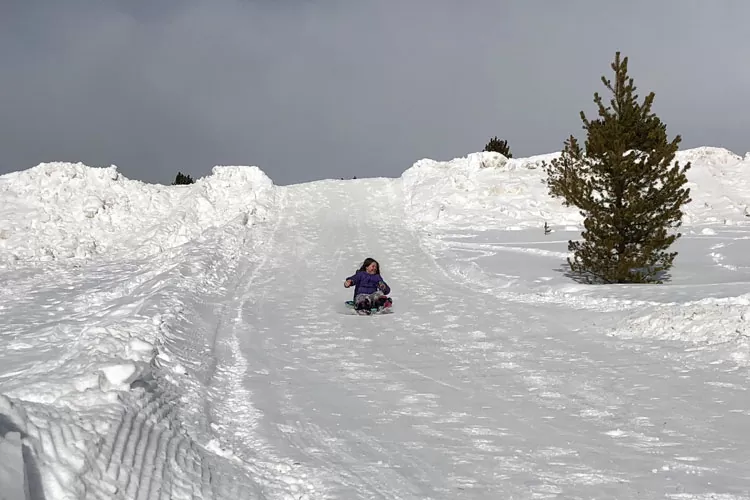 Sledding
Sledding may be the most underrated Colorado winter sport. Every neighborhood or golf course has a few sledding hills and the only cost is the acquisition of a speedy sled. You do need a little snow but there is typically lots of that during the winter in Colorado.
Snow Tubing
Slightly different than sledding, snow tubing offers the ease of being transported up the hill. It is a more controlled environment and there is a cost associated with it. Snow tubing can be found in most mountain towns in Colorado and is a ton of fun. It is even possible to hold multiple tubes together and fly down the hill as a family or group of friends.
Ice Skating
Colorado is a hockey state. Kids grow up near ice skating rinks. Not only does Colorado have plenty of indoor rinks but many of the ski towns also boast outdoor ice skating rinks. I can't tell you how much joy it brought me to be able to hang skates in the garage and just grab them on our way to the local free outdoor skating rink.
Ice Bumper Cars
This activity doesn't necessarily have to be a winter activity. There are indoor ice skating rinks throughout the state that offer this fun activity year round. But because it is on ice and there are outdoor rinks that offer it seasonally, we've included it here. Fun for all ages, these inflatable cars that glide on ice to bump into one another are available at several locations throughout Colorado. From Vail and Steamboat Springs to Gaylord Rockies in winter, be sure to include ice bumper cars on your list!
Build a Snowman or Snow Fort
This might be easier done on the front range than in the mountains. It is rare that the snow in Colorado's high country is wet enough for easily building a snowman or snow fort. But we do have those days. Some of the most fun we've had as a family was building snowmen and having snowball fights on these wet snow days.
Go for a Hot Cocoa Treat
The first snowy day of the year the kids are so excited to play in the snow. They spend a couple of hours out in the cold. And, I always try to have a hot cocoa waiting for them when they are ready to come in and warm up. But going out for a gourmet hot cocoa can also be a special treat.
Special Activities for Kids During the Holidays
Holiday Lights
Who doesn't love taking in sparkling holiday lights in the snow? Colorado is the perfect place to do this. From the Denver Botanic Gardens and Denver Zoo to just about any mountain town, you can find spectacular holiday lights to enjoy. Make sure to stop for hot cocoa during or after your holiday light viewing!
Ride the Polar Express
Getting to the North Pole from Colorado may be easier than you expect. At least if you and your family can get lost in your imagination. Book either the Durango and Silverton Railroad or the Colorado Railroad Museum Polar Express Train to help you live out the story of the Polar Express.
Oxford Hotel Dolls' Tea
Available only one day, in December, any child who loves dolls and dance is sure to be thrilled to experience this classic tea party featuring tea, sandwiches, hot cocoa and treats. The highlight of the Dolls' Tea Party is a whimsical ballet performance by the Arvada Dance Center. The children have an opportunity to meet the ballerinas and take photos with them after the show.
Visit a Ski Mountain
Well skiing is what Colorado is known for. If you are in Colorado for the winter you most certainly should head to the mountain for a ski trip. From small resorts with affordable ski lessons to luxury ski resorts with warm chocolate chip cookies as you come down the slopes at the end of the day you are sure to find a ski mountain that your family will love. If you don't ski, it might still be worth a visit to ride the gondola to the top of the mountain.
Tree Lightings
Holiday celebrations and tree lights abound starting during Thanksgiving. In addition to tree lighting ceremonies, many ski resorts set off colorful fireworks. There are also plenty of other festivities such as Christmas markets and caroling. Photos with Santa may also be available.
Christmas Markets
Europe may be known for their Christmas markets, but Colorado is making an attempt at their own versions. Denver Christkindl Market is the largest and best known Christmas market in Colorado. Bavarian musicians entertain while baked apples, gingerbread biscuits and spicy mulled wine (gluehwein) delight the taste buds. There are several other Christmas markets throughout Colorado also worth visiting.
Visit Santa at Union Station
A historic train station can be pretty cool all on its own, but add in Santa, holiday lights, carolers and a 40′ Christmas tree and it is sure to be a hit. All of this can be found at Denver Union Station starting Thanksgiving weekend. Make a weekend of it and stay over at the Crawford Hotel.
Give Back
Last but not least, the holidays are a fantastic time to teach your children to give back. Yes, we should do this year round. But the holidays just happen to be a time when it is especially important to think of others.  There are so many ways to do this. You can adopt a family and buy a family in need holiday gifts. You can volunteer serving food, or make donations to a food bank. One of our favorites is to help assemble Thanksgiving dinner boxes with our local Salvation Army and then deliver those. We also like to bake cookies to take to the senior center down the street.
Things to Do with Kids In the Summer
Hike
Get out in nature. Take a hike, and bring a picnic along. Colorado has so many hiking trails for just about any ability. Hike to a waterfall. Surprisingly, there are quite a few waterfalls throughout Colorado. For the more adventurous, or athletics kids hike a Fourteener. Plan to hit the trail very early as thunderstorms can roll in in the afternoon.
Horseback Riding
There are so many fun outdoor activities in the summer that I feel like Colorado horseback riding often gets forgotten. This is truly a wonderful way to see the spectacular mountain views. You can travel even further into nature than on foot. Most horseback riding outfits have expert guides to tell you about the local flora and fauna. It is an experience not to miss!
Mountain Bike
You kids need to be proficient bikers before taking this one on. But Colorado is home to a variety of different skill level trails. These are rated just like ski slopes with green being the easiest, blue moderate and black advanced. Some of the most fun I have had is riding a new trail with friends.
QuietKat is a high end eBike company based out of our home town. Click the photo above to learn more.
Ride an eBike
Colorado seems to be a hub for ebikes. And, with good reason. There are beautiful paved trails that run along rivers, and single tracks that run up and down mountains. It is a pretty scenic place to bike. An ebike can get you further out into nature. From electric bike rentals to ebike tours there are plenty of options.
If you are wondering what an ebike is, find out here!
White Water River Rafting
I am not a fan of the cold water. So out family didn't try this until earlier in the summer. For Father's Day Eagle area outfitter, Timberline Tours, offers a special float trip for fathers and their families. It is an easy float trip so our six-year-old was able to go and enjoy it as much as we did. Floating down the river is a great way to take in Colorado's landscapes and enjoy family and friends.
Go Camping
Possibly the best way to spend time outdoors, camping does take some preparation and planning. Unfortunately our family is not very good at choosing timing very well. We end up camping on cold and rainy weekends, making our family camping trips quite the adventure. It is a great way to spend real quality time with family and friends. Go somewhere with no WiFi or devices and just spend time with your people.
Go Glamping
Want to get your feet wet with camping? Not sure you really are ready to rough it with your family? Try glamping. There so much less set up and typically your glamping site will include a real bed. Get to sleep in a tent but in a real bed. That's a winner in my book!
Go RVing
There is a variety of RV parks in Colorado offering lots of family fun. Most offer swimming pools and there is even one with a bowling alley. Many are near the state's national parks so with easy access to some special places. There are also several options for renting RVs. RVs offer much more protection from the elements than camping but with the same access to nature.
Take in an Outdoor Concert
Colorado is known for its outdoor music scene. Red Rocks Amphitheater is perhaps the crown jewel of Colorado's outdoor amphitheaters. But music abounds throughout the state. You can hear the New York Philharmonic in Vail. Or, take in a real opera at Central City Opera. You might just come across live music in one of the state's many mountain towns.
Explore a Ghost Town
Colorado's ghost towns certainly have an uncanny mystery to them that makes you want to stop in for a visit. You may simply want to investigate and learn more of the history of what caused residents to abandon their homes and town. From Ashcroft to Crystal, garb the metal detector or just your sense of adventure and head out into old Colorado for an adventure.
Paddle Boarding or Canoeing
There are lots of lakes in Colorado. Take advantage of the warm summer weather to get out on the water on a paddle board or in a canoe. It is never to early to start the kids on the water.
Visit a Mountain Town
Whether as a day trip or a family weekend getaway, Colorado's mountain towns offer fun for all. Visit Leadville or Central City for old architecture and mining history. Or, visit Vail or Snowmass for a Colorado ski town experience.
Explore for Dinosaur Bones at Dinosaur Ridge
Dinosaurs were first discovered in Dinosaur Ridge and has since become one of the world's most famous dinosaur fossil destinations. Dinosaur Ridge is located near Morrison. Kids of all ages will enjoy exploring the excavation sites and seeing exposed fossils.
Go for an Ice Cream Treat
What kids doesn't love ice cream on a hot summer day?! So many delicious ice cream shops abound throughout the state.
Fun Activities for Kids In the Mountains
Ride an Alpine Coaster
A Colorado alpine coaster ride offers a fun way to speed down mountain slopes. No lessons necessary. Anyone who is 38″ or taller can ride with an adult and enjoy taking in Colorado's amazing mountain views while getting an adrenaline rush from this thrill ride.
Visit Colorado Hot Springs
The mountains of Colorado boast an impressive hot springs loop. Spanning over 720 miles, the Colorado Historic Hot Springs Loop is a trek to some of the state's most beautiful mineral waters. Each destination along the Hot Springs Loop has something different for visitors. The Loop includes Ouray and Ridgway, Glenwood Springs, Chaffee County, Pagosa Springs and Steamboat Springs. Each of the nineteen facilities included on this loop offer unique features like vapor caves, hot pots, terraced pools, enormous travertine formations or fun-filled aquatic centers.
Be sure to check out our round up of hot springs near Denver!
Take on a Challenge Course
Most ski resorts offer mountain playgrounds either at the base or top of the mountain. In addition to alpine coasters these also typically include some type of ropes or challenge course. This is a fun way to push your limits and take in mountain views.
Mountain Bike
Mountain biking is a sport made for Colorado. There are trails throughout the state for all abilities. It is such a great sport to enjoy as a family too. Work hard going up the hill so that you can enjoy the ride down.
Explore a Cave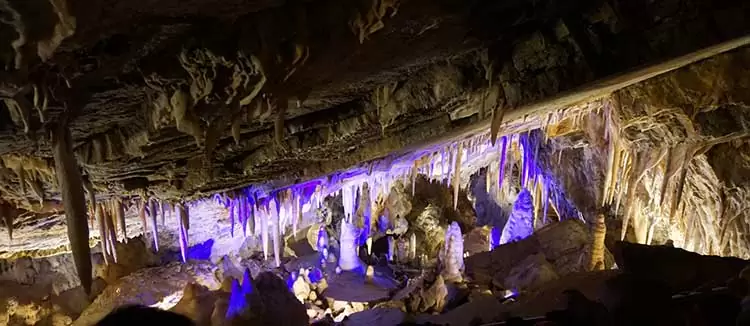 There's actually a variety of caves throughout Colorado. One of our favorites is at Glenwood Caverns and Adventure Park. This is a fun and educational experience for the entire family. And, a great way to cool down on a hot day.
Take a Train Ride
If you're planning a trip to Colorado to view some spectacular mountain scenery and wildlife, there are several different Colorado train rides to consider. It is a unique way to see the Rocky Mountains. And, during the holidays you can even catch the Polar Express or a Santa train.
Museums to Visit with Kids
Denver Museum of Nature & Science
The Denver Museum of Nature & Science is ideal for kids ages six and up. You won't want to miss an IMAX film here. The films are entertaining and educational. They change out periodically, so check what's playing before you go. We learned how astronauts live in space, how the planet is changing and more.
Denver Aquarium
Generally the Denver Aquarium is great for younger kids, even though anyone can enjoy the colorful marine life and interactive exhibits. A family fun restaurant has walls made of a 50,000 gallon centerpiece aquarium. This state-of-the-art aquarium housing 500+ species offers interactive exhibits. Currently there's even a shark cage experience!
Denver Botanic Gardens
Ideal for all ages, the Denver Botanic Gardens is 23-acre park boasting a conservatory with a variety of themed gardens. Mordecai Children's Garden is a place for children to explore plants and the natural world, through hands­-on experiences and play. It is also the perfect place to cool off in the summer, with a fun wading stream. Though our favorite time of the year to visit may be for the holiday lights.
Children's Museum of Denver
Best for babies up to kids about ten years old, the Children's Museum of Denver is a family favorite. A three-year old won't want leave the lifelike fire station by the entrance. A seven-year old will settle in at the market and kitchen to make new friends and play. The Museum even offers kids cooking classes. Make sure to sign up for those as soon as you arrive. The play area outside is great for young ones, but older kids will also enjoy the new Adventure Forest.
Denver Zoo
One of the most popular attractions in Denver, the Denver Zoo is an 80-acre zoological garden. It is is home to more than 3,500 animals. It is all a majestic experience. But feeding the giraffes is certainly a highlight. And, younger kids will love the train that takes them throughout the zoo.
Cheyenne Mountain Zoo
This zoo located in Colorado Springs is a family favorite. There's the opportunity to really get close to the animals. The sky lift is especially fun. It offers a breathtaking birds eye view to see all the entire zoo.
Other Museums
For other ideas of fun museums to take your kids to check out our post on Best Museums for Art, Nature & Science.
Things to Do with Kids On the Water
Go Fishing
I am not a fisherman, but watching my kids give it a go is wonderful. In an age of electronic devices, being out in nature and seeing them so calm and serene makes me happy.
There are some neighborhoods such as Eagle Ranch with their own fishing pond for the kids.
Stand Up Paddle Boarding
Did you know that you can stand up paddle board so many places now? If you don't have your own, then you should be able to rent one at one of the many beautiful alpine lakes throughout Colorado.
Tubing the River
We have a stream just down the path from our house. Once the early summer snow melt off subsides, our kids are out there all the time. They skip rocks, race boats and tube down the river.
Canoeing
Rent a canoe on a calm lake and enjoy the scenery. There are many places to do this, but our favorite may be at Piney River Ranch near Vail.
Kayaking
While kayaking is a popular sport, it is for the mere adventurous. Our rivers are amazing, and cold. There's no way you aren't going to get soaked kayaking. These days you can take a duckie, inflatable kayak, out on the lake for a more serene water experience.
White Water River Rafting
White water rafting is for the older and more adventurous kids. Though it is possible to start on calmer waters. Some float companies offer family friendly float trips. And, others require that the kids be seven and up. It all depends on the class of rapids that the boat will be navigating.
Swimming
So, when you think of swimming you probably think of going to a swimming pool. Our kids also swim in the river. And, there are plenty of lakes with their own beaches great for swimming.
Things to Do with History Loving Kids
Visit a Castle
Believe it, or not, the state of Colorado is also home to some incredible castles and structures that have historical significance, along with some that are just fascinating to see. One of these on our list is entirely made from beer cans and scraps of metal, while another is a natural structure that a city was named after. Some of these already have historical significance. But the ones that don't yet, likely will in the future.
Tour an Old Mine or Mining Museum
Visit Leadville, Colorado and spend some time at the Mining Museum Hall of Fame. Or, tour the Matchless Mine and visit the home where Baby Doe spent her final years. Colorado's mining history is enthralling.
Molly Brown House
Margaret "Molly" Brown's was an activist and philanthropist who was also known as "The Unsinkable Molly Brown" after surviving the sinking of the Titanic.  In the 1970s Historic Denver carefully restored this historic home to its original Victorian splendor. Molly Brown's story is a story of rags to riches and a woman who set out to make a difference.
Colorado Capitol Building
The Colorado Capitol Building in Denver offers free tours Monday through Friday. You will learn about how the capitol's original signature dome was made of copper, but was swapped out for gold in 1908 due to the copper's tendency to oxidize. You'll leave with a fondness for this historic building, more informed about the work of our General Assembly and our unique Colorado heritage.
Denver Mint
More than 40 million coins are produced everyday at the Denver Mint. Here you will want to make reservations for one of their free tours to see an estimated $100 billion worth of solid gold bars.
Walking Tour of Union Station
Take a walking tour of Denver's Union Station to learn more about the train station's unique history. It originally opened in 1881 and once greeted nearly 80 trains per day. Learn about the rail services available, the building's massive collection of custom Western art, as well as the independent Colorado retailers and restaurants that now occupy the historic building.
Things to Do with Art & Culture Loving Kids
Show at the Denver Performing Arts Center
Plenty of kid-friendly shows make their way through the Denver Performing Arts Center. Enjoy classics brought to life on stage such as Good Night Moon where all your favorite characters in the Great Green Room spring to life on stage. Or take your teen to Mean Girls, straight off of Broadway.
Central City Opera
Central City Opera located just outside of Denver in a truly historic part of the state also offers a variety of kids programs. From a glimpse into backstage at an opera house to the Family Matinee there's sure to be something for your family.
Meow Wolf 2021
I know, I've already mentioned this. But there really isn't a better way to engage your child's interest in art. In a day and age when kids too often hear "be careful" and "don't touch that," Meow Wolf encourages the opposite. I've never experienced anything quite so interactive, adventurous or stimulating to the imagination. But most importantly, Meow Wolf is FUN.
Denver Art Museum
Denver Art Museum offers kid-friendly programing. But our favorite exhibit, sadly has departed. Our daughter loved the the "DIOR: From Paris to the World" Exhibit that showcased 70 years of the House of Dior with more than 200 couture dresses. This was at the DAM winter 2018-2019. What will they top that with? There's also a fun restaurant on site.
Things to Do with Kids on a Rainy Day
Visit an Indoor Water Park
A couple of years ago, Great Wolf Lodge, opened in Colorado Springs. It was the first indoor water park in Colorado. And, is is a perfect way to enjoy a rainy or winter day. You can just almost think that you are in a tropical place. The may water slides and other water features are sure to keep the kids entertained until they become little raisins.
Visit a Climbing Gym
Climbing gyms are a great way to get some exercise and introduce kids to this sport in a less intimidating way. It is a popular sport in Colorado so most communities have their own climbing gym available for a daily entry fee.
iFLY
Take on indoor skydiving in a vertical wind tunnel, participants become a part of an elite training program for youth flyers.
Lava island
Jump, climb and play at this indoor park with 15000 square feet of trampolines, 23 themed climbing walls, and 21000 square feet of ladders, slides and mazes.
Boondocks
Play laser tag, an arcade, a roller coaster simulator & mini-golf at this amusement center slash restaurant.
Spider Monkey
This 46,000-square-foot indoor air sports park in Aurora offers an obstacle course over a foam pit, dodge ball, slack lines, hoops, aerial silks, battle beams, a climbing wall and zip lines.
Jump Street
Two Jump Street locations in Denver offer lots of trampolines, trampoline dodge ball, inflatables to slide on, a foam pit to dive into and a mechanical bull to ride.
Jungle Quest
Zip through the air at this indoor jungle-themed playground. Get harnessed in then let the kids wear themselves our swinging and zip lining.
Go Bowling
Let the kids try their hand at swinging a bowling ball down the alley. One of our kids loves bowling so much that he even had a bowling birthday party.
Visit a Library
Most libraries have fun kids programs. Nowadays some even have spaces with 3D printers and more. And, if all else fails, check out some books!
Where to Visit a National Park with Kids
Colorado is home to four national parks and eight national monuments. Be sure to put these on your Colorado -must-experience with kids list!
Mesa Verde
This UNESCO World Heritage Site  is located in the southwestern corner of Colorado. Mesa Verde offers a rare glimpse into the lives of the Ancestral Pueblo people who made it their home from A.D. 600 to A.D. 1300. Plus it is just fun for kids to be able to climb into the cliff dwellings..
Rocky Mountain National Park
Rocky Mountain National Park offers spectacular hikes, wildflowers, wildlife and starry nights. The park offers short, easy hiking trails such as Bear Loop and Coyote Valley that reward visitors with stunning views, as well as wildlife and wild flower sightings. Or, your family may want to go fishing or take a horseback ride.
Be sure to check our Grand Lake and other Colorado mountain cabins in this area of the state for a socially distanced getaway.
Great Sand Dunes National Monument
Situated in southern Colorado, surrounded by the Sangre de Cristo mountain range, these tallest sand dunes in north America are remote, and surprising. The Great Sand Dunes National Park is in the middle of a very diverse landscape of grasslands, wetlands, conifer and aspen forests, alpine lakes, and tundra. The snow melt off and Medona Creek feeds a natural underground reservoir. The water supplies a nearby tilapia farm turned alligator farm, as well as natural hot springs.
Colorado National Monument
At Colorado National Monument you will have the opportunity to see the most spectacular sunsets, a blood moon, wildlife such as Turkey Vultures, Black Widows, Big Horn Sheep and other wildlife. This may also be one of the most spectacular landscapes in Colorado. And, that says something.
Black Canyon of the Gunnison
This canyon has a rare combination of extraordinary depth, narrowness, and darkness within a vertical space to create a dramatic landscape. Take a scenic drive, camp, hike or wildlife watch.
Dinosaur National Monument
Located in the northwestern corner of Colorado, Dinosaur National Monument crosses into Utah. Dinosaur remains are still visible in rock walls within the more than 800 paleontological sites. In 2019 Dinosaur National Monument received its International Dark Sky Park Designation recognizing the skies above Dinosaur National Monument as having an exceptional quality of natural darkness.
Royal Gorge Bridge
Not actually a national park, but the Royal Gorge Bridge in Southwestern Colorado is definitely worth checking out. It is the highest suspension bridge in the U.S. that overlooks a breathtaking canyon. You can also take a cable car, or go ziplining!
What other things are there to do with kids in Colorado? We set out to write about 100, but ended up with 87. Surely we missed some. Let us know in the comments below!
99 Fun Things to Do with Kids in Colorado