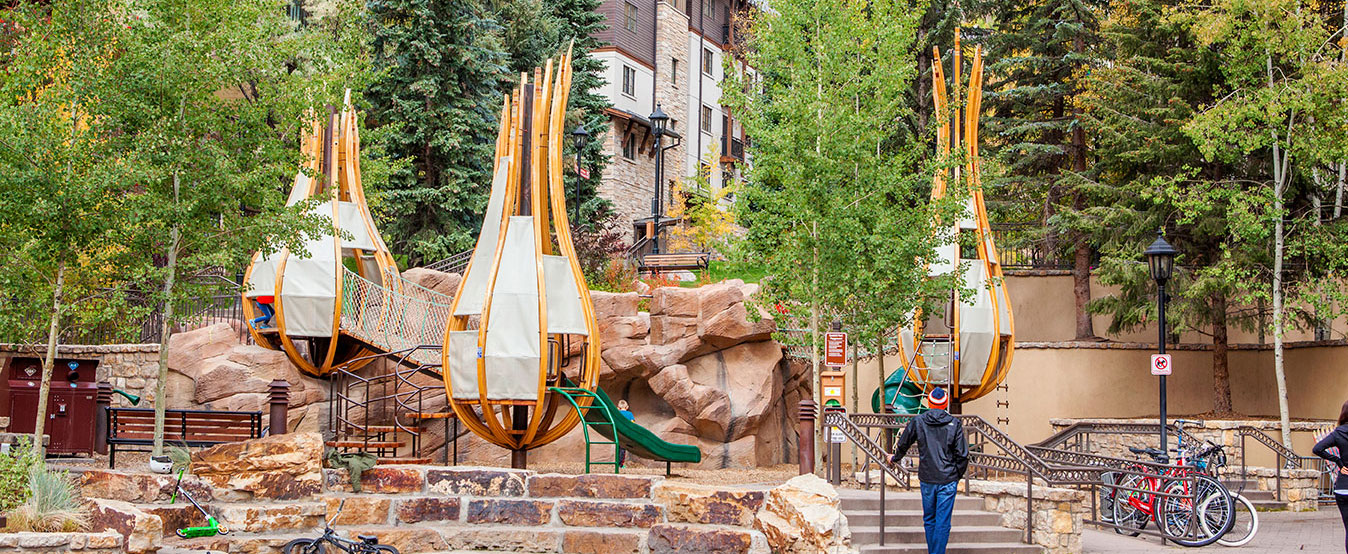 Vail is very family friendly and has lots of activities for kids, from the epic outdoor adventures to bowling and ice skating. But toddler friendly activities in Vail, Colorado are a bit less known. Here are our top seven (mostly free) toddler-friendly activities in Vail, Colorado.
Ride the free in town bus
As toddlers, both of our kids loved to do this especially during quieter times of the year. We would go into town and have the whole bus to ourselves. We just ride a couple of loops showing them all of the important sights. These include the hospital where they were born, the Vail library which hosts a wonderful story time and Dobson Ice Arena.
Stop at the covered bridge to check out the 10th Mountain Division Statue and learn a bit of Vail history. Yes, even though young, Vail does have an interesting history.
The Vail bus system is clean and free. Toddlers and young kids are sure to be entertained just enjoying a bus ride around town.
Visit the local parks!
Sunbird Park
Vail's Sunbird park, also known as Nest Park, was named as one of the world's coolest by Travel + Leisure. Located above Vail Square in Lionshead Village, architects took inspiration from the town's ski culture and nearby nesting habitats to create "nest" tree houses. The supports of these nests or pods mimic the look of traditional wooden skis.
Rope bridges, slides and a climbing wall will keep the kids entertained. An adjacent splash pad will cool the toddlers off in the summer. Be sure to bring dry clothes!
Pirate Ship Park
In Vail Village, Pirate Ship Park is another favorite. The centerpiece is a large pirate ship with several levels of stairs up to an eagle's nest at the top.
The only downside is that there is an age limit to climb to the top, so parents of toddlers will be scrambling to keep an eye on their kiddos if the head up the stairs.
The adjacent river is also fun to splash in during the summer.
Donovan Park
Donovan Park is a short bike ride to the west along the bike path. There's a basketball court, soccer field and expansive park. Swings galore and a see-saw, along with play structures will keep the kids entertained.
Betty Ford Alpine Gardens
There is also a park next to Betty Ford Alpine gardens that is worth checking out. Take in the lovely sights at the garden and then enjoy some play in the park.
#3 Toddler-friendly activity in Vail, Colorado: Visit Imagination Station
Imagination Station is ideal for toddlers.
It features a play wall to integrate physical and cognitive learning, a light table and builder boards that inspire problem-solving, a hyperbolic funnel that models planetary motion, and a vet clinic where children can play doctor to the animals.
A water feature will delay your departure. It is a great stop along the free bus route for toddlers. Check the schedule and you might be able to participate in some fun arts & crafts activities too.
Take a Bike Ride
Take a bike ride on the bike path to Donovan Pavilion for a picnic. Local bike shops (and maybe even your hotel) will have bikes and bike trailers available for rent or loan. You might even be able to find a Strider bike to rent for your toddler. But I'd still recommend the bike trailer. We were always able to hook the Strider over the bike trailer handle when out toddler got too tired. Or, when we lost patience with the slow pace.
As a side note, there's probably no better way for your kiddo to learn to bike that on a Strider or balance bike. Bring snacks or even a full picnic and stop along the way to enjoy the river or Donovan Park to the west of Vail.
Enjoy the Vail Farmers Market
Enjoy the Vail Farmers Market on Sundays throughout the summer. There is a lot of yummy food. Our kids loved the jazz performances at the market.
Bring some cash for the bouncy castle, fresh peaches, yummy pastries or ice cream.
During the winter the same people who run the summer farmers market also run the Kris Kringle market during the holidays, along with other fun kids holiday events.
Ride the Gondola
Kids ride free with a paid adult ticket. A ride up the gondola, a short visit to the nature center at Epic Discovery Vail and your toddler will be thrilled. Plus there will be some beautiful photo opps!
Take the kids sledding
This may be the most overlooked, but fun winter activity in Vail for families. The only cost is a sled, which many of the Vail hotel properties will loan out.
We took our kids when they were toddlers and would just ride two to a sled. On a cold day when you start getting cabin fever there's no better way to put grins on the faces of your kids. Check out our recommendations for the best Vail sledding hills!
The bottom line is that while Vail may be most loved by families with teens, there really is something for every age. The heated sidewalks are stroller friendly. And, the free, convenient bus system is great for families with young kids.
What Else to Know about Visiting Vail, Colorado with your Family
Our Favorite Kid-Friendly Vail Restaurants
Top 10 Family Activities to Do on Your Vail Vacation
Vail Family Vacation Planning Guide
How to Prevent Altitude Sickness on Your Mountain Vacation
6 Tips for a First Family Ski Vacation
Best Warm Winter Pools in Snowy Colorado for Families
Did we miss any of your favorite toddler friendly activities in Vail, Colorado? Let us know in the comments below!
Top 7 Toddler-Friendly Activities in Vail