Approximately half of state of Colorado is comprised of mountainous areas. The Continental Divide runs straight through the state, along the crests of the Rocky Mountains of Colorado. This imaginary line indicates the highest points of land, where on either side of same rivers will flow downhill, east or west. That tells you a bit about the geography of the state. Dispersed throughout this spectacular landscape, charming mountain towns in Colorado make for the ultimate family vacation
Most of the metropolitan areas of the state are located just to the east of the Rocky Mountains. These cities of Denver, Boulder, Ft. Collins and Colorado Springs boast thriving cultural scenes. But just to the west, are a plethora of mountain towns in Colorado, boasting charm, as well as access to unparalleled nature and adventure. While all of these small towns are fantastic places for family getaways, they do each have their own unique personality. Many are even on the outskirts of Colorado National Parks and Monuments.
Many of these beautiful mountain towns are also home to reservoirs and lakes. If you like the water, be sure to check out some of our favorite lakes in Colorado near these historic towns!
Insider Tip: If you are looking for an off the beaten path Colorado destination, be sure to check out these gems.
Read on to find the best Colorado getaway for your family!
35 Mountain Towns in Colorado
Alamosa, Colorado
This quiet town in southern Colorado is perhaps best know for its proximity to the Great Sand Dunes National Monument. For us, it is a great mid-point to stop on our drive from Eagle County to Santa Fe, New Mexico. The Alamosa area also has two trains lines that provide scenic tours. There are natural hot springs. And, the area recently received a dark skies designation.

Aspen, Colorado
Originally a mining town, Aspen became one of Colorado's first ski resorts in the 1940s. The town also has had a unique art and design community. It quickly attracted celebrities and has a reputation as one of Colorado's more expensive mountain towns.
Aspen is home to the Aspen Music Festival and the Aspen Institute. The ski mountain has hosted the Winter X Games since the early 2000s.
While every Colorado ski town is being proactive in their own efforts to protect the environment, Aspen is perhaps the most bold. They have put tremendous marketing efforts into spreading the message of climate action.
Beaver Creek, Colorado
Beaver Creek is really a ski resort rather than a town. But it is one of the most kid-friendly ski resorts in Colorado both in summer and year 'round. It is a charming alpine village truly focused on family. It is not inexpensive but this is a place where young kids will have fun and parents will feel safe with them running around free.
Also, the ski terrain at Beaver Creek is great for learning to ski, and always has been. But it continues to get better and better. Last year Beaver Creek replaced a two-seater lift that was a little scary with a high-speed four-seater lift. This gives skiers better access to Red Buffalo Park at the top of the mountain. Kids are sure to love Riparoo's Cabin, Ghost Town and the warm cookies handed out at the end of a ski day.
The views on Beaver Creek mountain are also some of the best around.

Breckenridge, Colorado
One of the highest ski towns in Colorado, Breckenridge boasts a close proximity to Denver. It has plenty of alpine sports to offer from skiing and sledding to snowmobiling and more. This quaint town is lined with historic architecture. Condo lodging abounds, which is great for families. Here smaller skiers and snowboarders can explore Kid's Adventure Zones designed to teach new skills and build confidence in a  fun environment,
Buena Vista, Colorado
Buena Vista is located in a beautiful area of Colorado surrounded by mountains and rivers. It is a popular destination for rafters, the most rafted section of river in Colorado. Browns Canyon Adventure Park is located in Buena Vista along the banks of the Arkansas River with the Browns Canyon National Monument as a backdrop. This Aerial Adventure Park is fun for ages 7 and up.  The town has a great coffee shop and a laid back vibe.
Cañon City
Home base of the Royal Gorge area is Cañon City. This area of Colorado is quite unique with beautiful views of the Sangre De Cristo mountain range. Just over an hour drive from Colorado Springs, Cañon City and the Royal Gorge area both have lots to offer families. Not only is this area home to the highest and most famous suspension bridge in America, but also extreme Colorado white water rapids including Sunshine Falls, Sledgehammer, and Boat Eater. There are plenty of outdoor activities to keep the entire family entertained.
Carbondale, Colorado
Carbondale may have been known as a bedroom community for Aspen but it has come into its own as a basecamp for adventure in Colorado's Western Slopes. The Mountain Fair held in Sopris Park in Carbondale brings in a tremendous number of people for art & music. Perhaps even more notable than the crowds, is the commitment to zero waste.
Central City, Colorado
Founded as a mining settlement founded in 1859, it earned its place in history as the "Richest Square Mile on Earth." Perhaps best known for its casinos, Central City is also known for its unique Central City Opera. The Opera is one of the higher profile music festivals in Colorado, bringing in international talent. This is certainly one of the most unique of mountain towns in Colorado.
Creede, Colorado
Creede is a historic mining town now featuring the Underground Mining Museum and the Creede Repertory Theatre. Nestled in the San Juan Mountains and situated in a former volcanic caldera the sheer cliffs around it limit growth. It is a quintessential Colorado small town. The town also boasts great fishing, rafting and mountain biking.
Crested Butte, Colorado
Recently added to the Epic Pass, this mountain town in Colorado is seeing an uptick in skier visitors. This cute ski town has a couple of different ways into town but my favorite is Kebbler Pass. It may now be paved. But when I drove it many years ago this dirt road with cows meandering on it actually drops you right into downtown Crested Butte. Kebbler Pass is on our list of top scenic drives in Colorado. The area is known for wildflowers, mountain biking and its cute downtown. It has unrivaled Colorado mountain charm that we hope continues to thrive.
Cripple Creek, Colorado
This historic gambling and mining town is located at the base of Pike's Peak, nestled within a spectacular landscape. This is one of the mountain towns in Colorado located closest to the Front Range. Here guests can gamble in casinos, explore old mines and ride the railroad tracks. It is a short 45 minute drive from Colorado Springs.
Dillon, Colorado
Visitors may think that they are in Silverthorn and not realize that Dillon is its own special town. The proximity is minute. The Dillon Amphitheater has recently been renovate and has been bringing in big name artists such as Michael Franti. Its location on the Dillon Reservoir is unbeatable. Here you can paddle board, kayak or even sail. Dillon is also home to the magical Ice Castles.
Durango, Colorado
Located in southwestern Colorado, Durango is one of our favorite Colorado towns to visit. Durango offers many fun things to do with kids. It has a great variety of interesting restaurants lining its main street. The historic Durango and Silverton Railroad runs a variety of fun trains throughout the year. Their Polar Express is fun for all ages. The drive to Durango is also pretty spectacular with a few different mountain passes to choose from. And, it is located very near one of our favorite national parks, Mesa Verde.
Eagle, Colorado
This town is the county seat of Eagle County. Yet it often is overlooked for the valley's ski resorts of Vail and Beaver Creek. But in more recent years this town has come into its own as a mountain bike mecca. Over 100 miles of singletrack mountain bike trails cater to all levels of riders. The bike paths throughout town even have fun singletracks off of them to practice on dirt before hitting the real trails. And, an excellent BMX track hosts races and play. The state mountain bike championships are held in this quiet town.
More recently, a whitewater park opened on the river by the fairgrounds. The river that runs through town also provides all kinds of recreation.
Estes Park, Colorado
Also known as the gateway to Rocky Mountain National Park, Estes Park is a fun destination in and of itself. It offers all of the activities you'd expect of a Colorado mountain town, plus unique wildlife experiences. Take the Estes Park Aerial Tramway for aerial views of the valley. There are a variety of local breweries and distilleries. And, it is home to the famous Stanley Hotel from The Shining.
Estes Park also has probably the highest concentration of mountain cabins in the state. This is such a fun way to experience Colorado!
Georgetown, Colorado
Georgetown is one of the smaller mountain towns in Colorado, located right off of I-70 on your way up the pass to Eisenhower Tunnel and the Continental Divide. One of the least expensive places to stop for gas on the I-70 corridor, it is also home to the Georgetown Loop Railroad. The Railroad takes visitors on a round-trip narrow-gauge steam train ride from Georgetown to SilverPlume and back. During the winter there's also a special Santa's North Pole Adventure and a Santa's Lighted Forest ride.
Glenwood Springs, Colorado
Historic Glenwood Springs is home to hot springs, adventure caverns, one of Colorado's most popular hiking trails, fantastic brewpubs and scenery. It is surrounded by White River National Forest with the Colorado River cutting through its middle. Glenwood Springs is accessible via car or rail. Amtrack has a scenic rout that stops in Glenwood Springs at the old train station.
It is one of our favorite mountain towns to visit with kids, as there are so many fun things to do in Glenwood Springs.
All ages will enjoy the rich history of this Colorado mountain town. Mining and railroads built the town. Many gangsters made this their second home in the late 1800s. Then the summer of 1905 President Roosevelt ran the country from The Hotel Colorado, earning it the nickname "The Little White House of the United States."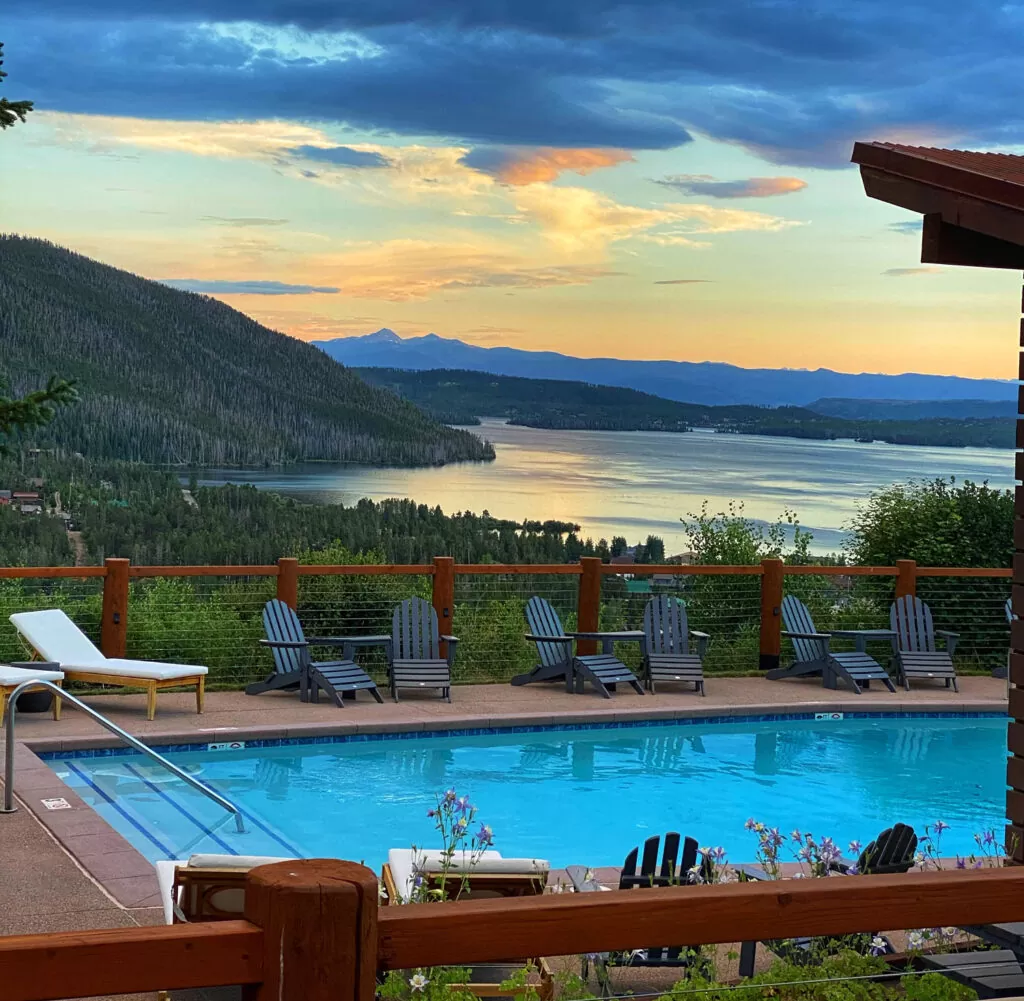 Grand Lake, Colorado
Located adjacent to Rocky Mountain National Park, Grand Lake is a playground in its own right. It is home to the largest natural lake in Colorado. The charming lakeside setting provides a multitude of outdoor recreational adventures. In the summer guests enjoy water sports as well as hiking and biking. In the winter this "Snowmobiling Capital of Colorado" also offers miles and miles of trails for snowshoeing and Nordic skiing.
Be sure to check out Grand Lake Lodge and stay in one of their historic Colorado cabins!
Grand Junction, Colorado
Grand Junction has become known as Colorado's wine country but it is so much more. Art & culture abounds here alongside outdoor activities. Grand Junction offers scenic byways, riverfront trails and wild horse viewing. But the most spectacular sight may be Colorado National Monument. At Colorado National Monument visitors may have the opportunity to see the most spectacular sunsets, the brightest moon, wildlife such as Turkey Vultures, Big Horn Sheep and more. The area's renowned mountain bike trails are comprised of challenging singletrack trails in a desert environment. Just outside of town is Palisade, offering Colorado's most delicious peaches.
Gunnison, Colorado
Gunnison may be best known for its proximity to Black Canyon of the Gunnison National Park and its colorful wildflowers. The area also boasts 750 miles of mountain bike trails and refers to itself as the home of mountain biking. It certainly is a way of life for the local residents. Colorado's largest reservoir is also located here, providing access to all kinds of water sports. There's also a new man made river park on the Gunnison River.
Idaho Springs, Colorado
This old mining town is a popular town along I-70 to stop and break up a mountain drive. It also happens to be where traffic can back up. Beau Jo's Colorado Style Pizza is a longtime popular restaurant, but the town also boasts a brewery.
Keystone, Colorado
Keystone is one of Colorado's many family-friendly ski resorts and the largest in Summit County. The resort welcomes families with red wagons to schlep gear and a Kidtopia Festival that now boasts year-round events. During the winter you can even explore the world's largest snow fort. Sleigh rides, ice skating and snow tubing are all also sure to entertain all ages.
Leadville, Colorado
Historic Leadville was almost the capitol of Colorado. One of the highest towns in Colorado, it sits at 10,151 feet. Leadville is a charming town with old colorful Victorian buildings and a rich history. Visitors should definitely visit the National Mining Hall of Fame and Museum, Matchless Mine and the Healy House. The guides at both the Matchless Mine and Healy House are epic storytellers and they have some fun ones to tell.
One of the best small (affordable) ski resorts, Ski Cooper, is located just outside of Leadville. Tennessee Cookhouse, located just across the parking lot from Ski Cooper is also a fun place to visit. They offer Yurt dining, glamping in Yurts and awesome nordic ski and snowshoe trails.
Insider Tip: If you are in the Leadville area, be sure to make a visit to Twin Lakes.
Minturn, Colorado
Another quaint and quirky railroad town, Minturn CO is located in close proximity to both Vail and Beaver Creek ski resorts. In fact, an out of bounds Vail ski run, known as the Minturn Mile, ends up in Minturn. Thus the name. The Minturn Saloon is a popular post Minturn Mile Apres destination.
Summer in Minturn brings a weekly farmer's market on Saturdays. Minturn also boasts a free summer concert series on Thursday nights at their new amphitheater. A popular hiking and snowshoeing trail, Meadow Mountain, starts just outside of town at the Ranger's Station.
Nederland, Colorado
Nederland is another historic mining town. It is located in Boulder County near Eldora Mountain Resort. Fishing, camping, mountain biking and hiking abounds here. Families will want to check out the Carousel of Happiness, a magical menagerie featuring 56 whimsical, hand-carved animals on a restored 1910 Looff carousel, turning to the music of a 1913 Wurlitzer band organ.
Ouray, Colorado
Ouray sits at the base of one of the most spectacular and harrowing byways in Colorado, Red Mountain Pass. This is a gorgeous area of Colorado. Ouray may be best known for its hot springs, but has also come into its own as a craft brewery hub. 3 breweries, 2 distilleries, 3 coffee roasters and 2 chocolatiers call this town home. Here you will want to take a jeep tour to discover the waterfalls created by snow melt off.
Pagosa Springs, Colorado
Located in the southwestern area of the state, near Durango, the town is best known for its natural hot springs. Here you can also soak in hisory of the ancient Puebloan people at Chimney Rock National Monument. Chimney Rock preserves 200 ancient homes and ceremonial buildings in seven square miles of land. A half mile hike to the top earns visitors dramatic 360-degree views of Colorado and New Mexico.
Paonia, Colorado
As the other Mountain towns in Colorado, this one offers all the outdoor fun you'd expect, but also has a serious side. It is home to High Country News, a progressive environmental newspaper known for its investigative journalism. In addition to being home to journalists, many painters, jewelers, dancers, actors, musicians and other artisans make this small town their home. Here you will also find the most delicious cherries in Colorado. Visit in July and enjoy the town's Cherry Days Festival.
Silverthorne, Colorado
Silverthorn is located on the west side of the Continental Divide, just past Eisenhower Tunnel. It is the launchpad to skiing and other outdoor adventures in Summit County. The 3.5-mile Blue River Trail is a paved path that meanders through the Town of Silverthorne alongside the Blue River and is perfect for families or a relaxed cruise. There's also dirt singletrack and paddle boarding during the summer. If fishing or pickleball are more your speed, you'll find it here. Additionally, it is the place to stop if you need to do any shopping.
Silverton, Colorado
A drive through Silverton is not for the faint of heart, though it is spectacular. Silverton, one of the historic mountain towns in Colorado, is located between Durango and Ouray. It is the start or end of Red Mountain Pass depending on which direction you come. It makes our list of most spectacular fall drives in Colorado.

Snowmass, Colorado
Snowmass Colorado is a quaint ski village built up the side of the mountain. As such, most Snowmass lodging accommodations seems to be ski-in ski-out with beautiful mountain views. The ski lifts began turning at Snowmass Mountain over 50 years ago. Perhaps best known for its skiing, Snowmass is even more spectacular in the summer.
Snowmass has always been known for their on-mountain bike trails. But now there are even more summer activities atop the mountain for families to enjoy. In addition to the fun alpine coaster, a challenge course in the Lost Forest will keep your family occupied for most of the day. And, if that isn't enough, then wear yourself out on the climbing wall!

Steamboat Springs, Colorado
Steamboat Springs is a ski town located in the northwestern area of Colorado. It is off the beaten path, but the roads to get there are beautiful. The area is best known for champagne powder and its natural hot springs. It is also a popular rafting and kayaking destination. One of the more fun events of the winter season is the Cowboy Downhill. Professional rodeo cowboys do their best to stay up on a ski race course, decked in traditional rodeo gear.

Telluride, Colorado
Not the easiest of mountain towns in Colorado to get to, but one of the most picturesque. The town is nestled in a canyon, surrounded by cliffs. Victorian architecture adorns the street leading directly to the ski slopes. Another Colorado mining town turned ski resort, Telluride is located in the southwester area of the state. The town offers an endless array of festivals and outdoor adventures. It is also a second home to the rich and famous.

Vail, Colorado
The newest of mountain towns in Colorado, Vail was founded in the 1960s by 10th Mountain Division veterans. It is nestled at the base of Vail Ski Mountain, in the heart of the Rocky Mountains and surrounded by White River National Forest. Vail is a spectacular mountain town with bountiful recreational opportunities from skiing and snowboarding to ski biking, tubing, sledding, ice skating and much more.
Vail has come into its own as a cultural destination as well. It is home to Bravo! Vail, the Vail International Dance Festival and Vail Jazz Festival.
Vail's ski mountain is one of the largest in North America with 5,289 skiable acres. Two alpine base areas have a gondola going out of each, as well as additional ski lifts.
This cobblestone alpine town is dotted with resort condos ideal for families, as well as luxury hotels. Summer activities abound both on the mountain and off. A farmer's market runs every Sunday through the summer and fall.

Winter Park, Colorado
Winter Park Resort is Colorado's longest continually operated ski resort. It is only 37 miles from Rocky Mountain National Park and 67 miles northwest of Denver. Winter Park Resort is conveniently located. In fact, a ski train services Winter Park Ski Resort for ski season. The mountain is perhaps best known for its world-famous bumps at Mary Jane.
From Winter Park you may want to take a scenic drive to explore Rocky Mountain National Park. During the summer you may want to bike their 600 miles of cross-country trails and two downhill bike parks.
Winter Park is one of Colorado's more affordable ski resorts. For a visit to Winter Park you may be best off securing a specific condo. There are a variety of fun and authentic Colorado ski town restaurants to enjoy.
During the winter be sure to check out some of the fun Winter Park sledding hills for snow fun!
Other Colorado Destinations and Helpful Information
With warm sunny days and cool evenings, Colorado mountain towns are an excellent vacation destination to escape the heat. In addition, many of these towns are known for champagne powder and epic ski mountains. There are so many things to do with kids in Colorado!
Note, if you are going to Colorado summer 2020, here are a few things you may want to consider.