The town of Vail, Colorado is a charming alpine town. It's no wonder why vacationers love to pay it a visit. It also has exceptional mountain beauty, which provides not only stunning views but also plenty of outdoor activities and sports for all kinds of enthusiasts. Perhaps the most popular outdoor activity in the summer is exploring Vail hiking trails.
The Vail area has nearly 40 hiking trails, each that offer you something completely different and are appropriate for very different skill levels.  So how to choose the right hiking trail for you and your group? Read on for ideas of where to hike in Vail this summer!
Vail Mountain itself has a huge network of hiking trails. They all have quite a gain in elevation unless you take the gondola up. Here we focus on trails off the mountain itself. Pick up a trail map to explore the trails on Vail Mountain.
Here's what we've deemed are some of the best hiking trails that Vail in Colorado offers. Pack a Camelbak with water and lunch, put on some sturdy shoes and get out into nature. You are sure to breathe in fresh air, get some exercise and improve your mental health and mood. You might also get to see some wildlife along the way too.  
Booth Falls
Rated: Moderate
Distance: 4.2 miles
You're going to quickly find out that there's a whole slew of hiking trails in Eagles Nest Wilderness that await you. One of the most visited of them is the Booth Falls Trail. This moderate hike features a waterfall, along with fields of wildflowers, forests, and a river. The Booth Falls Trail in East Vail takes about 2 and a half hours to finish and can be a bit muddy at times in certain places. Dogs must be kept on a leash if you choose to bring them. 
Booth Lake
Rated: Difficult
Distance: 10 miles
The difficult Boot Lake Trail is another there and back trail that can be found in Eagles Nest Wilderness. It receives a bunch of visitors at times. Dogs must be kept on a leash. It features a pristine-blue lake and a waterfall and is best visited during the months of June through October. There's also the occasional wildlife such as bighorn sheep that you may spot. Depending upon your physique and skill level, it should take about 6 hours to complete.  
Deluge Lake Trail
Rated: Difficult
Distance: 9 miles
The Deluge Lake Trail that's located in Eagles Nest Wilderness, is considered to be a challenging and steep climb. It certainly isn't for the faint in heart, but it's one you won't regret if you're up for the challenge. Epic panoramic views await you and there's also a chance you may spot wildlife throughout. The trail features a lake and is used not only for hiking, but for running, nature trips, and bird watching. The moderately trafficked trail takes about 6 hours to complete. 
Gore Creek Path
Rated: Easy
Distance: 1.8 miles
If you're looking for a nice and leisurely trail near Vail that's suitable for all different ages and skill levels, Gore Creek Path is an excellent choice. At times this paved trail does become a bit heavily trafficked and is mostly used for hiking and running purposes. The path features a river and will take you past open meadows and beautiful forested areas, all while in close proximty to Vail Village.    
Gore Lake
Rated: Difficult
Distance: 12.5 miles
Also located within the Eagles Nest Wilderness is the there and back Gore Lake trailhead. It's a heavily trafficked trail that takes roughly 7 hours to complete. The last two miles are a bit rough and steep in places. Once you arrive at your destination, you'll be greeted by a stunningly beautiful blue lake that makes the difficult hike well worth it. Hikers are welcome to bring their dogs but keep in mind that they must be kept on a leash.   
Lost Lake Trail
Rated: Easy
Distance: 7 miles
The Lost Lake Trail is located within the White River National Forest, and happens to be a hike that is suitable for all different skill levels. This trail features a lake and wildflowers in the summertime. It also has a number of different activities in the surrounding area that you can participate in, including mountain biking, fishing, camping, and more.  This back trail is moderately trafficked and takes about 3 hours to complete.
Strawberry Lane
Rated: Easy
Distance: 2.7 miles
The Strawberry Lane trail is another hike that hikers will enjoy in the White River National Forest. It's an easier moderately-trafficked hike that features fields of wildflowers and is perfect for families that have smaller children unless you're visiting in the winter. There are also wildlife and camping opportunities that you can look into that are close by in the area. 
The Grand Traverse Trail
Rated: Moderate
Distance: 8.1 miles
Located in the White River National Forest, The Grand Traverse Trail has become increasingly popular amongst mountain bikers over the years. But it's also popular for hiking and bird watching. This a moderately trafficked there and back trail features beautiful wide-open fields of wildflowers. The mountains in the backdrop perfectly harmonizes with the surroundings. For those of you that wish to bring your dog, just be sure that you keep it on a leash at all times.  
Upper Piney River Falls Trail 
Rated: Moderate
Distance: 5.9 miles
It won't take you long for you to realize why the Upper Piney River Falls Trail is one of the most popular hiking trails in all of the Vail area. The mountain, lake, and waterfall scenery is nothing short of breath-taking, especially should you decide to visit in the spring or during the fall. This there and back trail takes the average hiker 3 hours to complete. It is also located in the Eagles Nest Wilderness. The only setback about this trail is the 45-minute drive on a 2 lane dirt road in order to get there.  
Insider Tip: Rent a cabin or glamping tent at Piney Lake and spend the night. This will give you an early start on the trail before crowds arrive. And, you will get to enjoy this spectacularly beautiful area at night with few people around.
Glenwood Canyon Hiking Trails
Glenwood Canyon is about a forty-five minute drive west of Vail and is home to some other special hiking trails.
The most popular of these is Hanging Lake Trail. In fact, Hanging Lake became so popular that the forest service was forced to implement a permit system. This beautiful deep green lake boasts a waterfall surrounded by a hanging garden plant community. The hike itself is moderate at 3.2 miles total with just over a 1,000 foot ascension. Be sure to make reservations.
Grizzly Creek Trail, also located in Glenwood Canyon is rated as difficult. However, you can take on just a portion of the out and back trail for an easy or moderate experience. It doesn't have the payoff at the top like Hanging Lake. But the way there meanders along a pretty spectacular stream.
Rifle Area Hiking Trails
Rifle is home to two of Colorado's beautiful state parks. It is a bit further away from Vail, about an hour and a half. But in our opinion, Rifle Falls is the best beginner hike in Colorado for families. A short mile to mile and a half trail loops around a triple waterfall with caves along the way to explore. It is well worth the drive. Just be sure to get out early if you go on the weekend in order to secure a parking spot.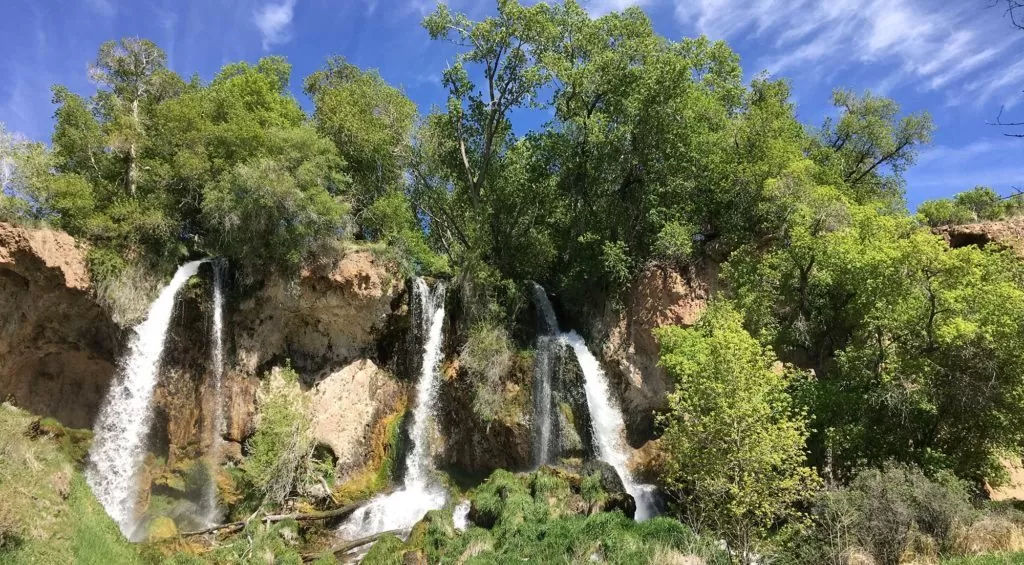 The next time you're visiting Vail, Colorado, be sure to check out one or a couple of these trails. These are some of the best hiking experiences that you will find in Eagle County. Have any of you already enjoyed hiking in Vail and enjoyed a particular trail that you'd be willing to share with others? I'd love to hear from you in the comments below.