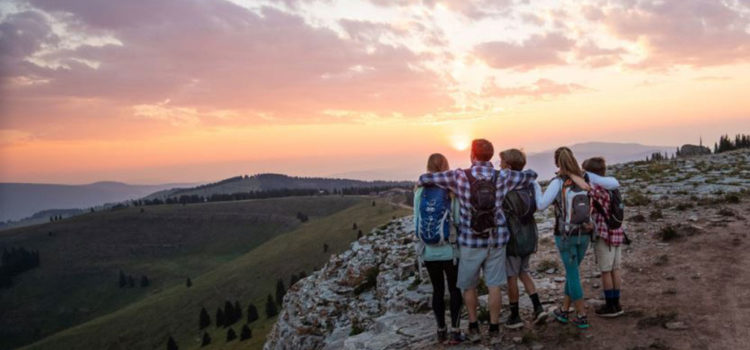 The summer before I headed off to graduate school, my family spent a wonderful week in Vail for Fourth of July. We went white water river rafting, watched the Independence Day parade, played tennis, took a jeep tour, and enjoyed being outdoors. Fate would have it that a few short years later I would end up making Vail in Colorado my home. A couple of decades later, I can tell you everything you could ever want to know about this special place.
Header Image: Courtesy Town of Vail/ Jack Affleck.
The town of Vail in Colorado is located in the heart of the Colorado Rocky Mountains. The town is a charming alpine village with heated cobblestone streets. It is a popular ski and tourist destination. The mountain provides the ultimate in mountain activities with skiing as its centerpiece. But the entire Vail valley has much to offer both visitors and locals.
Vail weather is enviable. Warm sunny days and cool evenings grace the summer. Locals are typically grateful for an afternoon thunderstorm when they happen. Winters are snowy. In recent years, Vail also improved snowmaking capacity to ensure having as much ski terrain open early as possible.
Getting to Vail in Colorado
Vail is about a two-hour drive directly west from the Denver area, with spectacular mountain views along the way. If you are flying into Denver International Airport and staying in Vail Village, you may want to take a shuttle and avoid renting a car. There is no need for one once you reach Vail Village, and parking can be expensive.
Towns of the Vail Valley
The Vail valley stretches from East Vail down to Gypsum. Towns line the highway I-70 that cuts through Eagle County. Vail is the best known of these towns. Beaver Creek just down the road is a close second. But it is EagleVail, Minturn, Edwards, Avon, Eagle and Gypsum where the locals live. These areas also have much to offer. It is a tight knit community where everyone knows one another and all can feel safe.
Vail & Beaver Creek Ski Mountains
Vail Resorts run both Vail Mountain and Beaver Creek Mountain, two of the country's premiere ski resorts. Beaver Creek is our kids' favorite mountain, where they grew up learning to ski. Vail is the more expansive of the two ski mountains. It is known for its legendary back bowls. Each mountain has its own personality. There's no reason why you shouldn't ski both and see which one you like best. An Epic Pass is good for skiing both resorts.
Insider Tip: Here's what Vail winter 2021-2022 will look like!
Villages of Vail
The town of Vail is an alpine village, with two base areas that take skiers up the mountain. Heated cobblestone streets are pedestrian only, with the exception of the free bus system that runs between the two villages.
There is Vail Village and Lionshead Village. We think that Lionshead is the more family friendly of the two. Its Eagle Bahn Gondola takes you up to Adventure Ridge in the winter and Epic Discovery in the summer. These are Vail's mountaintop playgrounds. Gondola One in Vail Village whisks guests up to Mid-Vail where the restaurant, The 10th, is located.
Where to Stay in Vail
Vail has many high end hotels, including the Four Seasons, Sebastian, Arrabelle and more. A Grand Hyatt is located a short distance outside of the villages.
There are also a variety of of condo style hotels offering more space and kitchens for dining-in but with the amenities of hotels. One of our favorites is the Antlers at Vail, located in Lionshead Village on the river with mountain views.
For more a more affordable option still within Vail proper, there is a Highline by Doubletree in West Vail.
Visitors can also find vacation rentals by owner dispersed throughout the valley. You will likely want a car, if you go this route.
Insider Tip: When you stay 30 days or longer in Vail you can save on taxes.
Where to Eat in Vail
There's an endless variety of unique restaurants in Vail. From pizza to exquisite French cuisine. Our favorite casual restaurant is Blue Moose for pizza. The best gelato can be found at Rimini. La Tour is our favorite fine dining experience. For sushi, Osakis is a real treat. Be sure to check out our round up of best Vail restaurants for kids.
What to Do in Vail
There's no way to cover this in one article. Vail has so many activities to offer. While best known for its skiing in the winter, summer is our favorite season.
In the winter ski, get an adrenaline rush at Adventure Ridge, snowshoe, snow bike, sled, ice skate and more!
For fall of 2021 Veil's epic events are back in full force. Taste of Vail was postponed until fall and just added to the schedule full of Oktoberfests, concerts and more.
Play on the mountain at Epic Discovery — challenge yourself on a ropes course, fly down a zipline, soar down the mountain on an alpine coaster and much more!
And as always there will be no shortage of outdoor activities. Cruise down the bike path along the river, stop for a picnic. Listen to the water rush by and hear the birds sing.
Take a hike on one of the many beautiful hiking trails in the area. For the more adventurous hike to a waterfall or lake. Or, just wander through the Betty Ford Alpine Gardens.
The Vail valley is also known for its mountain bike trails. Or, get a lift up to the top of Vail Pass and bike down.
There's no shortage of golf in the area. From Par 3 courses to challenging 18 hole courses, this may be a really good summer and fall for golf.
Paddle board on Nottingham Lake in Avon. White water river raft with one of the local outfitters. Go fly fishing. Or, just take a tube down the river. This is how our kids entertain themselves much of the summer.
There is no shortage of things to do in Vail, for adults, teens and toddlers.
Vail Events
Vail is known for its epic events and concerts. There's something for everyone with classics in the mountains from the New York Philharmonic to Michael Franti preforming free concerts at festivals.
For summer of 2022 visitors will see a full schedule of typical summer events with a continuation of some of the smaller events born of the Pandemic.
Living in Vail: Vail Real Estate
Vail is not an inexpensive place to own property. Many locals live down valley in the Eagle area, as it is a bit less expensive there. Thus that has really become a real community and neighborhood where children play.
This is the place we chose to make home and raise our children. Professional jobs are hard to find. The cost of living is high. But the access to out natural world is unmatched. We feel very grateful to call Vail in Colorado home.
Vail in Colorado: Where to Stay, What to Do, and More