The United States boasts many beautiful places to visit. From the Acadia National Park of Maine to the Redwood National Park in California, the landscape of this beautiful country is vast and varied. For gorgeous mountain views out west, the Rockies are your best bet. Certainly staying at Colorado mountain cabins is a unique way to enjoy the beauty of this mountainous state.
All seasons of the year, the Colorado Rocky Mountains offer different types of beauty. Much of the beauty is in what can be found in the natural environment. And, what better way could there be to get out into nature, but still have comfort than staying one of the many Colorado mountain cabins to be found throughout the state.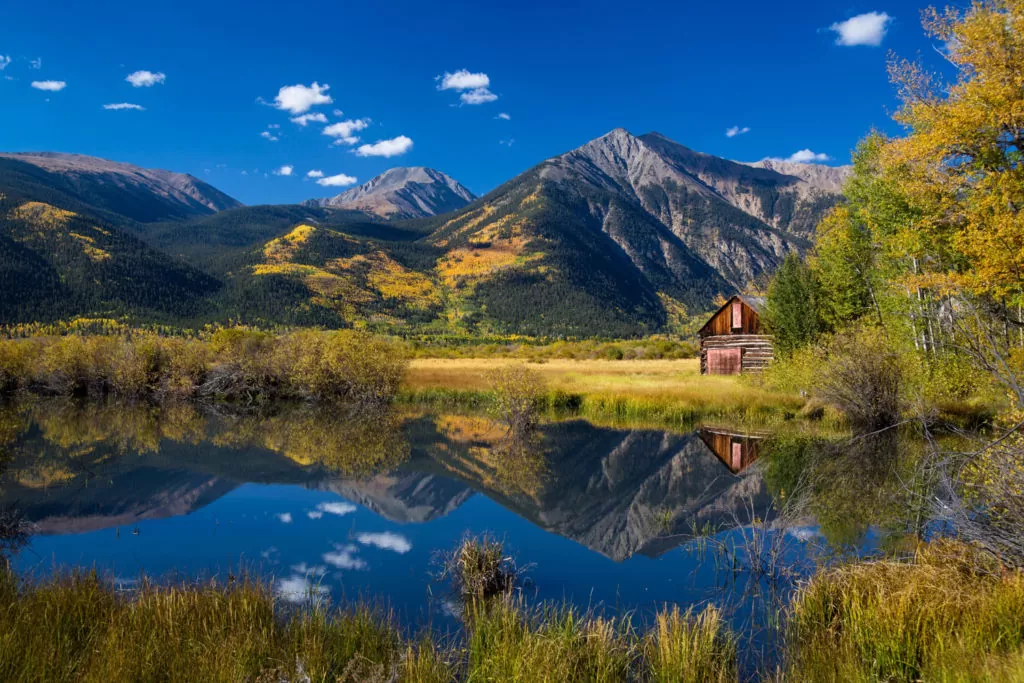 Colorado cabins can make for the perfect Colorado vacation. These vacation rentals make it possible to get away from our busy hectic lives and recharge in nature. Some of these mountain cabins don't get cell phone reception forcing you to truly get away and disconnect.
The following mountain cabins near Denver all offer easy access to the great outdoors. Here you can hike, bike, fish and even partake in a variety of water sports. Estes Park and Rocky Mountain National Park have the most cabin rentals available. But there are also mountain cabins in Breckenridge, Colorado Springs, and even in and near Colorado mountain towns like Vail.
To truly enjoy everything the Rocky Mountains of Colorado have to offer, rent a cabin for a few days (or more!) and exploring the beautiful mountains is recommended. Here are a few ideal locations to find Colorado cabin rentals where you can spend some quality time in nature.
Estes Park: Estes Park Center, YMCA of the Rockies
The Estes Park Center is bordered on three sides by Rocky Mountain National Park. It offers direct access to Rocky Mountain National Park. There are so many fun outdoor activities here including musical performances, art classes, dancing, wildlife viewing, forest education, sports tournaments, family campfires and even night hikes.
Estes Park Center has a couple of different lodges, an inn and cabins ranging in size from two bedrooms to four bedrooms. The cabins offer kitchen, bathrooms and all the comforts of home but in a spectacular alpine setting. This is an ideal location for family reunions or large groups.
Estes Park: Pine Creek Cabins
Pine Creek Cabins offer spectacular views with exceptional privacy. Located in Estes Park, Colorado, in the Rocky Mountain National Park, Pine Creek Cabins are available year-round. Each cabin is fully equipped, so all you need to bring is food and toiletries, but some cabins offer other delightful amenities.
Whether you desire views of the river, private hot tubs, a pet-friendly environment, or a short walking distance to town, you will find what fits you best with Pine Creek Cabins.
Estes Park: This Mountain Life
This Mountain Life may have only three cabins for rental, but this basecamp is nestled between river and mountain and surrounded by beautiful and vast wildlife. The Rocky Mountain National Park, Indian Peaks Wilderness, and Roosevelt National Forest are all within a short drive from the basecamp and you're within just a scenic walk from downtown Estes Park.
All three cabins are equipped with all the kitchen necessities as well as toiletries and linens; all you need to bring is a toothbrush and toothpaste. WiFi is also available at each site, so you can keep in touch and plan your days as needed.
Grand Lake Lodge Cabins
The historic Grand Lake Lodge offers cabin rentals of varying sizes. Most are small with a small refrigerator. But there are three larger cabins available. A honeymoon cabin still only sleeps two, but a couple of larger cabins sleep up to 12 (3 bedrooms) and 25 people (8 bedrooms). Those could be perfect for weddings or family reunions. Grand Lake Lodge does offer pet friendly cabin rentals.
But at Grand Lake Lodge the experience isn't about these adorable cabins. It is about the history, location, views and memories that guests create.
The Lodge is a registered National Historic Landmark and has a fascinating history. Huntington House Tavern offers delicious food with spectacular views. But also be sure to spend time out at the Deer Deck or lawn below the lodge after dinner to catch the sunset over the water with the mountains in the distance. The views are spectacular and it is the perfect place to take them in with friends or your furry companion.
Grand Lake Lodge has an exceptional location adjacent to Rocky Mountain National Park, one of Colorado's four national parks. Guests can actually hike into Rocky National Park from their cabin, or enjoy views of beautiful Grand Lake from the property.
Grand Lake: Arrowhead Cabins
Arrowhead Cabins are located just a few blocks from the largest lake in Colorado, Grand Lake. These cabins allow you to feel immersed in nature but also be just a short distance to the town's shops and restaurants.
The cabins sport a kitchen and have a grill available if you'd like a quiet day to yourself, or the town of Grand Lake offers multiple restaurants, both casual and fine dining. Being near Grand Lake itself, boating, fishing, and a beach are all available, plus hiking trails are nearby and a drive through the Rocky Mountains truly rounds out a terrific vacation.
Granby: Snow Mountain Ranch, YMCA of the Rockies
Located between Grand Lake and Winter Park near Granby, Snow Mountain Ranch YMCA of the Rockies offers access to Rocky Mountain National Park. Here you can stay in a guest room in the mountain lodge, a yurt or cabin.
These Colorado cabins range in size from two bedrooms up to five bedrooms, making them fantastic options for family reunions or large groups. The cabins offer full kitchens, bathrooms and all the comforts of home. The property itself offers a large variety of activities for both summer and winter.
The cabins at Snow Mountain Ranch are pet friendly. But only some of the lodge rooms are. There's even a new dog park on property!
Pikes Peak: Royal Gorge Cabins
Royal Gorge Cabins offers cabins and glamping tent options. These cabins offer comfort and luxury with stunning views and access to all this area has to offer. Comfortable kings beds provide restful nights of sleep. A pass through fire place is adjacent to two walls of sliding glass doors opening to the Sangre de Cristo mountain range. Both the cabins and glamping tents provide ways to unplug (figuratively, if that's preferred) and enjoy the scenic views of Colorado.
These cabin and tent options are near Pikes Peak, located about an hour from Colorado Springs. The area has tons of activities from white water rafting the Royal Gorge and mountain biking to scenic train rides and challenging yourself on a Via Feratta rock climbing experience at Royal Gorge Bridge. If you prefer you can stick around your cabin and enjoy everything nature has to offer.
Vail: Piney River Ranch
Piney River Ranch operates a restaurant, horseback riding, a pier with canoe rentals, as well as cabins and tents, all located right on Piney Lake Vail. Piney River Ranch is a popular location for weddings. And, the Upper Piney Lake Trail is popular with hikers.
Perhaps the most secluded cabins in Colorado, the cabins at Piney River Ranch are rustic and intimate. There are no kitchen, bathroom, or shower amenities in the cabins. Though there is electricity. All accommodations share a men's and women's guest bathhouse with standard flush toilets. There are no showers.
But what you can expect here is an escape to nature. Log cabins are located directly on Piney Lake, with picture perfect reflections of the Gore Range.
Cabins and tents are pet friendly, so you can bring along your furry family member for a small additional charge. Dogs must be on leash.
Insider Tip: Glamping in Colorado is another fun way to get close to nature, but still with the comfort of a bed and more.
Colorado Cabins
Colorado has tons of cabins available throughout the Rocky Mountains. Many are even near Colorado's National Parks and Monuments. Wherever you decide to stay, it's you will hike your way to incredible heights or relax in your cabin with spectacular views.
Insider Tip: Be sure to check out the cabin camping checklist from our friends at Ripped Jeans and Bifocals.
Where to Find Colorado Mountain Cabins