Colorado winters are best known for skiing. However, we would argue that sledding is actually the most fun and accessible snow sport for the young at heart. It is cheap, easy and invigorating outdoor winter fun. Keep a couple of inexpensive sleds handy. Then when it snows head out to your favorite snow covered hill to whiz down said hill on a piece of plastic. No lift ticket needed, unless you decide to visit a snow tubing hill run by a resort or other business. So, where can you find Winter Park sledding hills?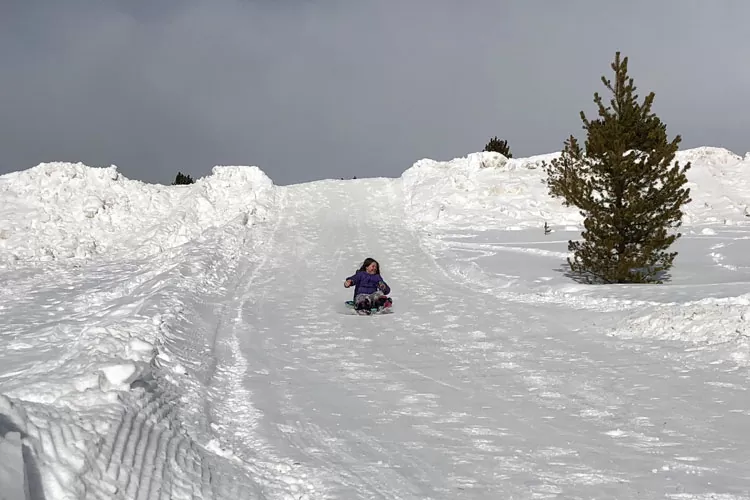 Winter Park is one of the more popular of Colorado's ski resorts. It is conveniently located near Denver. And, it is family friendly. But there is actually so much more to do in this area of Colorado. It is located within Grand County, near Fraser and Granby. Grand Lake and part of Colorado's most popular National Park, Rocky Mountain National Park fall within Grand County borders. It is home to winter fun that includes snowmobiling, dog sledding, snow tubing and snow sledding!
Any neighborhood with open space and hills will have a hidden stash of sledding hills. Those you may have to explore and discover on your own. Here are some of the better known Winter Park sledding hills, as well as tubing hills.
Sledding Hills vs. Tubing Hills
As Winter Park offers a large variety of both sledding hills and tubing hills, let's talk about the difference. Generally a sledding hills is any snow covered hill on property open to the public. You bring your own sled and use your own feet to get up the hill.
Many resorts and other private businesses have created tubing hills on land they manage. Typically they provide tubes, sculpt the hill into lanes and often even run a lift or magic carpet to get you up the hill. As there is an investment to set up, maintain and run these hills, there is typically a charge. But after a big day on the ski slopes or Nordic track you may appreciate not having to work so hard for your fun. And, often these are bigger and faster than sledding hills.
Winter Park Sledding Hills
Let's start by talking about sledding hills. Those are great for impromptu winter fun. No need to plan ahead or spend money. Just head out when you have the whim.
Hideaway Park/ Rendezvous Event Center
Located in downtown Winter Park Hideaway Park is home to the Rendezvous Event Center. Here you will find a skate park, restroom facilities, shade structures, playgrounds and picnic pavilion. Also, there's a great free hill for sledding. And, unusual to sledding hills, they have free sleds and tubes available for check out.
There's a long gentle slope great for the younger kids. An extra special bonus here are the fire pits where you can warm up after you fun in the snow.
There is easy street parking. But it can get crowded at times.
Grand Lake Nordic Center
At Grand Lake Nordic Center not only can you take in beautiful views of Rocky Mountain Park from their many trails, but also sled for free. Here the Nordic Center maintains a packed trail from the bottom of the hill up to the top and even provides a limited supply of tubes. You can also bring your own sled or tube.
However, due to COVID-19 this sledding hill is not open for the winter of 2020-2021.
Devil's Thumb Ranch Sledding
You do need to be an overnight guest of Devil's Thumb Ranch to access their sledding/ tubing hill. If so you just call to reserve your free tube and then pick it up at Axel's Pavilion. There are lots of other winter activities available here both to guests and with purchase of a day or season pass.
Winter Park Area Tubing Hills
The Winter Park area is home to several fun tubing hills. Some of these have lifts, and a couple don't. One is located at Winter Park Resort. The others are just a few minutes drive away.
Coca-Cola Tube Park at Winter Park Resort
Banked curves add excitement to the four groomed tubing lanes available right in Winter Park Resort, just to the right of The Vintage Hotel. A covered conveyor lift brings you back up to the top of the hill. Ride down solo, or hold on to a group of tubes as you whiz down the hill to change it up.
The hill is open 7 days a week from 10 a.m. to 5 p.m. Prices are $34-39 for an hour time slot. Take as many runs as you can during your time slot. You will want to make advance reservations and arrive a few minutes early.
Colorado Adventure Park
Located just outside of Fraser, the Colorado Adventure Park offers snow tubing, double tubing and mini-snowmobiles for the kids. Open Monday through Sunday 10am-9pm the Adventure Park has lights for nighttime snow tubing. They also have snowshoes and fat bikes available for rent.
For $25 pick up a tube and take an easy ride up the magic carpet lift. There's a variety of terrain from slow to fast for ages 6 and up.
There's a fire pit for warming up. And concessions are available with beer and wine for adults and s'mores kits for all.
Note that here helmets are required and available at no additional cost.
Fraser Tubing Hill
The oldest snow tubing operation in the area has been family owned and operated since 1971. Here snow tube rentals are available for 60 to 90 minutes increments for $25 to $30. Tubes and a lift back up the hill are included. Helmets are recommended.
The Fraser tubing hill is open seven days a week from 10 a.m. until 10 p.m. Here ages three to six can ride with an adult and ages seven and up ride their own tube.
Snow Mountain Ranch Tubing Hill
The snow tubing hill at Snow Mountain Ranch in Granby is free to overnight guests and included in a day pass. Tubes are available to use on the tubing hill with shaped lanes. There's a packed trail back up on either side. No lifts here, just good old fashioned fun!
Insider Tip: Snow Mountain Ranch is chock full of fun family activities. Rent a cabin and stay a weekend or a week. You and your kids are sure to have a great time and not run out of fun things to do.
Have you visited Grand County or Winter Park during the winter? Did snow tubing make your list of family activities? Tell us about it in the comments below!
Winter Park Sledding Hills for Outdoor Fun