If you are planning to go on a trip to the big island of Hawaii, you may want to check out some of the waterfalls spread out throughout the area. Hawaii is home to some of the most beautiful, captivating waterfalls in America. If you would like to experience some of them firsthand, check out this list of the best Hawaii big island waterfalls.
The biggest and most famous of Hawaii's waterfalls are found on the Hilo side of the island. But if you take a tour with Hawaii Forest and Trail you can access some amazing waterfalls on private land on the Kohala coast and even take a dip to cool off in the water at the base of the falls. It is quite a unique experience that ends with a picnic at a spectacular island overlook to the coastline and beaches below.
Rainbow Falls
Found in Hilo, Hawaii, the Rainbow Falls are 80 ft tall. Water from the falls goes right into the river by the Wailuku River State Park. The top-rated destination is known for its natural beauty. Beautiful flowers and greenery surround the falls. You might even catch a rainbow near the falls, shining brightly underneath the sunlight.
There are walkways around the falls, allowing you to walk around and take in all the fantastic scenery. If you want to see the falls without having to do a lot of walking, Rainbow Falls is the perfect spot. The falls are not far from the parking lot. You can park your vehicle in the parking lot, walk on a short trail for a few minutes, and have instant access to the water.
Akaka Falls
The Akaka Falls is a waterfall known for its extensive height. While the water is not broad or as noticeable as some other waterfalls, the Akaka waterfall is 442 ft. tall. Tourists often travel to Akaka Falls State Park to see it in person after hearing about its massive length. The park is slightly more than 10 miles away from Hilo, Hawaii. You can go on a short hike, explore the park, and see the falls on the same day.
There is a paved walkway that makes it easier for guests to access the waterfall. You will notice several picnic tables spread out throughout the park. If you want to stop and sit to have lunch with your family, you can do that. It is a great way to spend the day outside while enjoying nice weather and nature's beauty. If you would like to have a great experience with nature, visit the Akaka Falls because the waterfall and the scenery around it will not disappoint!
Umauma Falls
Umauma Falls is such a popular tourist attraction that the Umauma Fall Experience is widely available to guests. The experience involves various activities surrounding the falls, including kayaking and zip-lining.
If you would like to see the falls and the area around it in an experience like no other, you can glide like a bird through the Hakalau area with ease on a zipline.
It is an exhilarating and unforgettable experience. You will have the option of participating in plenty of other enjoyable outdoor activities as well.
Tour guides are available to provide you with extensive knowledge of the area. You can ask questions and learn more about the rich history of Hakalau and the Umauma Falls.
The well-maintained area offers much to do and see. You can even walk on a trail for a relaxing experience while looking around at all the foliage that surrounds you. Visiting the area is a great way to spend the day and make fond memories during your time in Hawaii.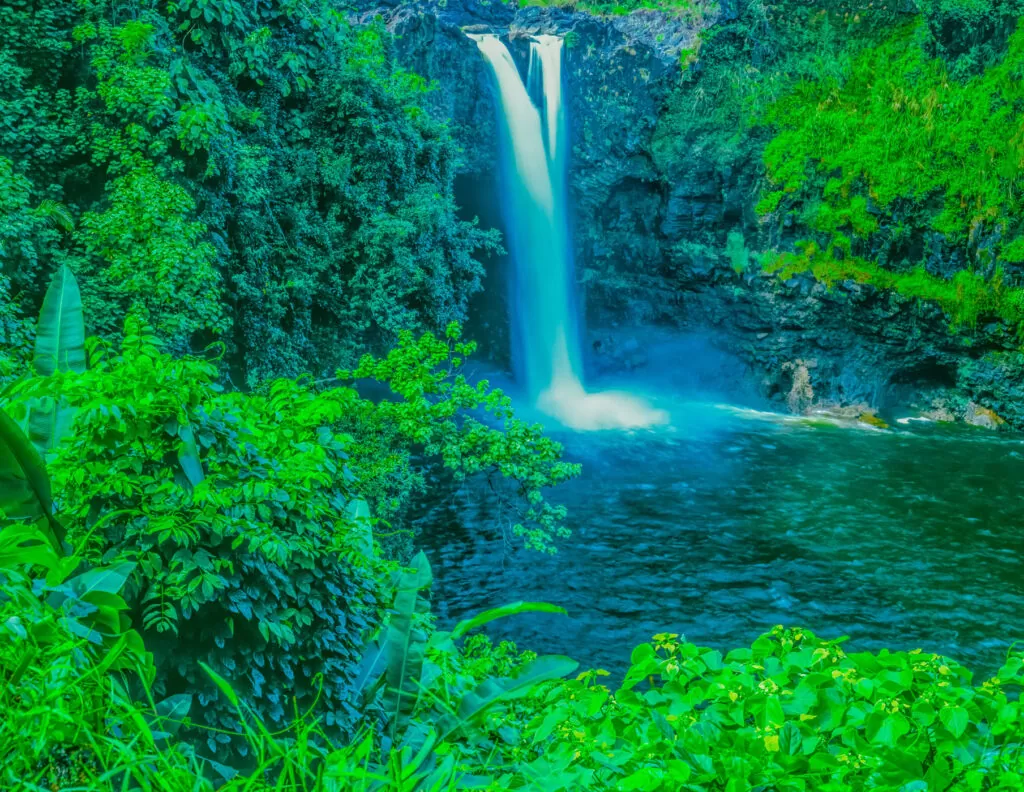 Wai'ale Falls
Wai'ale Falls is a smaller waterfall that is not too far from Rainbow Falls. While it is not as broad or as long as other falls, it is still a hidden gem worth seeing in person. You can walk through a short trail to gain access to a close spot to have the best view of this waterfall. Besides walking on the path and capturing photos of the stunning Wai'ale Falls, you can get wet in the pond.
Many people enjoy cooling down on a hot day by swimming around in the pond by the waterfall. If you are already in the Hilo area, make a stop to check it out. Sure, it might not be as impressive as other waterfalls in the area, but it still has much to offer in terms of natural beauty! It is a great starter spot. You may want to consider visiting this spot before checking out some of the more popular Hawaii waterfalls.
PeePee Falls
The PeePee Falls are not far from the Rainbow Falls area. You will only need to travel a bit less than two miles to access this beautiful area.
The waterfalls are about 80 ft tall and continuously pour into an open pond that people often use for swimming and other water recreation.
You can hop on a kayak and ride around in the pond while taking note of all the scenery around you, including the foliage and unique lava rocks.
While the area is naturally beautiful and worth visiting, it is prone to mosquitos.
If you tend to deal with mosquito bites when outdoors, be sure to bring bug spray with you that you can apply to your body throughout your trip.
Hi'ilawe Falls
Located in Waipio Valley, Hi'ilawe Falls is the tallest and most famous waterfall in Hawaii. You must hike in to see this waterfall. The road in is not driveable as it is one of the world's steepest roads. This waterfall is best seen during rainy season.
Why Are There So Many Waterfalls in Hawaii?
You may be wondering why Hawaii is home to tons of beautiful waterfalls that instantly attract thousands of visitors each day. The combination of lots of mountains and excess moisture leads to multiple waterfalls throughout the island.
You can find some of the best spots with beautiful waterfalls spread out on the island, some of which are bigger than others. Whether you want to see a small waterfall and swim in the pond or check out one of the much wider and taller ones, you have options.
Hawaii Big Island Waterfalls
You can find many Hawaii big island waterfalls in Hilo and other parts of Hawaii. If you want to visit some of these spots during your trip, create an itinerary consisting of which waterfalls you want to see the most.
You can visit one or more waterfalls per day until you have managed to see everything you wanted to see on the big island. The experience you will have is like no other. No matter where you travel to during your lifetime, there is nothing quite as remarkable as the Hawaii big island waterfalls.
Insider Tip: If you are looking for another tropical beach destination with easy access from the United States and plenty of waterfalls and beaches you might want to check out Costa Rica.
6 Captivating Hawaii Big Island Waterfalls