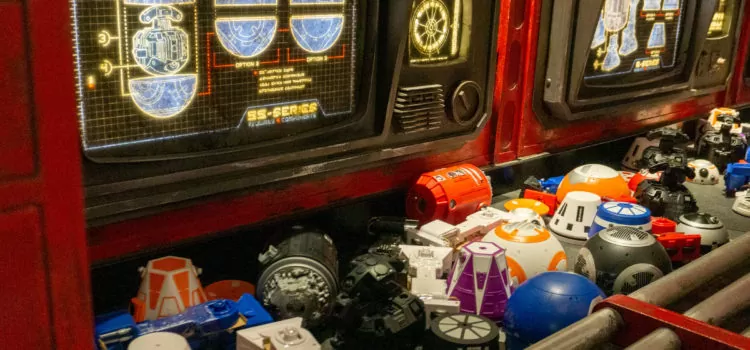 Star Wars Land, officially known as Galaxy's Edge, opened this summer at Disneyland. And, then also opened late August at Walt Disney World. Our family loves Star Wars. It is crazy how many of our vacations have been planned around this movie franchise. These vacations began with a bucket list Disney Cruise including a Star Wars Day at Sea. Since then we visited Hollywood Studios at Disney World for the Star Wars activities before Galaxy's Edge opened. Then I took advantage of the opportunity to don virtual reality gear at The Void "Star Wars: Secrets of the Empire" in Disney Springs. So, when a visit to The Fountains in Orlando presented an open day we made the short Uber ride over to check out Galaxy's Edge. Our first stop was at Droid Depot in Star Wars Land to build our own droids.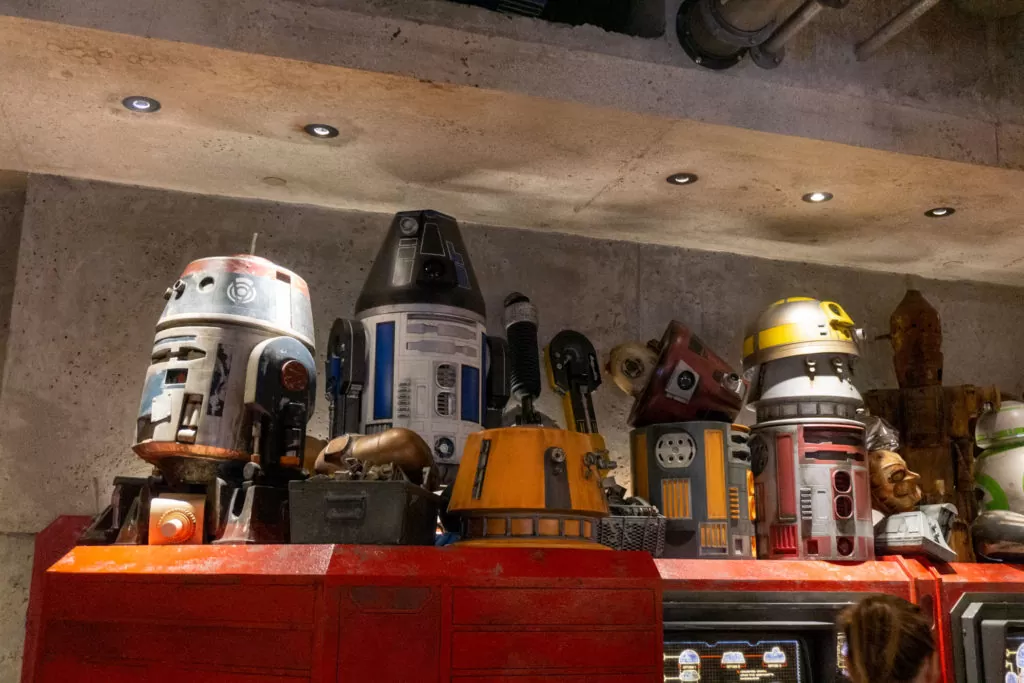 While I did a little research on Droid Depot versus Savi's Workshop, ultimately we left it up to our kids which one they wanted to do. Knowing that there had been some issues with droids not working when they got home, our kiddos still chose to make droids. And, I think they made the right choice.
Our decision to go to Galaxy's Edge was very last minute. I purchased our Disney World tickets through the Disney app on our way to Hollywood Studios. So we did not have reservations and were not sure we'd be able to get into the Droid Depot at Star Wars.
Insider Tip: Check out these great Star Wars gifts for Star Wars lovers of all ages!
We headed to Droid Depot first. It was hard not to take our time just checking out the land as we entered. But we hurried straight through. What an amazing place. Disney does not miss a detail.
Because there really is no signage, we did stop to ask for directions right across from Droid Depot. The standby line was 20 to 25 minutes which we felt was pretty reasonable. As my family waited in line I ran across the street to get some cold water and discovered what Coke looks like on Planet Batuu.
What droid options are available at Droid Depot Star Wars?
What are your droid depot options? As you wait in line, you can view the types of droids available. There are two basic models: the R unit, and the BB unit. And, these all come with parts in a variety of different colors. Our daughter chose an R unit. Our son chose a B unit.
Which Droid Model is better?
It seems that the BB units are more popular. But their movement is a bit wonky. Our son actually named his "Wrecker" for a while. He had a moment of buyer's remorse as he watched his sister smoothly drive her R unit. But I really do think it comes down to personal preference.
How much do the droids at Droid Depot cost?
At the time of our visit (October 2019) the basic droid cost $99.99. But then there are add-ons which you kind of feel like you should do if you're already spending that much. We added on the personality chip for $14.99 each. And, we also splurged on the cool, protective backpacks for $49.99 each. This brought our grand total for each to $175.70 with tax.
The main difference the personality chips seems to add is the sound or voice of the droid. Though I have also heard that it reacts differently in different areas of Galaxy's Edge. We didn't really notice this as we mostly made the kids keep the droids in their backpacks as we explored Galaxy's Edge. Our kids both chose blue Resistance personality chips. It would be interesting to see if the droids react differently to each other when they have chips from different sides.
Insider Tip: Love Star Wars? Be sure to check out creative ideas for Star Wars gifts!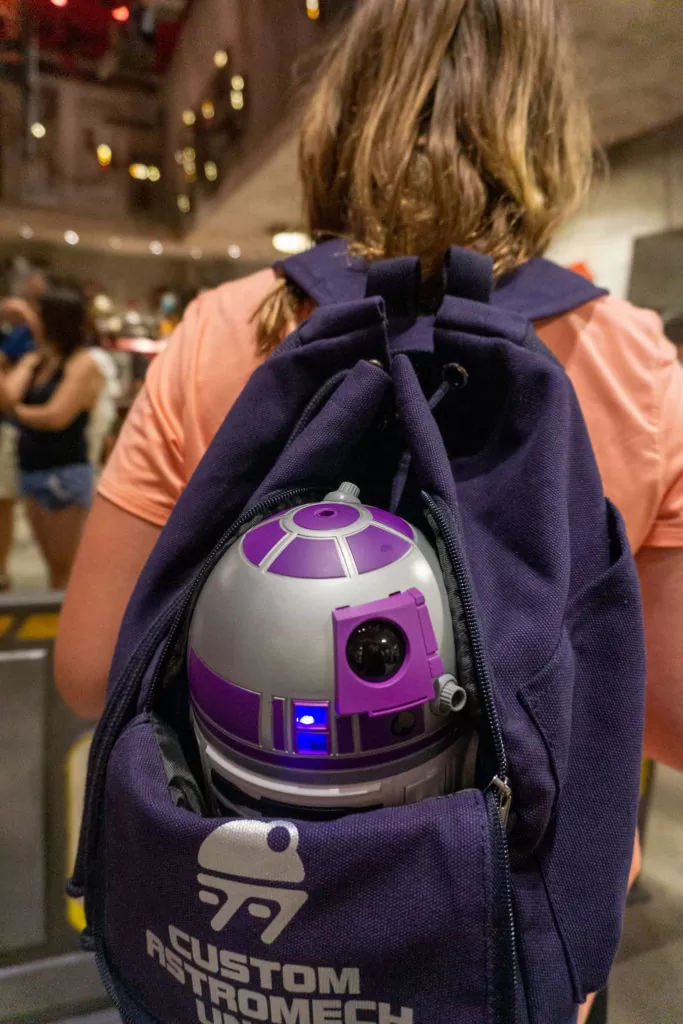 The Droid Depot backpacks do have special padding and are very cool. I don't think you'll be able to purchase them elsewhere. They were very useful in transporting the droids through security. Though I am sure the free boxes would also have worked fine. Part of our thought process is splurging on them was that hopefully long after the droids themselves are out of favor, the backpacks will still be useful.
How does Droid Depot at Galaxy's Edge work?
You chose your droid unit at the desk when you reach the front of the line. It is there that you chose and pay for any add-ons. Then they send you off to a conveyor belt with a basket listing the specific parts that you need. As the parts go by on the conveyor belt, you select the parts that you want and need to build your droid.
You then take your basket of parts over to an assembly area. The area has the tools that you need to assemble your droid. There are customer service agents available to help guide you through the process, and the remaining droid depot options. Once your droid is assembled, you then activate it and pair it to a remote control.
The whole process is fun. The kids definitely felt ownership of their droid and watching it come to life in the activation chamber is an exciting touch. They couldn't wait to play with their new droids!
We have been home almost a week now. The kids have barely stopped playing with their droids. These droids may have been one of the best (and certainly were the most expensive) souvenirs we've brought home from a vacation!
Can't make it to Galaxy's Edge? Here are some other fun Star Wars gift ideas!
Have you been to Galaxy's Edge at Disney yet? What was your favorite part? Tell us in the comments below!
Guide to Droid Depot at Star Wars Land