There is much more to do in Vail, Colorado than just ski. Even non skiers will enjoy this wintry wonderland of an alpine village. Bundle up, lace up skates and enjoy Vail ice skating on charming ice skating rinks in Vail Village and Lionshead Village. Or, head down to Eagle and play a game of pick up hockey with other players ranging in age from six to sixty. In a town founded on snow sports, Vail ice skating is one activity that the entire family can enjoy together.
The town of Vail boasts three ice skating rinks. Two are outdoors and open only during the winter. One is an indoor ice skating rink. Just a few miles west, the Town of Avon also operates two outdoor skating rinks weather permitting during the winter. And, up the hill from Avon Beaver Creek has another alpine village ice skating rink. A few miles further west the Town of Eagle also operates two free outdoor skating rinks weather permitting. And, MountainRec boasts a large indoor skating rink. Here's what you want to know about these Vail ice skating rinks.
Town of Vail Ice Skating Rinks
Alderhof Ice Rink
675 Lionshead Place Vail CO 81657 | 970-429-5045

This ice skating rink is run by the Arrabelle hotel. It is located at Vail Square in the heart of Lionshead. The rink is open daily throughout the winter, typically starting at Thanksgiving. Ice skates are available for rent. Call for pricing. There is a cost to skate, and they also have ice skates available for rent for a fee. This may be our favorite Vail ice skating rink to splurge on. It is well maintained in a beautiful setting and not too crowded.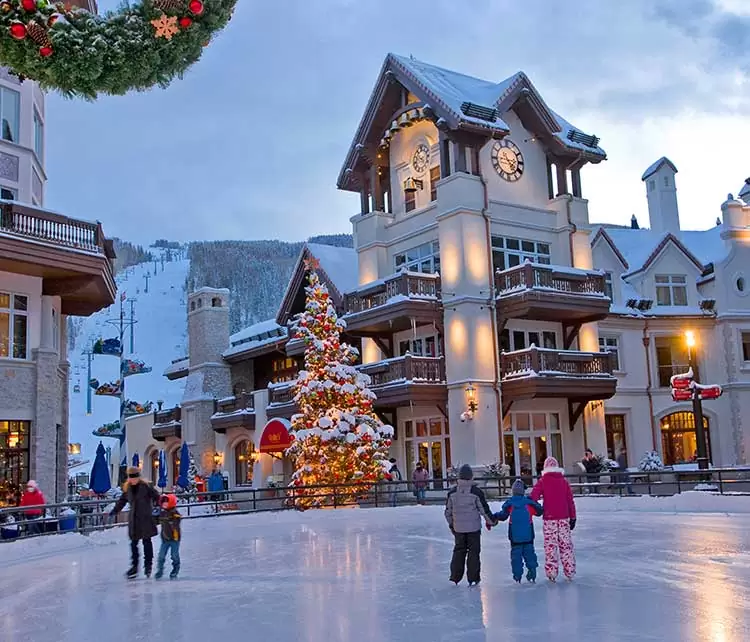 Solaris Ice Skating Rink
141 E Meadow Dr #1000 Vail CO 81657 | (970) 476-9000
The outdoor ice skating rink located at the Solaris in Vail Village is open daily during the winter. Skate rentals available next to the bōl restaurant in the Solaris. This is the ice rink that most commonly features special ice skating performances around the holidays. There is a cost to skate, and they also have ice skates available for rent for a fee.
John A Dobson Ice Arena
321 East Lionshead Circle Vail CO 81657 | 970-479-2271
Dobson Ice Arena is located in the heart of Vail on the in-town bus route on West Meadow Drive across from the Vail Library.  It is one of the largest multi-purpose ice facilities in Colorado's Rocky Mountains. Large enough to host concerts and even a circus, it is open year-round for hockey, figure skating and broomball. Dobson offers a variety of public-skate times, classes, leagues and competitions. For the recreational skater, the ice arena hosts open skating sessions for all ages and abilities as well as a wide array of hockey options for youth and adults, beginners to seasoned players.
New for 2020, Dobson Ice Arena is now offering ice bumper cars! Our family tried this out at Gaylord Rockies ICE! and LOVED it. We will be checking it out at Dobson soon. Keep an eye on our Instagram to get the scoop.
Town of Avon Ice Skating Rinks
Avon Recreation Department
90 Lake Street Avon CO 81620 | (970) 748-4060
Avon offers one ice sheet outside the Avon Recreation Center, located at 90 Lake Street, that is family and children oriented. A second sheet in the south east corner of the Nottingham Park soccer field is geared towards hockey and games. Both sheets of ice are free to ice skate with your own skates. And, skate rentals are available at the Avon Recreation Center for $8.
Beaver Creek Ice Skating Rinks
Beaver Creek Village Ice Skating
60 Avondale Lane Avon, CO 81620 | (970) 845-0438
This outdoor rink in the middle of Beaver Creek village is open both summer and winter. Skating at the Beaver Creek Ice Rink provides endless fun for everyone in the family. It is a quaint alpine village ambiance surrounded by heater cobblestone sidewalks, restaurants and shopping. $5 admission with your own skates; $10 admission and rentals for ages 12 and under; $15 admission and rentals for ages 13+.
Eagle Ice Skating Rinks
Eagle Pool & Ice Rink
1700 Bull Pasture Road Eagle, CO 81631 | (970) 328-5277
This indoor NHL-sized ice rink is open fall to spring. Check the schedule for Drop-In Hockey, Stick & Puck & Public Skate times. Daily admission ranges from $5-10, with ages 3 and under free. Skates are available to rent for $3.
Tom Ehrenberg Memorial Rink
Eagle Town Park
For more than eighty years volunteer dads have been building the outdoor ice skating rinks in Eagle Town Park. These are loosely maintained, meaning there's no Zamboni smoothing the ice. Rather it is typically smoothed by volunteers using a scraping tool. But fire pits, benches and a collection of free to use hockey sticks adorn the edges of the rink. It is here that you will find people from all walks of life and ages ranging from about six to sixty playing pick up hockey games. The rink runs through the winter when it is cold enough to build and as long as it stays frozen.
Ice Skating in Other Areas
Did you know that New York is also a mecca for winter wonderland ice skating? Check out this article on Hudson Valley ice skating!
Other Helpful Vail Family Articles
Favorite Kid-Friendly Vail Restaurants
Best Toddler-Friendly Activities in Vail
Family Guide to Vail Ice Skating